With one week until the Coupe du Monde de la Pâtisserie in Lyon, France, Club Coupe du Monde Team U.S.A. premieres its promotional video ahead of the competition.
The video introduces the team as well as reflects this year's theme – "Climate Change."
Team U.S.A. will be represented by pastry chefs Julie Eslinger, Team Captain, Ice Candidate, Jordan Snider, Sugar Candidate, and François Behuet, Chocolate Candidate. Chef Andy Chlebana will serve as the team coach and Chef Gilles Renusson as the Team Chairman.

The Pastry World Cup was established in 1989 as a platform for pastry chefs, chocolate makers, and ice cream makers to showcase their skills and creativity. The competition consists of a series of challenges that are designed to be relevant to contemporary issues in the pastry industry.
Over the years, the Pastry World Cup has played a significant role in promoting the confectionery profession and bringing together talented pastry chefs from around the world. It is an opportunity for teams to share their techniques, cultural heritage, and creativity, and to discover the next generation of outstanding pastry chefs. The Pastry World Cup is a major event in the pastry industry and is highly regarded by chefs and pastry enthusiasts alike.
The Tests
The 20 teams competing in the event consist of a chocolate maker, a confectioner, and an ice cream maker. They have a total of 10 hours to create 42 tasting desserts and 3 artistic pieces, which will be judged by a panel of experts.
3 whole desserts to share with "Pure Origin" Valrhona chocolates + 1 dummy creation
3 frozen desserts with Capfruit puree + 1 dummy creation 
26 frozen lollipops (new test introduced in 2022) + 10 dummies creations
10 restaurant style desserts (new test introduced for the 2021 Finale) – with Debic dairy products
1 chocolate artistic piece, 165 cm base included
1 sugar artistic piece, 165 cm base included
1 sculpted water ice creation, 50 cm base included (The test has returned but with a new twist for this edition). 
All of these elements must then be transferred from each team's kitchen to their buffet table, located just in front of their station. Every tasting element needs to be completed within a specific time frame and the setup of the buffet is no different.
For those who cannot make it to Lyon for this year's competition, the Coupe du Monde de la Pâtisserie will live stream all the action on their website. Click here to watch on 20-21 January. Remember to check the time difference between your location and France. 
Follow Team U.S.A. (Twitter, Instagram, Facebook, TikTok) and the Coupe du Monde de la Pâtisserie (Twitter, Instagram, Facebook) on social media to keep up-to-date on all the latest news and activities.
Team U.S.A. is sponsored by Valrhona (Founding Sponsor), CapFruit, Nielsen Massey, Paris Gourmet, Midwest Imports, AUI Fine Foods, St. Michel, Chef Rubber, Irinox, Bit Baking, de Buyer, Robot Coupe, Tomric, The Ekus Group, Clement Designs, and Steelite USA. 
Check out our story on what you need to know about the Coupe du Monde de la Pâtisserie and how to watch Team U.S.A. compete next week.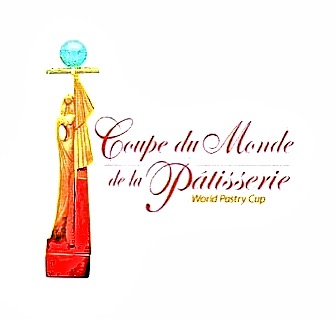 Will you be there in person or watching online? Let us know in the comments or on social media.