Leading up to the Coupe du Monde de la Pâtisserie, the most prestigious pastry competition in the world, we are spotlighting all the members of Team U.S.A.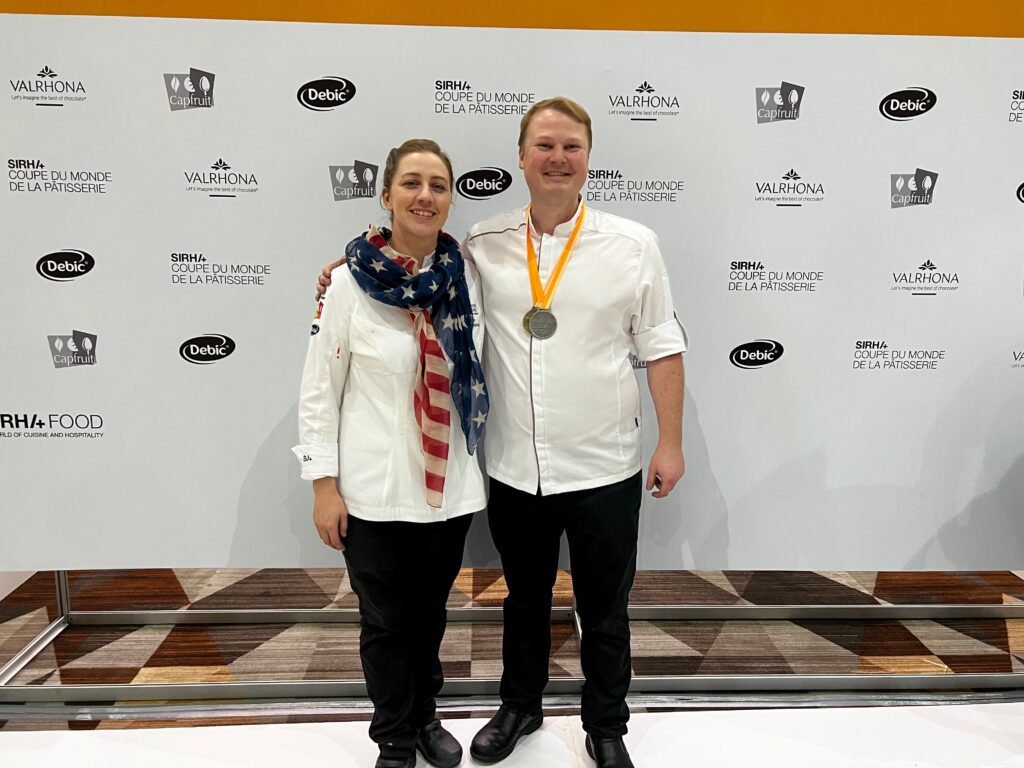 Along with Chef Julie Eslinger, Chef Jordan Snider recently won the silver medal at the Americas Continental Selection in Santiago, Chile. With this win, Team U.S.A. has secured a spot to compete against 19 others at this biennial event next January.
Born in upstate South Carolina and raised in Charleston, The Sanctuary at Kiawah Island Golf Resort's executive pastry chef Jordan Snider's journey into pastries was an accidental one. Growing up all he wanted to be was a chef. After working in a number of different kitchens, Snider found his way into a production bakery and he was hooked.
Snider started working at a retail and production bakery in his hometown of Charleston working with bread and viennoiserie. He then spent a number of years working in fine dining and casual restaurants, until transitioning to a private club focusing primarily on banquets.
After 10 years, Snider and his wife relocated to Las Vegas where he worked in the banquet kitchens of some of the top resorts including the Mandarin Oriental, Paris Las Vegas, and Mandalay Bay. He said the volume and scale of banquets at these hotels shaped his career.
In 2014, he moved to San Diego where he was the executive pastry chef at the Fairmont Grand Del Mar, a Forbes 5-Star Resort, in San Diego, California. Four years later, Snider moved back to the Charleston area to work at The Sanctuary at Kiawah Island Golf Resort, South Carolina's only five-star resort, as the executive pastry chef.
Snider said that what he loves about the pastry profession – specifically working in hotels – is the fact that he can work in every area of pastry.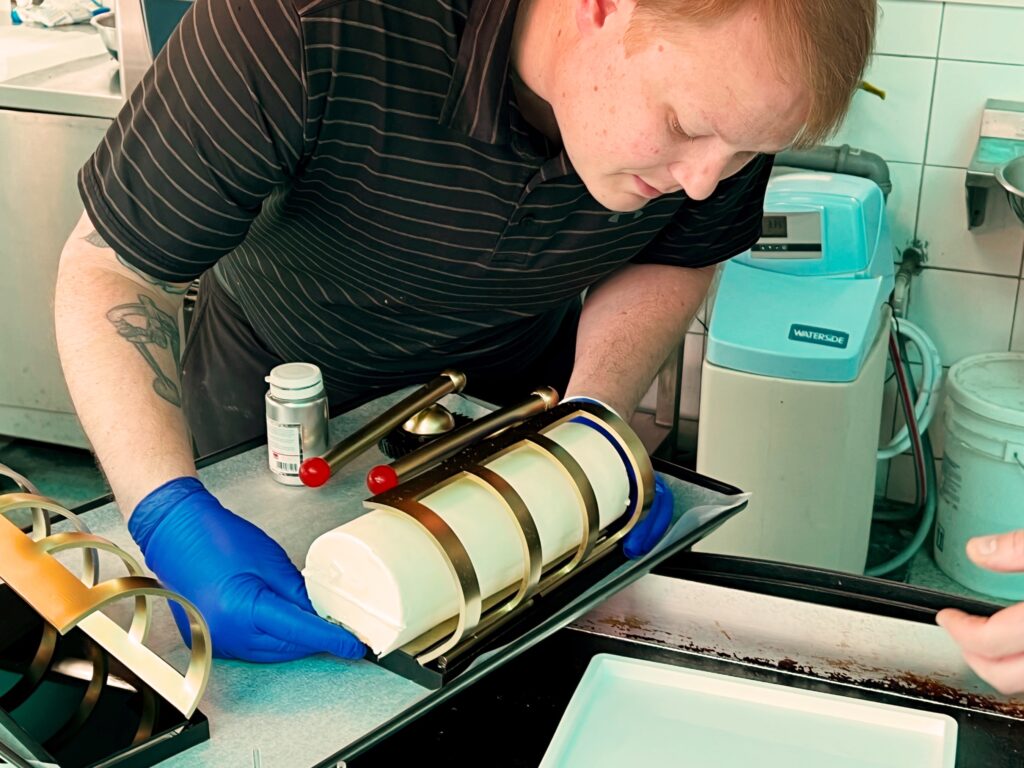 "Working in the pastry department of a hotel one day you can be doing a wedding cake, showpiece, or breads," stated Snider. "Then other days you can be involved in anything from plated desserts to ice cream or viennoiserie. We do it all. I like that it is ever changing."
Some of Snider's favorite ingredients to work with include apricots, strawberries, peaches, lemon verbena … and of course chocolate!
During his career, in 2017 Snider placed 2nd in the Coupe du Monde tryouts in sugar and then 1st place in the 2019 tryouts. In 2014, he placed third as Chocolatier of the Year, as well as the Audience Choice Award at Pastry Live 2014, and honorable mention at the 2017 US Pastry Chef of the Year Competition.
When not in the pastry shop, Snider likes to spend time with his two children, as well as playing golf and billiards. He is also an avid sports car and motorcycle enthusiast.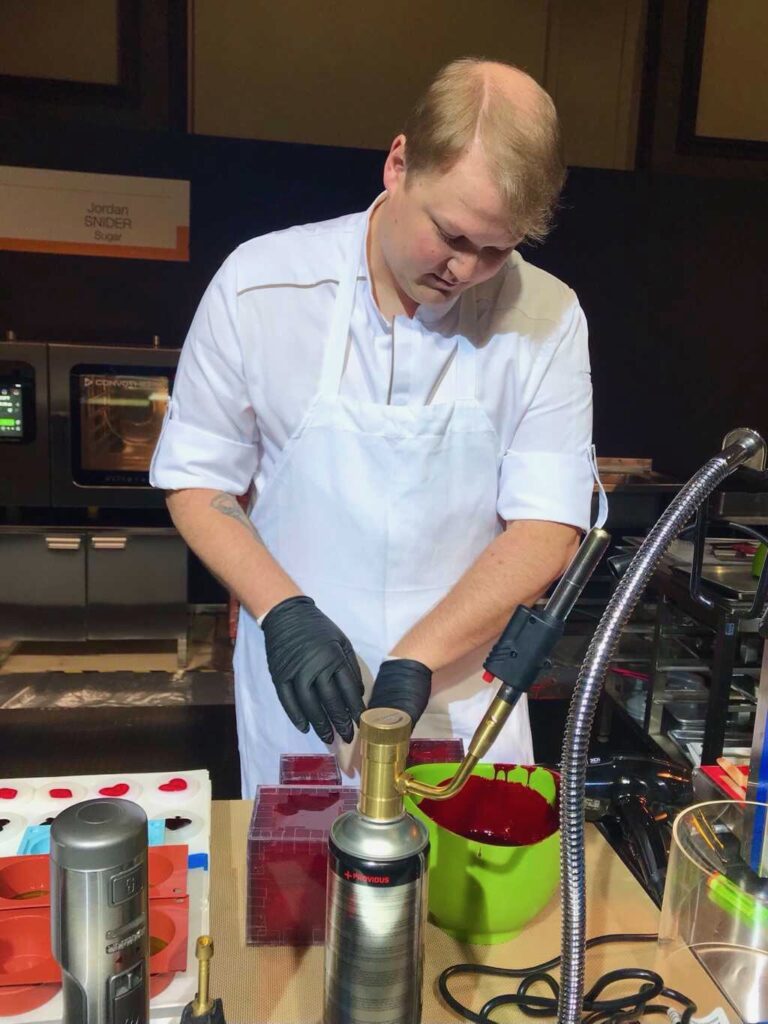 Snider initially decided to try out for the U.S. World Pastry Cup Team because two of his previous bosses had competed. "Competing is not only stressful, but it is also very humbling," says Snider. "You're putting yourself out there on a grand scale and striving for perfection only to be judged and critiqued by people you respect."
"It has always been a professional goal of mine – for nearly 10 years now – to represent my country at the Coupe du Monde de la Pâtisserie," he added. "I couldn't be more thrilled."
Snider can be followed on Instagram at [@sniderjw].