Club Coupe du Monde Team U.S.A. placed in the top ten at the 2023 Coupe du Monde de la Pâtisserie Lyon, France. Representing the United States was Chef Julie Eslinger, team captain, and ice candidate, from Castle Rock, Colorado; Chef Jordan Snider, sugar candidate, Kiawah Island, South Carolina; and Chef François Behuet, the chocolate candidate from Los Angeles, California.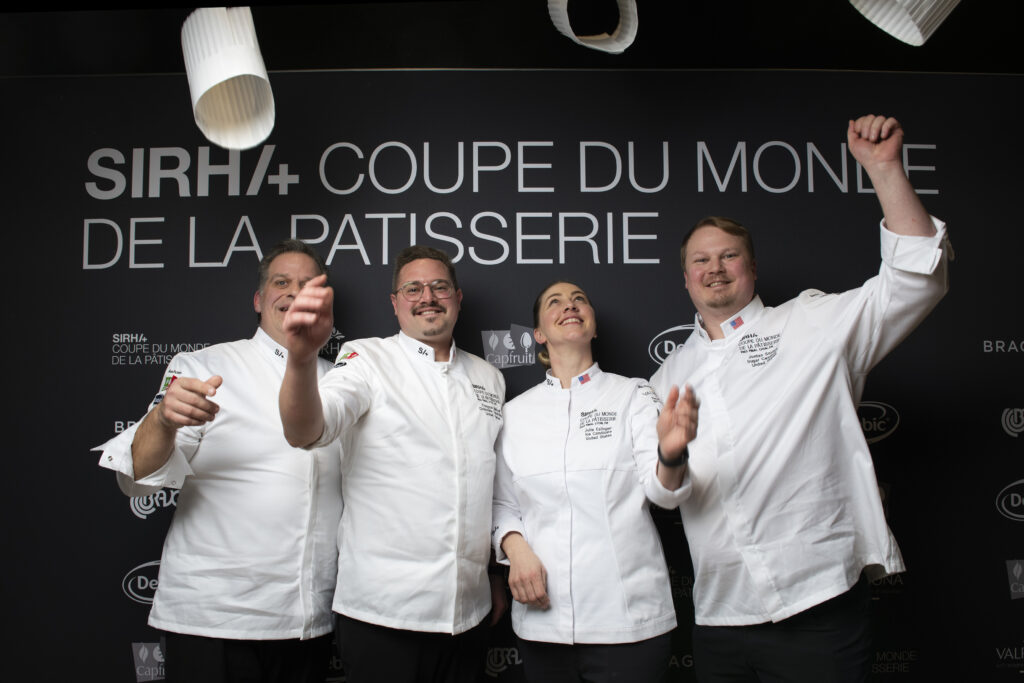 Japan earned the gold medal, followed by France with silver, and Italy with bronze.
A team of three pastry chefs, specializing in ice cream, sugar, and chocolate, competed against 17 other countries over a 10-hour, two-day event.
Each team was required to produce four tasting tests (whole chocolate cake/dessert to share, frozen dessert, frozen lollipops, and restaurant-style dessert), three artistic creations (one sugar, one chocolate centerpiece, and an ice carving), and a buffet display integrating their creations and reflecting this year's Coupe du Monde de la Pâtisserie theme – Climate Change.
Team U.S.A.'s dessert presentations were:
• Whole Chocolate Cake/Dessert to Share – The team's whole chocolate cake/dessert to share, known as "Marée Noir," consisted of a banana biscuit base, a pecan croustillant and milk chocolate layer, flambeed bananas encased in a passion fruit caramel and milk chocolate, a milk chocolate and Jamaican coffee mousse, a top layer of chocolate fondant, encased in a thin layer of chocolate, a two chocolate chantilly cream, and finished off with Valrhona cocoa nibs
"We wanted to represent a modern design using classical techniques, while honoring the theme," stated Team U.S.A. "The idea was to have multiple textures in a small vessel with a delicious and recognizable flavor profile."
• Frozen Dessert – named "HydroBolt," is a representation of a battery The dessert combines a cassis sorbet, in the center, surrounded by a honey nougat ice cream mousse with orange confit and pistachios, a layer of pistachio ice cream, and a layer of apricot sorbet.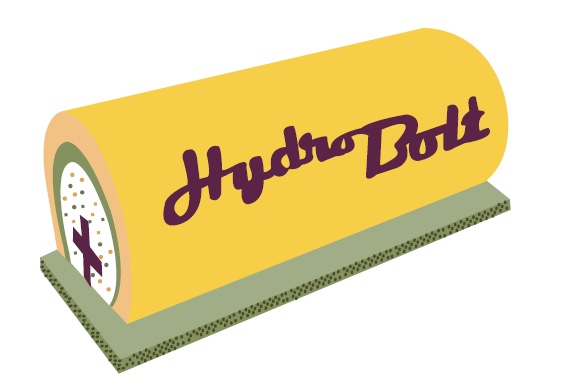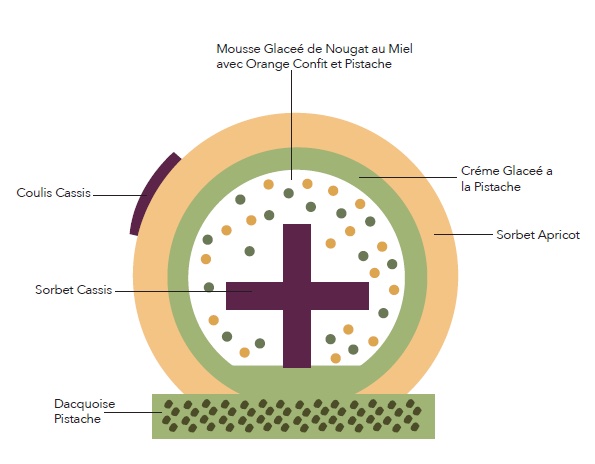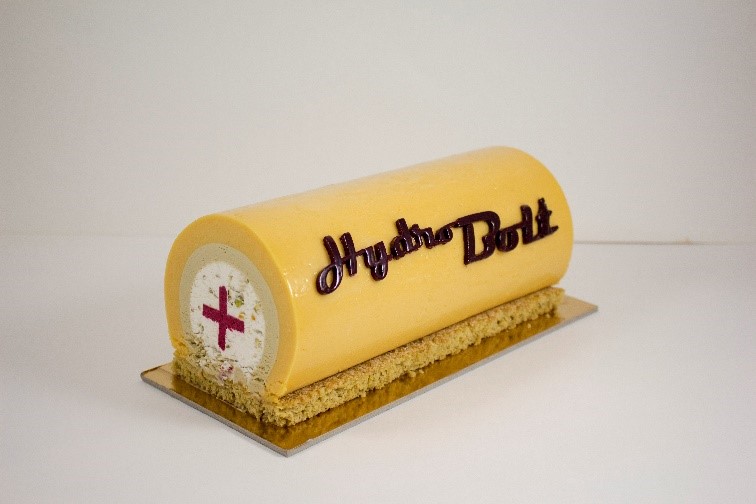 The frozen dessert is enrobed in a cassis coulis and sits on a pistachio dacquoise. The dessert has a "plus" sign on one end of the frozen confection and a "negative" sign on the other side These are to represent the positive and negative terminal of a battery.
• Frozen Lollipops – named "Eoilenne," reflects the vibrant colors found in a flower. The dessert combines strawberry, with mango and passion fruit sorbet, Swiss meringue, and lime zest petals extend out from the ice cream. A strawberry pâte de fruit is hidden in a layer of coconut chantilly cream. A caviar of finger lime finishes the dessert.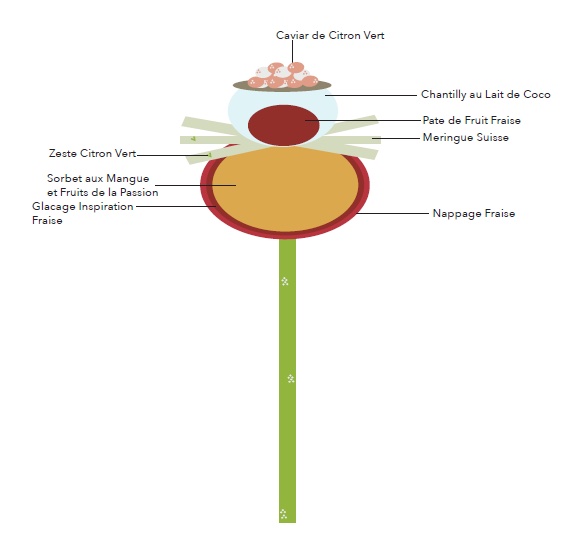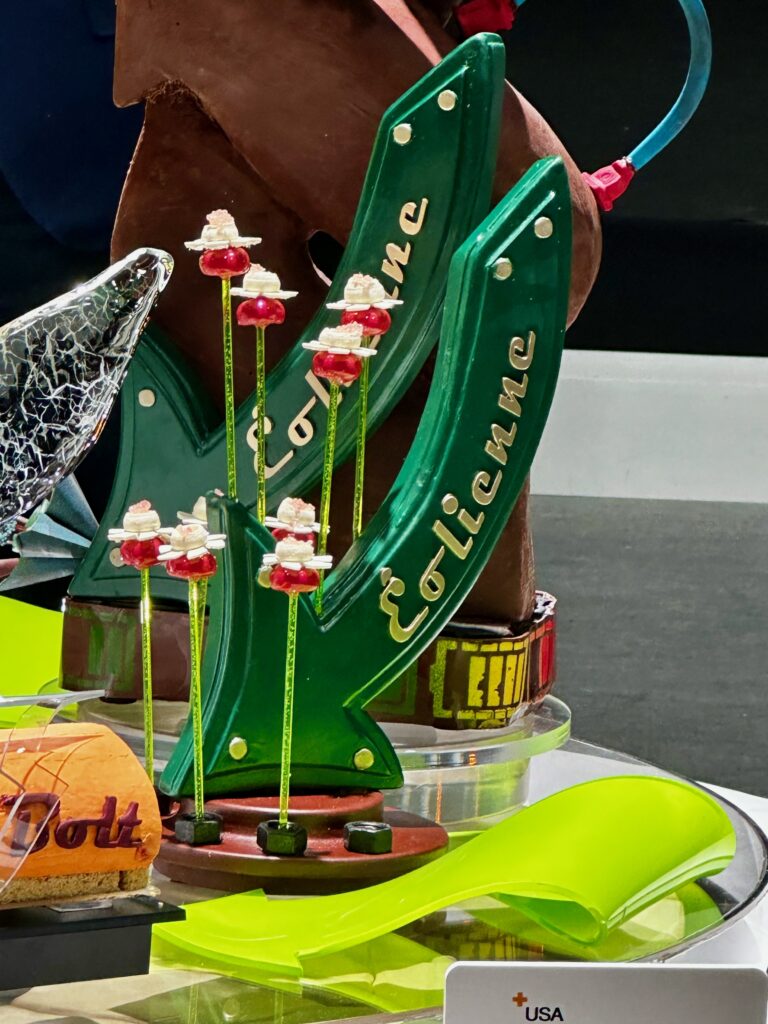 • Restaurant-style Dessert – "The Arrow" has a hazelnut biscuit with a banana compote, rum and vanilla ice cream, topped with a disk of salted dulce de leche, féve de tonka mousse, "The Arrow" is finished off with a rosette of crème fraîche, crunch praline, and a tuile cookie in the shape of an "Arrow."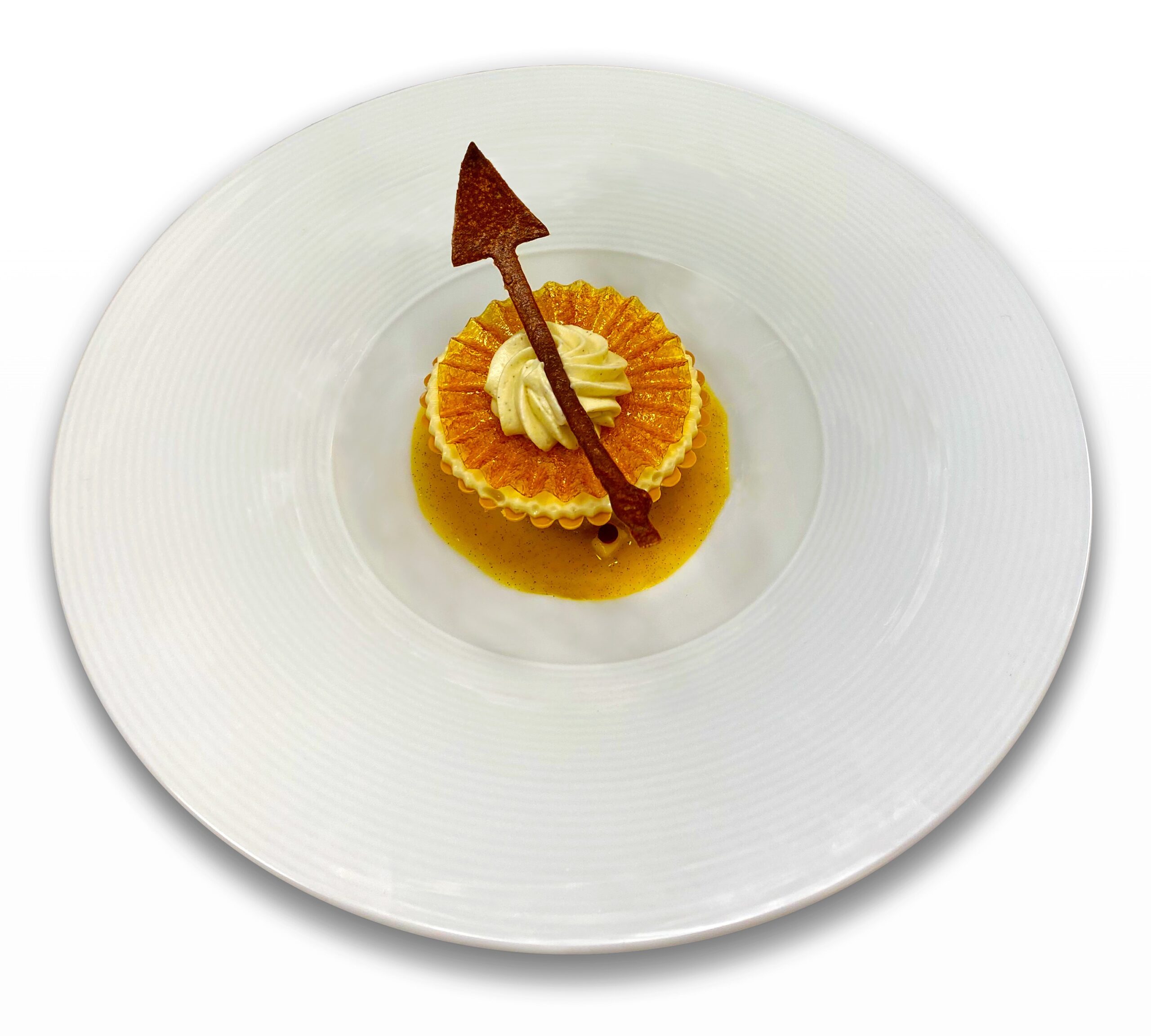 The Arrow represents the way to follow," says Team U.S.A. "It is also the same style of arrow used to represent the three recycling arrows."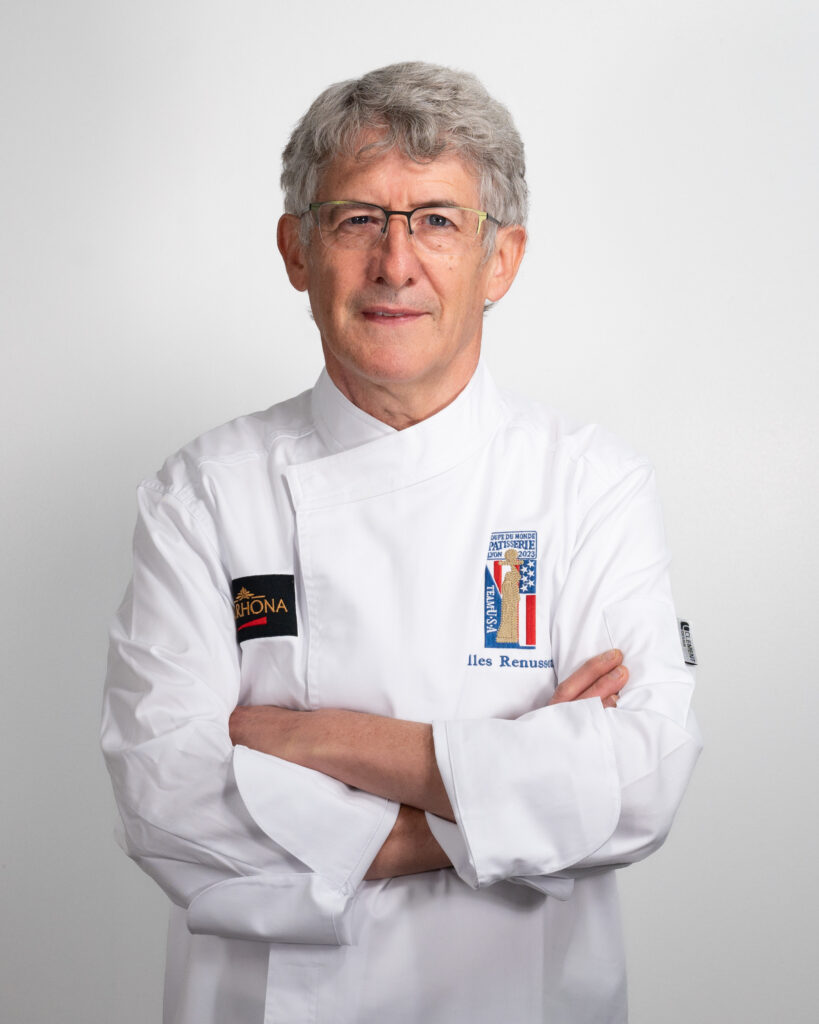 "We are so proud to represent the United States on a global stage and feel deeply honored to be among some of the top pastry chefs in the industry," stated Club Coupe du Monde Team USA Chairman Gilles Renusson. "Through these competitions, we hope to set a positive example and inspire and motivate new pastry chefs, apprentices, culinary students, and industry leaders to continue honing their skills and sharing their creations with the world."
"The level of the competition rises from one edition to the next, as evidenced by the very close results," attests Pierre Hermé, President of the Pastry World Cup. It is with great emotion that we award Japan, a country accustomed to the podium, which became world champion again 16 years later."
"All the candidates were very passionate, which is satisfying for me as a pastry chef," stated Cédric Grolet, Honorary President of the Pastry World Cup. "I would like to thank all the people who worked here, for having helped me rediscover this wonderful profession, which is on an everyday evolution, visually and technically."
Team U.S.A. has participated in every Coupe du Monde de la Pâtisserie competition since 1989, with the exception of the 2021 competition due to the coronavirus pandemic.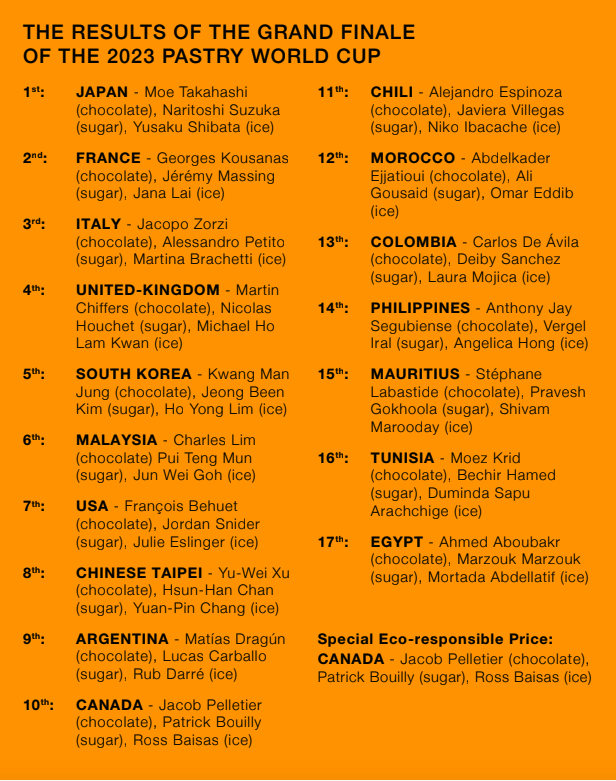 The countries that were represented at this year's Coupe du Monde de la Pâtisserie were: Argentina, Canada, Chile, Chinese Taipei, Colombia, Egypt, France, Italy, Japan, Malaysia, Mauritius, Morocco, Philippines, South Korea, Tunisia, United Kingdom, and the United States of America.
The team is coached by two former Team U.S.A. participants: Chef Gilles Renusson, President, Club Coupe du Monde U.S.A., and Chef Andy Chlebana, pastry chef/instructor at Joliet Junior College in Illinois. Chlebana also served as one of the jury members at this year's Grand Finale.
Serving as consultants, and former Team U.S.A. members, are Chef Christophe Feyt, Chef Sylvain Leroy, and Chef Ewald Notter.
Team U.S.A. is sponsored by Valrhona (Founding Sponsor), CapFruit, Nielsen Massey, AUI Fine Foods, Midwest Imports, Paris Gourmet, St. Michel, Irinox, Chef Rubber, Bit Baking, de Buyer, The Ekus Group, Robot Coupe, Clement Designs, Tomric, and Steelite USA.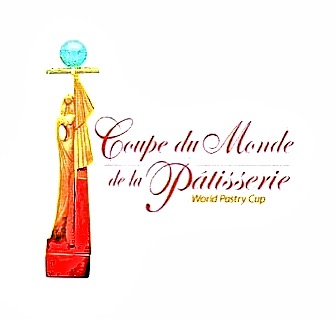 ABOUT CLUB COUPE DU MONDE USA
The club's purpose is to study and advance the art and science of food preparation and food service. Every two years the Club searches for and identifies America's best culinary educators, researchers, and foodservice professionals. By doing so, they hope to challenge those willing to participate in creating leading-edge advances in food preparation, taste combinations, and presentation styling.
ABOUT COUPE DU MONDE DE LA PÂTISSERIE
Founded in 1989, the Coupe du Monde de la Pâtisserie is an international competition representing different trades in the pastry industry including pastry chefs, ice cream specialists, chocolatiers, and confectioners.
Over the years, more than 50 nations have taken part in the various continental selection and final events. The top teams are invited to compete in the Coupe du Monde de la Pâtisserie. The competition typically takes place on the 2nd and 3rd day of the SIRHA trade exhibition. The Coupe du Monde de la Pâtisserie takes place biennially in the odd years during the month of January at the Eurexpo venue in Lyon, France.