Growing up in Oak Forest, Illinois, Andy Chlebana didn't really know what he wanted to do after graduating from Marist High School. At that point, the only job he had was working in a local restaurant, the Original Pancake House. His older brother was attending culinary classes at Joliet Junior College, so Chlebana decided to follow in his footsteps.
During his third semester, Chlebana took an advanced baking and pastry class and realized he found his calling. After graduating, he obtained a certificate in baking and pastry at the Culinary Institute of America (CIA), in Hyde Park, New York. He went on to earn his bachelor of science degree in hospitality management from the University of Phoenix.
While earning his degree at the CIA, Chlebana worked on the weekends at the Beekman Arms and Delamater Inn in Rhinebeck, New York. After graduating, he moved back to Chicago where he spent three years creating desserts for the Four Seasons Chicago's signature dining room. He then moved to Florida and worked at the Ritz-Carlton Amelia Island preparing the desserts for their fine dining restaurant, as well as working as an overnight baker. Chlebana was also on the opening team for the Ritz-Carlton Washington, D.C. before accepting a job with Albert Uster Imports as a corporate account manager.
"Working at Albert Uster Imports, I learned more about the science of ingredients that chefs work with than ever before," said Chlebana.
Currently, Chlebana has spent the past 16 years working as a pastry chef/instructor at his alma mater – Joliet Junior College. He says it is the "best job" he has ever had. In addition to teaching, he has also worked at the White Eagle Golf Club as a pastry chef as well as a consultant and food stylist.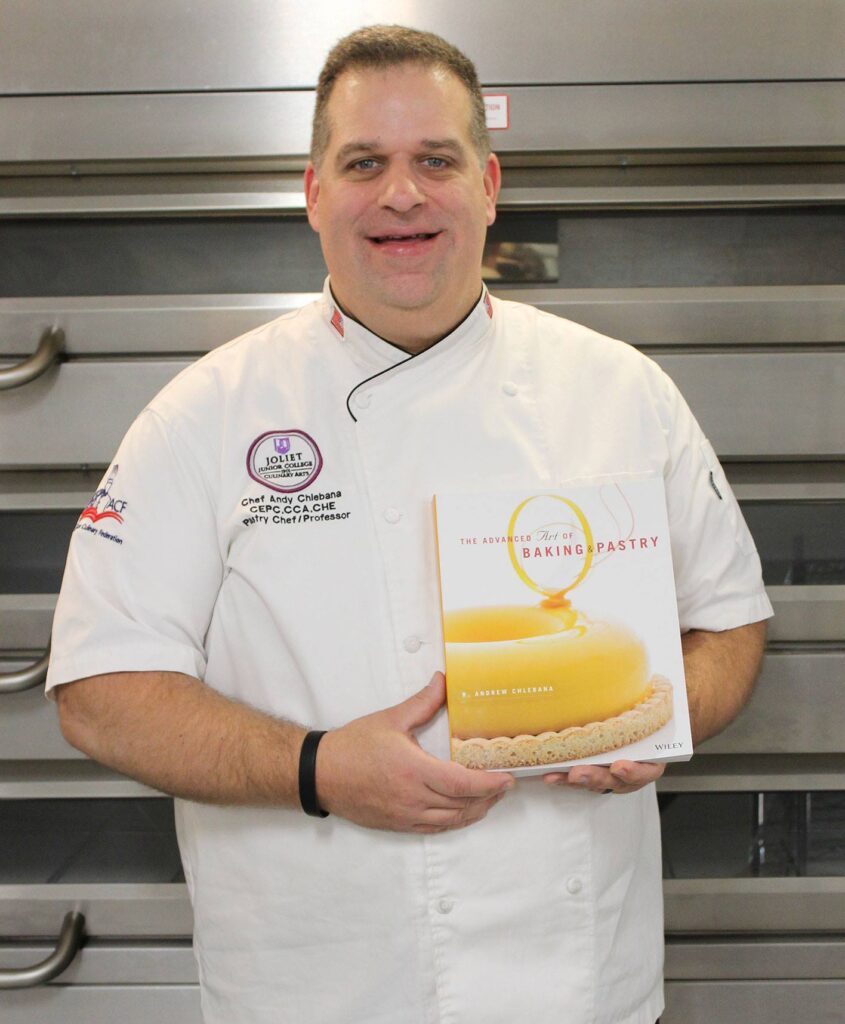 Chlebana has also written a pastry arts textbook, "The Advanced Art of Baking & Pastry," published by Wiley. The 498-page book covers a broad range of topics encompassing items produced in the bakeshop, including bread, viennoiserie, creams, pies, tarts, cakes, and decorative work in a professional manner that is easily approachable for baking and pastry students, professionals, and those who want to further their knowledge about baking and pastry.
Chlebana, who was on the 2013 U.S. World Pastry Cup Team, honestly did not think he would make the team when he tried out for it. "There have been so many great pastry chefs on the team before and after me," said Chlebana. "It is an honor to be listed among them and represent the United States."
Even though Chlebana is a mentor for many pastry chefs and bakers, he has a few that he still looks up to as well including Chef Gilles Renusson, the U.S. World Pastry Cup Team's Chairman, Christopher Boos, and Chef Franck Monnier.
Image: Andy Chlebana/Facebook
Chlebana says many times people ask him (and other chefs) what their favorite recipe is, but for him, it is all about the ingredients.
"My favorite ingredients are chocolate and vanilla," says Chlebana. "There is nothing like the taste of real vanilla. Simple, clean flavors need to be perfect like vanilla ice cream – nothing to hide behind. I want to taste dairy and vanilla."
As far as chocolate is concerned, Chlebana says, "There are so many different and amazing chocolates – with new ones coming out all the time. The nuances in flavors are similar to wine."
During his career, he has won numerous awards and competitions including the 2008 American Culinary Federation (ACF) National Pastry Chef of the Year, first place for sugar fashion in the 2011 Food Network Challenge, best overall in the 2011 Pastry Live National Showpiece Championship, fourth place at the 2013 Coupe du Monde de la Pâtisserie (Team Captain) as well as named one of Dessert Professional's Top Ten Pastry Chefs for 2013, finalist in the Food Network's Best Baker in American for 2017, and in 2018 he won the silver medal at the ACF's Team USA Culinary World Cup.
When Chlebana is not in the kitchen or the classroom, he spends his time with his wife and children including watching his youngest son play high school football. "I could not have done any of this without the support of my family and my employer," says Chlebana. "Without them, I would not be where I am today."
Chlebana can be followed on Facebook: Andy Chlebana, Twitter: @AndyChlebana, and Instagram: @chefandychlebana.