Fresh off their silver medal performance at the Americas Selection in Santiago, Chile, Team U.S.A. has begun to prepare for the Coupe du Monde de la Pâtisserie.
Pastry chefs Julie Eslinger, Mary Lewis, Jordan Snider, and team alternate François Behuet will represent the United States next January in Lyon, France.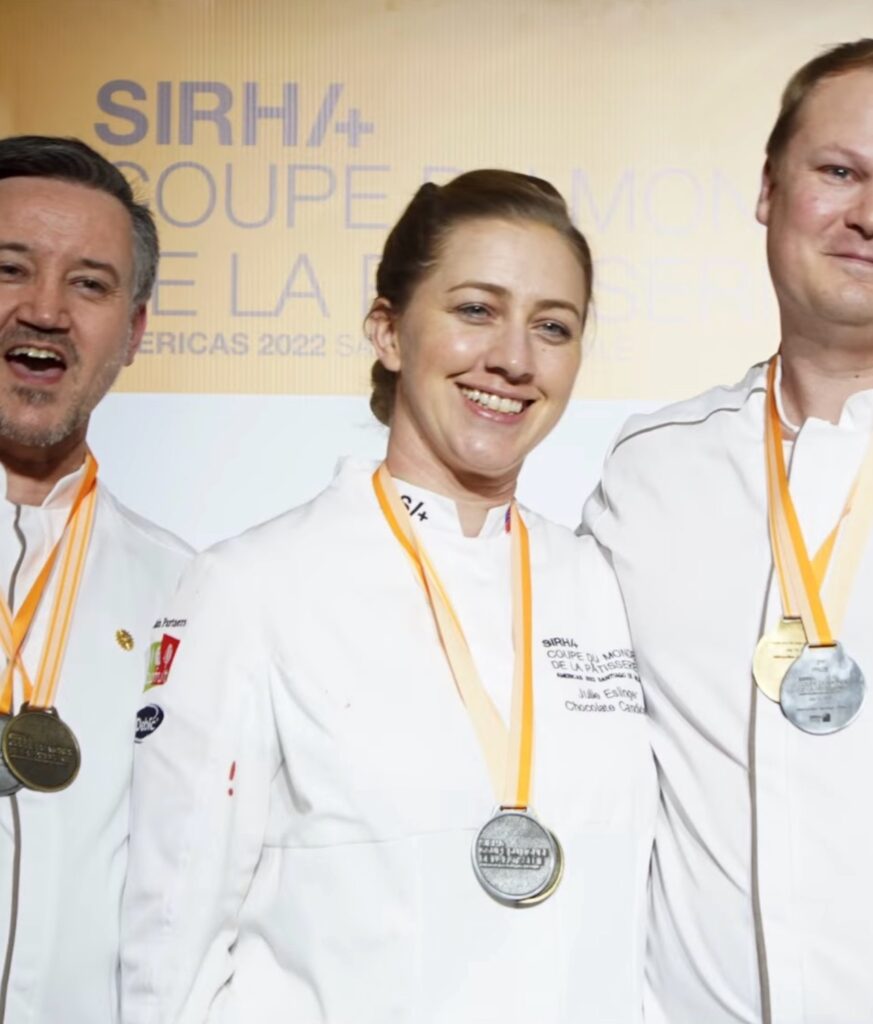 Born and raised in Pocatello, Idaho, Julie Eslinger worked in a number of different industries before finding her way into the pastry kitchen.
Shortly after moving to Denver, Colorado in 2003, Eslinger decided she wanted to go to school for "something, but for what?" She enjoyed baking at home and always wanted to learn how to make those big cakes that she always saw on television. So, she enrolled in the pastry and baking program at the Art Institute of Colorado.
She did learn how to make those big cakes and other baked goods, but after working in the industry she discovered her passion laid in the catering business.
While attending the Art Institute of Colorado Eslinger studied under Chef and Ice Carver Craig Winter. "I made sure to take all the classes he taught," said Eslinger. "He made sure that I was involved in everything that could help me grow in my career."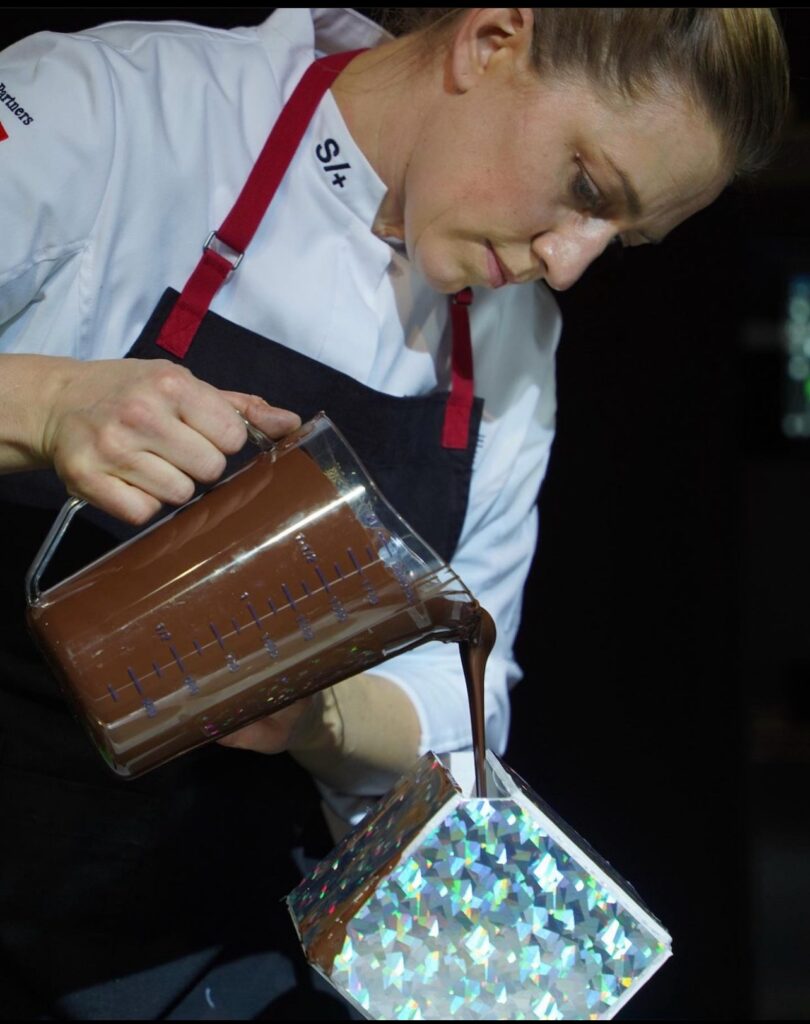 Through his mentorship, she was introduced to sugar, chocolate, and ice carving techniques, and felt an instant connection with her artistic background. While still in school, Eslinger began working for Centerplate at the Sports Authority Field, home to the Denver Broncos, at Mile High Stadium.
In 2012 Eslinger graduated and became the Assistant Pastry Chef for Centerplate at the Colorado Convention Center. She oversaw the production of all in-house made pastry items and specialized in custom cakes, sugar, and chocolate showpieces.
When the coronavirus pandemic shut the world down in March 2020, Eslinger hoped to return to Centerplate, but it was not to be. "Too much time had passed," said Eslinger. In August of that year, she accepted a position as pastry chef at the Country Club at Castle Pines, just south of Denver, in Castle Rock, Colorado.
"What I love most about pastry is the meticulousness and attention to detail involved in the profession," says Eslinger. "I know some culinary people hate that, but I love it! Also, there is so much to learn about the science of pastry. In addition, there are always new techniques to learn – whether they are traditional or modern."
In 2014, her biggest mentor, Chef Winter, passed away from cancer. "I feel proud to have and use many of his tools and books," said Eslinger. "I think about him every day and it is hard for me to talk about him without crying."
Other mentors in Eslinger's life have been Ian Kunter, who taught her ice carving, former Executive Chef Carmen Callo, who thought her about leadership and logistics, former Pastry Chef Syd Berkowitz, who she worked with for 10 years and learned techniques for large scale production, and Team USA's Team Coach Andy Chlebana. She said he has made a huge impact on her career and "always offered great advice when I needed it."
Her favorite ingredient to work with is any kind of chocolate.
In 2012, Eslinger competed in the American Culinary Federation (ACF) Winter Salon in which she received a silver medal for her cold plated dessert. In 2013 & 2014 she competed in Sweet Times in the Rockies, a cake competition in which she received silver and gold medals. At the National Showpiece Competition at Pastry Live, she placed 3rd in 2014 & 2015, as well as received the Competitor's Choice Award in 2015.
"I have always wanted to represent the United States for pastry, and being involved in the Coupe du Monde de la Pâtisserie has always been a dream of mine," said Eslinger.
In 2017, she assisted Pastry Team USA for the Coupe du Monde de la Pâtisserie in Lyon, France. During this time, Eslinger began her ice carving adventures under the mentorship of Ian Kunter, owner of Ice Cubed of Denver, and has since assisted him with multiple ice festivals in Loveland and Cripple Creek Colorado.
When not in the pastry kitchen, Eslinger loves camping and being outdoors, even if she does not get to do it often enough. In addition to leather work, painting, and traveling, her and her husband love visiting old mining towns and national parks.
"When creating a new dessert, I try to land on a seasonal main ingredient and then work my way around to find complementary components and textures," said Eslinger. "I then decide how I want to present it, determine the logistics to execute it, and finally how I want the guest to feel when they eat it."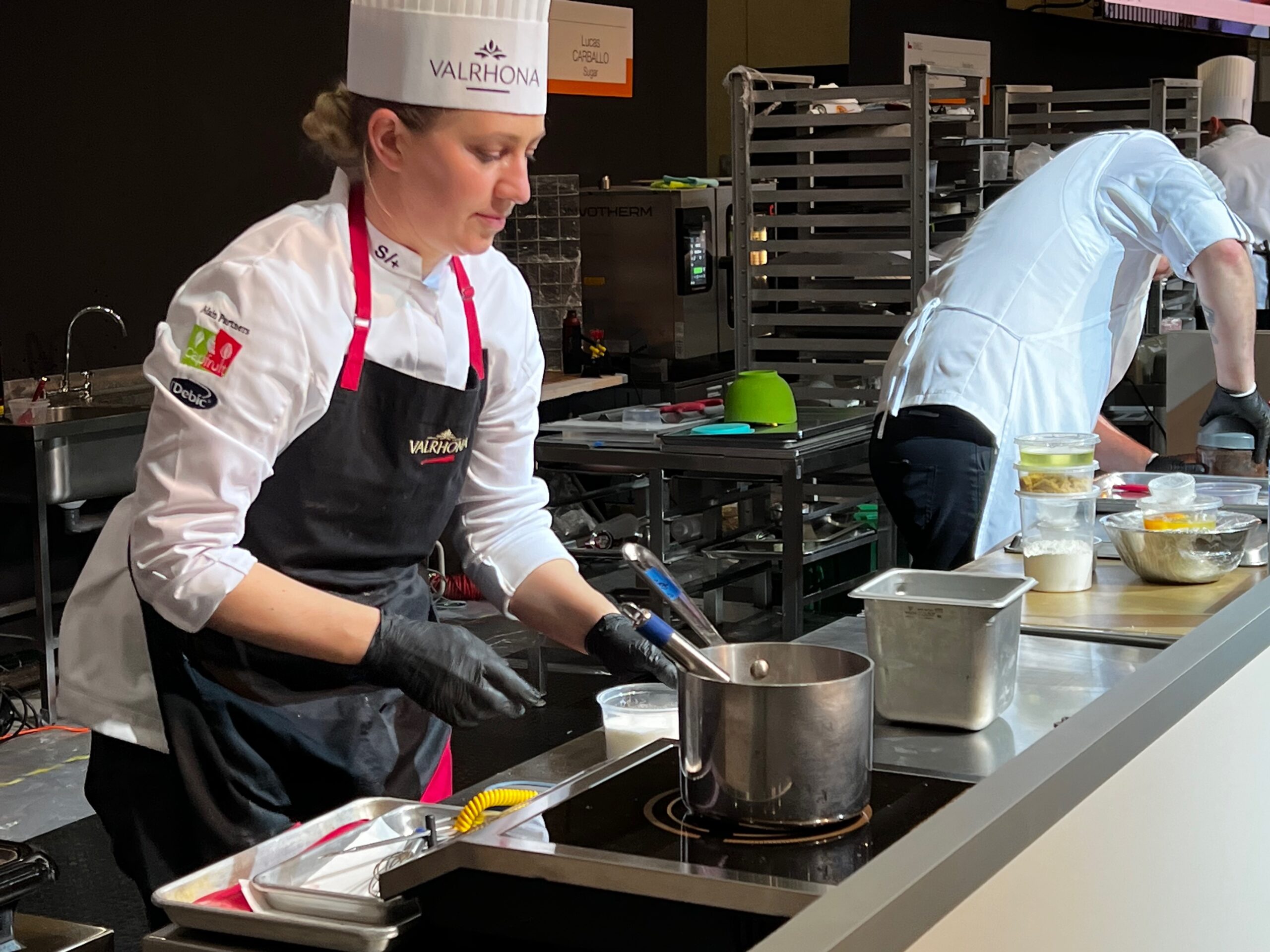 "I love creating a memorable experience for the guest," she added. Eslinger can be followed on Instagram at [@slingerjl].