In just three weeks, the Coupe du Monde de la Pâtisserie will take place in Lyon, France, bringing together some of the world's finest pastry chefs. This year's event promises to be an exciting and highly anticipated competition, as top pastry chefs showcase their skills and creativity. Spectators can expect to see a wide range of delicious and beautifully crafted desserts, as well as demonstrations and presentations by the competing chefs. Whether you're a pastry chef yourself or just a fan of sweet treats, the Coupe du Monde de la Pâtisserie is not to be missed.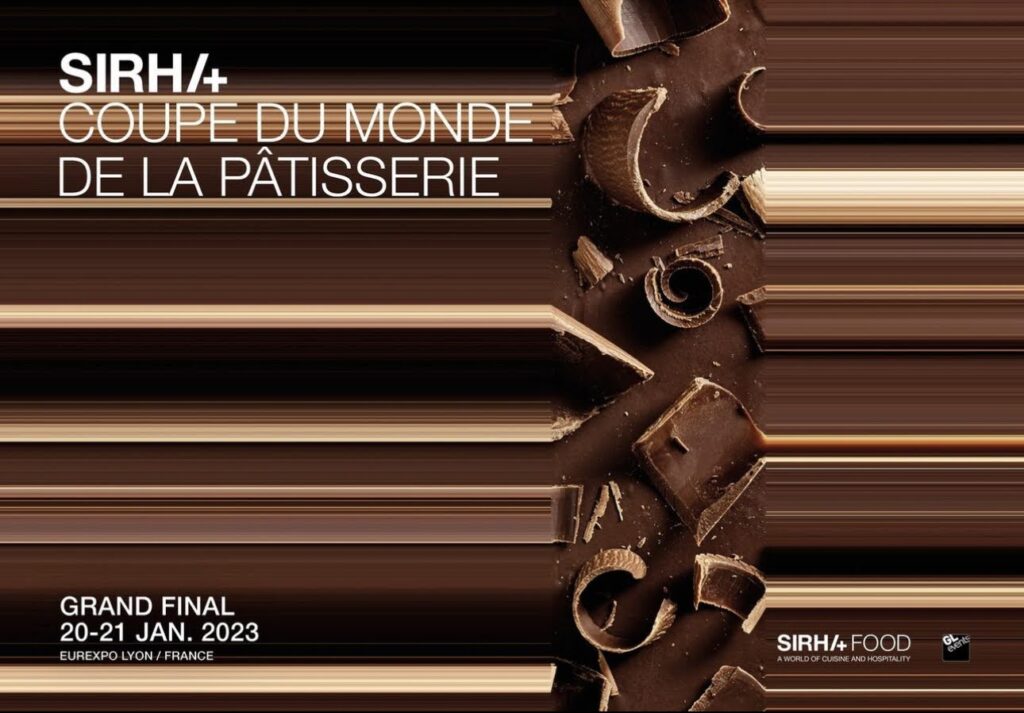 Whether you are a fan of the event or just being introduced to it for the first time, here is what can be expected from this year's competition.
What Is The Coupe du Monde de la Pâtisserie?
The Pastry World Cup was established in 1989 as a platform for pastry chefs, chocolate makers, and ice cream makers to showcase their skills and creativity. The competition consists of a series of challenges that are designed to be relevant to contemporary issues in the pastry industry. Over the years, the Pastry World Cup has played a significant role in promoting the confectionery profession and bringing together talented pastry chefs from around the world. It is an opportunity for teams to share their techniques, cultural heritage, and creativity, and to discover the next generation of outstanding pastry chefs. The Pastry World Cup is a major event in the pastry industry, and is highly regarded by chefs and pastry enthusiasts alike.
A Responsible Perspective On Contemporary Issues
In 2019, Pierre Hermé became the President of the Pastry World Cup and reconfigured the organizing committee to address contemporary challenges in the pastry industry. He enlisted Claire Heitzler and Frédéric Cassel as vice-presidents of the competition, with a goal of promoting gender diversity in the field.
Together, they have a shared ambition to promote the pastry profession, its traditions and expertise, and to guide the competition towards more responsible and sustainable practices. This commitment is demonstrated in the ban on additives and coloring agents in all challenges, as well as the focus on sourcing raw ingredients from environmentally friendly sources and production methods.
To minimize food waste, all products used and processed during the competition will be donated to charitable organizations.
For the 2023 edition, the theme will be "climate change," and candidates will be expected to address this issue in their creations.
As Pierre Hermé, President of the Pastry World Cup, states, "The pastry industry is at a crossroads. It has never been more concerned with taste and appearance than it is now. To successfully navigate this shift and take advantage of the popularity of confectionery on social media and TV shows, the Pastry World Cup must embrace a more socially and environmentally responsible approach."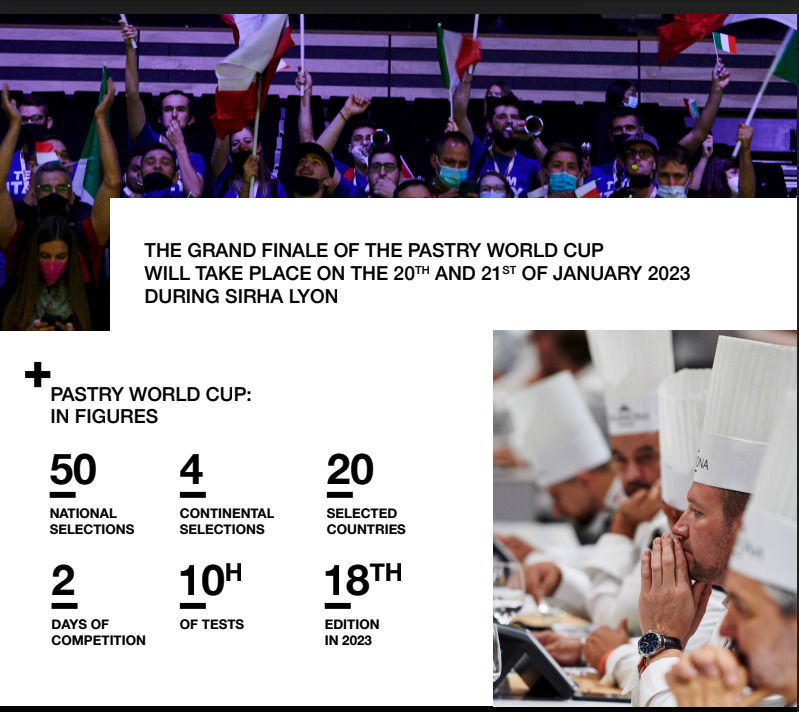 Sirha Lyon
Sirha Lyon is the host of the Grand Finales of the Bocuse d'Or and the Pastry World Cup, two of the most prestigious food service competitions in the world.
Sirha Lyon is a global food service event that brings together over 4,000 exhibitors and brands, showcasing the best products and services for the catering, hotel, and food industries. The event attracts over 200,000 trade visitors and serves as a meeting point, a gateway, and a platform for sharing ideas with all market players.
Meet the 2023 Coupe du Monde de la Pâtisserie Countries
AFRICA
EGYPT (WILD CARD)
GHANA (WILD CARD)
MAURITIUS
MOROCCO – TUNISIA
AMERICA
ARGENTINA
CANADA (WILD CARD)
CHILE
COLOMBIA (WILD CARD)
UNITED STATES OF AMERICA
ASIA
CHINESE TAIPEI
JAPAN
KUWAIT
MALAYSIA
PHILIPPINES (WILD CARD)
SINGAPORE
EUROPE
FRANCE
ITALY
UNITED KINGDOM
MIDDLE EAST
KUWAIT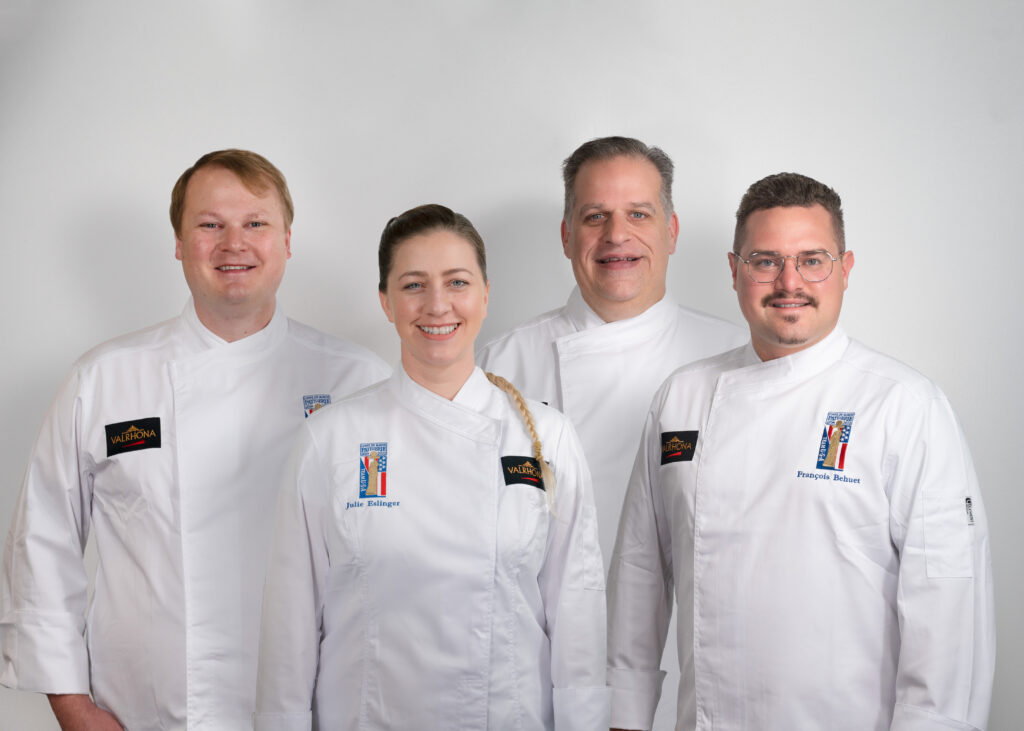 Team U.S.A. will be represented by pastry chefs Julie Eslinger (Team Captain), Jordan Snider, and François Behuet. Chef Andy Chlebana will serve as the team coach and Chef Gilles Renusson as the Team Chairman.
The Tests
The 20 teams competing in the event consist of a chocolate maker, a confectioner, and an ice cream maker. They have a total of 10 hours to create 42 tasting desserts and 3 artistic pieces, which will be judged by a panel of experts.
3 whole desserts to share with "Pure Origin" Valrhona chocolates + 1 dummy creation
3 frozen desserts with Capfruit puree + 1 dummy creation
26 frozen lollipops (new test introduced in 2022) + 10 dummies creations
10 restaurant style desserts (new test introduced for the 2021 Finale) – with Debic dairy products
1 chocolate artistic piece, 165 cm base included
1 sugar artistic piece, 165 cm base included
1 sculpted water ice creation, 50 cm base included (The test has returned, but with a new twist for this edition).
All of these elements must then be transferred from each team's kitchen to their buffet table, located just in front of their station. Every tasting element needs to be completed within a specific time frame and the setup of the buffet is no different.
During the Grand Finale of the Pastry World Cup, the candidates' creations are assessed by two juries.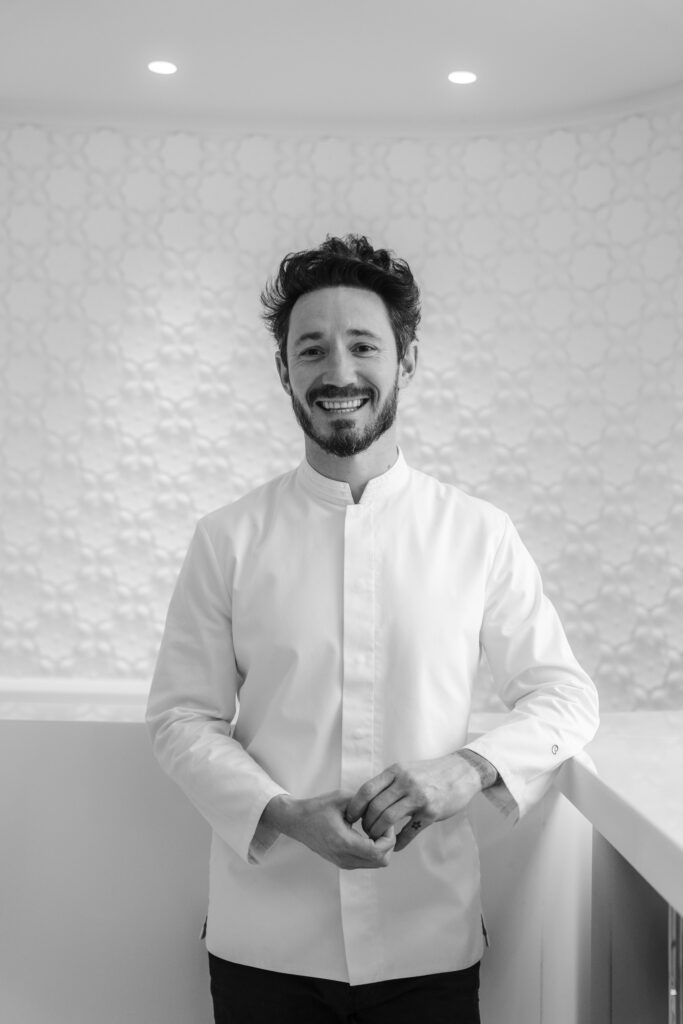 Chef Cédric Grolet is the Honorary President of the 2023 Coupe du Monde de la Pâtisserie.
"It is above all a source of pride for me to be the Honorary President of this Pastry World Cup, but also a huge responsibility", says Grolet. "I have to be 100% present and available for all these candidates from all over the world."
Commenting on this year's theme of Climate Change, Chef Grolet says, "Ecology is obviously a subject to be taken into consideration in our environment, and this issue has constantly guided my choices and those of my colleagues over the years. We have become more attentive to the origin of raw materials, to check that they come from organic farming, to favor French producers as much as possible, and to avoid waste as far as possible, as well as aiming for zero plastic in our packaging."
The Tasting Jury, which consists of one representative from each competing country, evaluates the candidates' creations based on criteria such as presentation, taste, working techniques, skills, respect for the products, and originality of the recipes. The Restaurant Style Dessert Jury is comprised of 7 members (4 pastry chefs and 3 culinary chefs) who judge the Restaurant Style Dessert event based on the same criteria as the Tasting Jury, with a particular focus on the smoothness of the service, as if in a restaurant.
The Tasting Jury
The jury for the competition is made up of pastry chefs who are designated by each team. They evaluate the candidates' creations based on criteria such as presentation, taste, working techniques, skills, respect for the products, and originality of the recipes.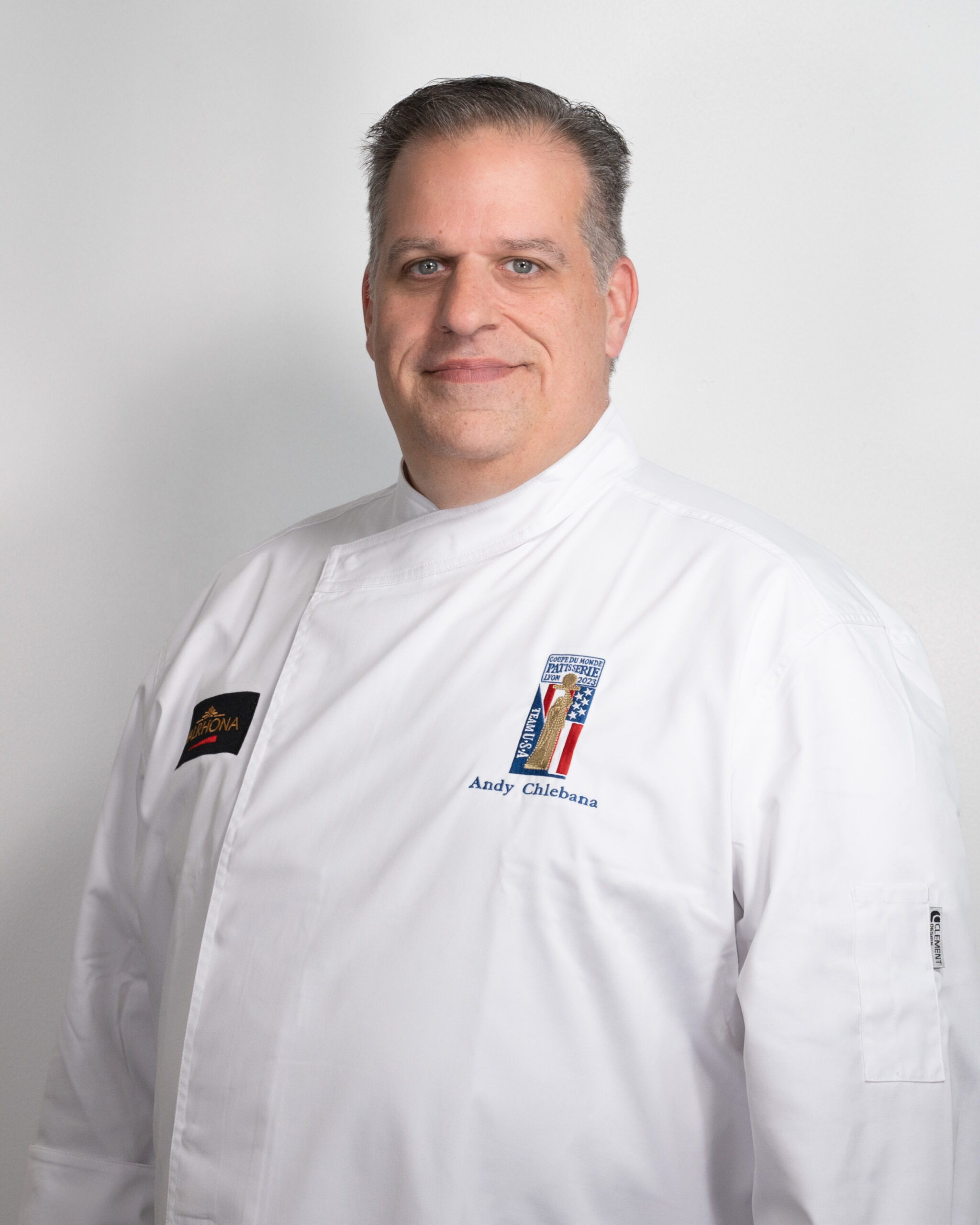 Argentina: Néstor Reggiani – La Nueva Muguet (Buenos Aires)
Canada: Daniel Hinojosa García – Institut de Tourisme et d'Hôtellerie du Québec (Montreal)
Chile: Alban Barta – Las Condes (Santiago)
Chinese Taipei: Kuo-Yi Lee – West Pastry (Taipei)
Colombia: Paula Reyes – Ambrosia Chocolate + Arte (Bogotá)
Egypt: Sedhom Reyad Aly – Royal Maxim Palace Kempinski***** (Cairo)
France: Yann Brys – Tourbillon (Paris)
Ghana: Mélissa Darko – Bake Depot (Accra)
Italy: Emmanuele Forcone – Forcone Consulting (Milan)
Japan: Takahiro Komai – Henri Charpentier (Tokyo)
Kuwait: Sadiqa Esmaeil – Dar Hamad Restaurant (Salmiya)
Malaysia: Kean-Chuan Yap – Academy of Pastry and Culinary Arts (Petaling Jaya)
Mauritius: Sandy Scioli – Long Beach Resort***** (Poste de Flacq)
Morocco: Kamal Rahal Essoulami – Rahal Group (Casablanca)
Philippines: Buddy Trinidad – Pastry Alliance of the Philippines (Manilla)
Singapore: Desmond Lee – InterContinental Singapore***** (Singapore)
South Korea: Min Ho Kang – Bread Panda (Incheon)
Tunisia: Mahrez Bouali – Maison Augustin (Paris)
United Kingdom: Denis Dramé – TheTasteLab by Classic Fine Foods (London)
USA: Andy Chlebana – Joliet Junior College (Joliet)
Restaurant Style Dessert Jury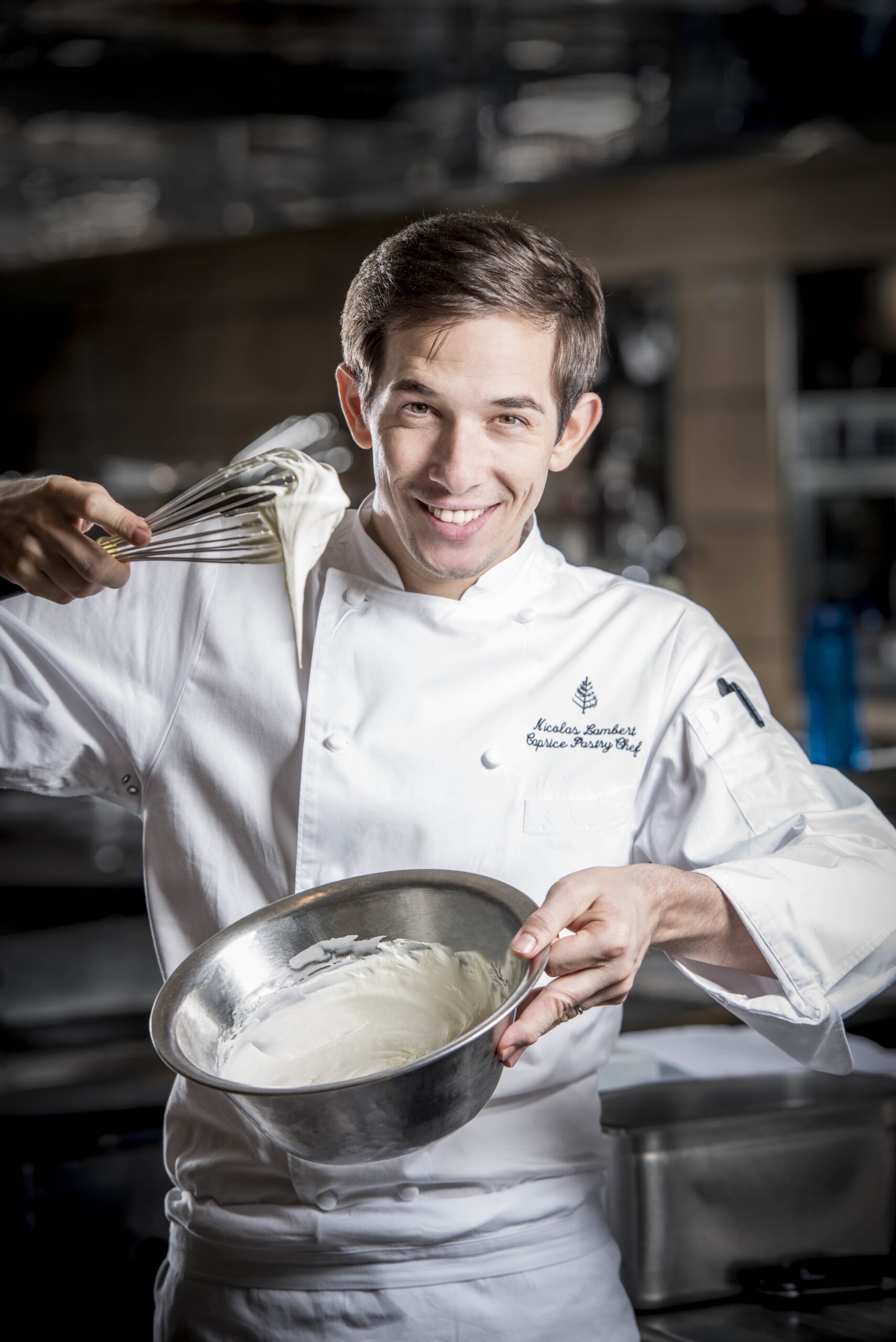 The Restaurant Style Dessert Jury is made up of seven highly skilled French and international chefs and pastry chefs, who judge the Restaurant Style Dessert competition with a focus on the smoothness of service, similar to what is expected in a restaurant setting.
Albert Adria – Enigma* (Barcelona)
Aurélie Collomb-Clerc – Flocon de Sel*** (Megève)
Sofia Cortina – La Vitrine (México)
Nicolas Lambert – Four Seasons (Dubaï)
Tom Meyer – Granite* (Paris), ancien candidat du Bocuse d'Or France Sébastien Vauxion – SarKara** (Courchevel)
Mauro Colagreco – Le Mirazur*** (Menton)
The Continental Selections
The Pastry World Cup has gained a reputation as one of the most prestigious events in the pastry industry over the past 30 years and is now considered the premier event in the global pastry scene. Since 2006, the competition has grown on an international level with the addition of various continental selection rounds.
At the end of a two-year selection process, during which 50 national and 4 continental selections take place, the 20 finalist teams will be in the spotlight during Sirha Lyon.
The Asian Pastry Cup and the European
Pastry Cup, in 2006
The Americas Pastry Cup (formerly
Copa Maya), in 2008
The African Pastry Cup, in 2011
The Middle East Pastry Cup, in 2020
What is the International Organizing Committee?
The International Organizing Committee (I.O.C.) sets the course for the Pastry World Cup, namely by drawing up the rules. During the competition, the members of the I.O.C. ensure that the competition runs smoothly and that the candidates comply with the rules and that the jury adheres to the marking criteria. The committee is made up of prestigious members and competition winners.
Map of The Hall
Follow Team U.S.A. (Twitter, Instagram, Facebook, TikTok) and the Coupe du Monde de la Pâtisserie (Twitter, Instagram, Facebook) on social media to keep up-to-date on all the latest news and activities. 

Team U.S.A. is sponsored by Valrhona (Founding Sponsor), Nielsen Massey, CapFruit, Paris Gourmet, Midwest Imports, AUI Fine Foods, St. Michel, Chef Rubber, Irinox, Bit Baking, de Buyer, Robot Coupe, Tomric, The Ekus Group, Clement Designs, and Steelite USA.