The fourth tasting dessert from Club Coupe du Monde Team U.S.A.'s presentation at the 2023 Coupe du Monde de la Pâtisserie is the Restaurant-Style Dessert. Along with the frozen lollipops, this is a relatively recent addition to the Pastry World Cup competition.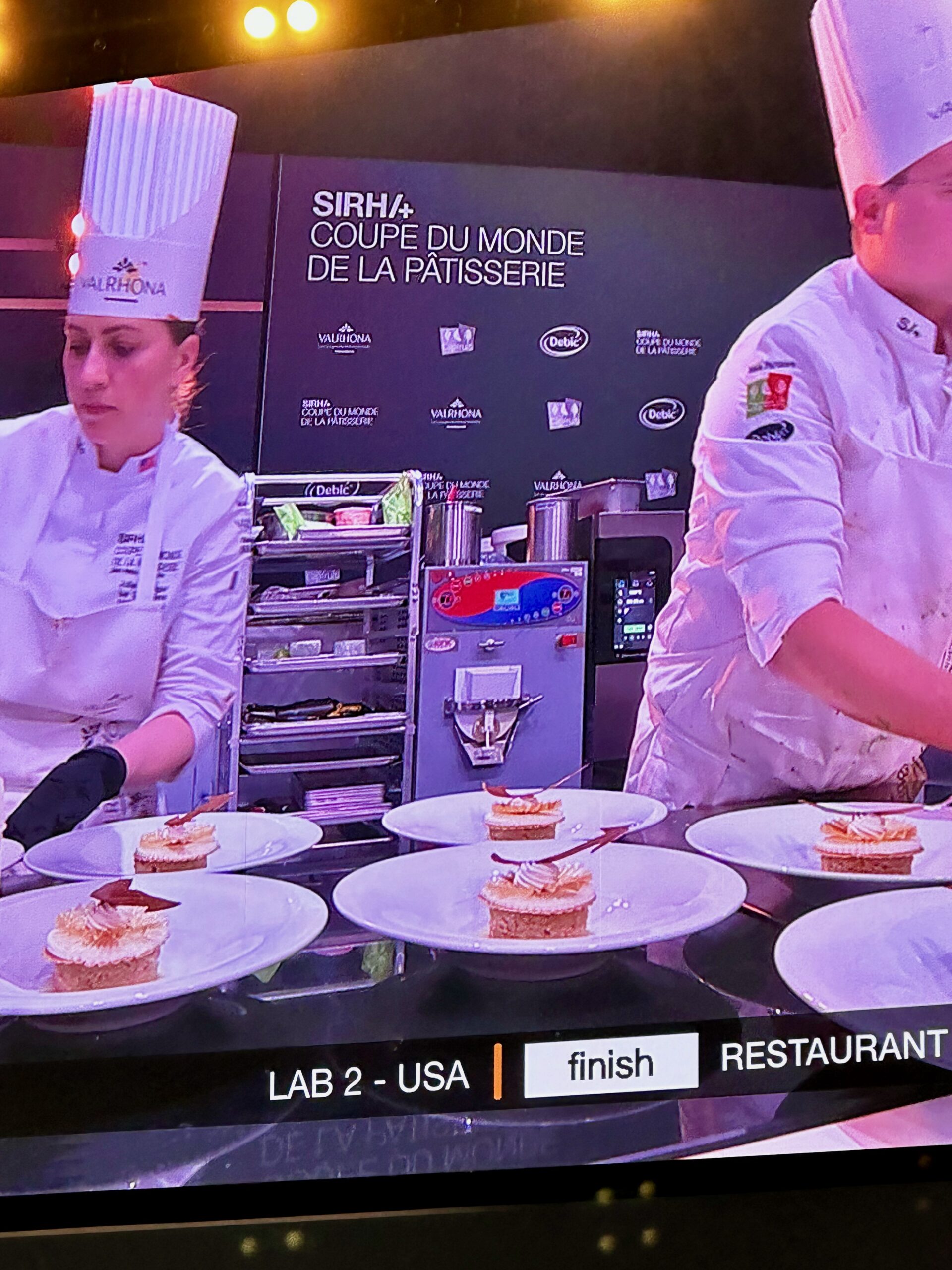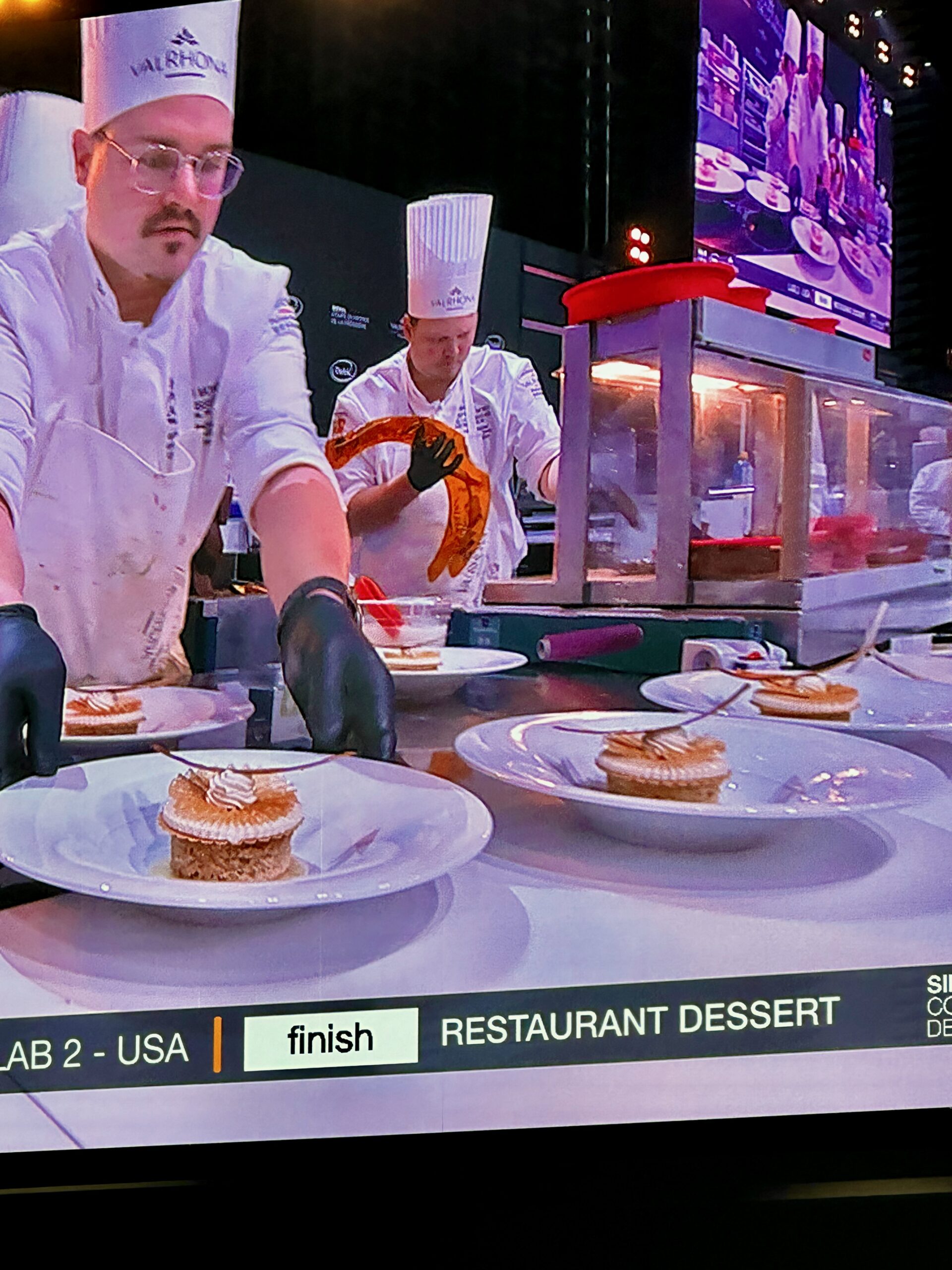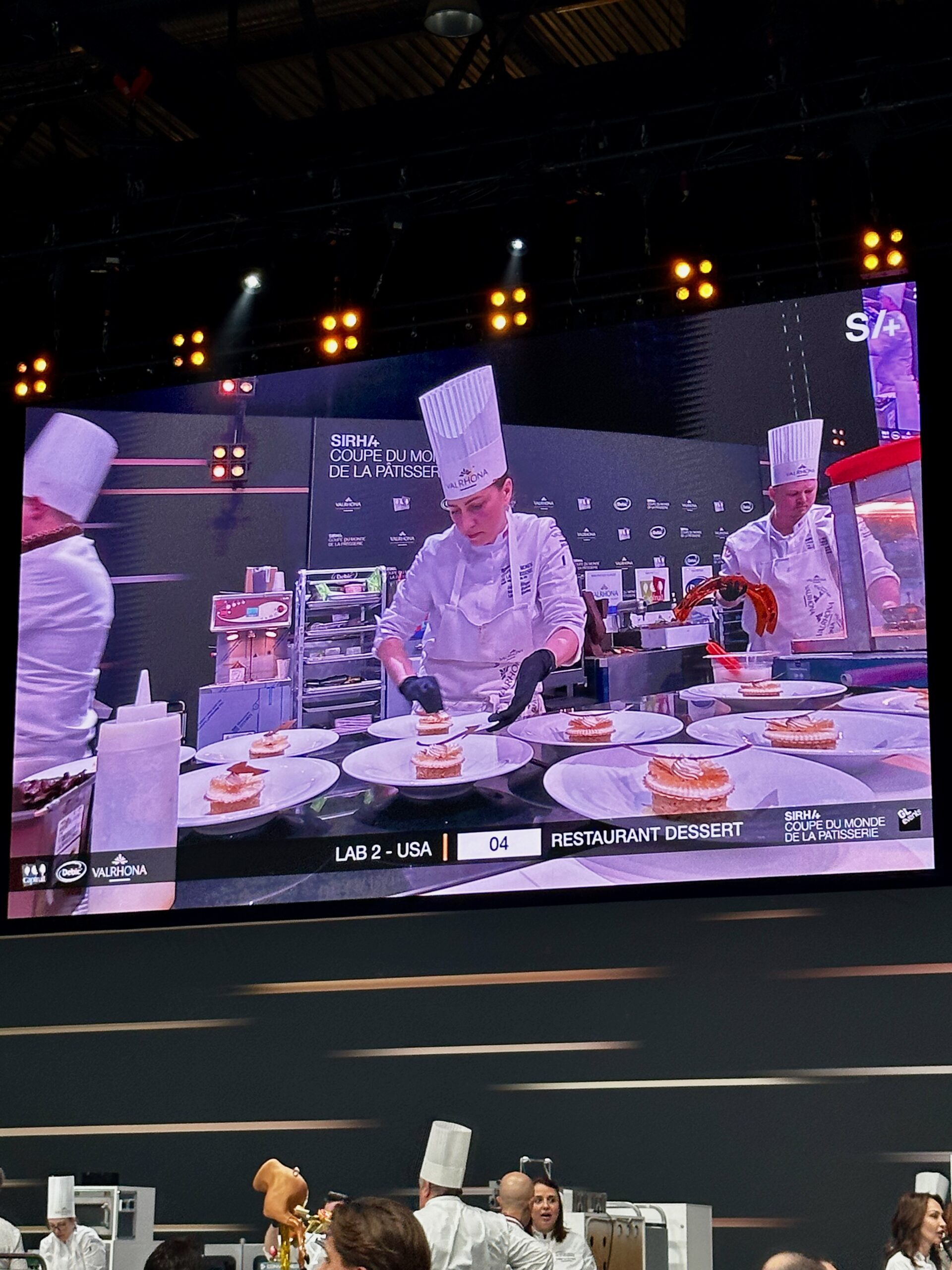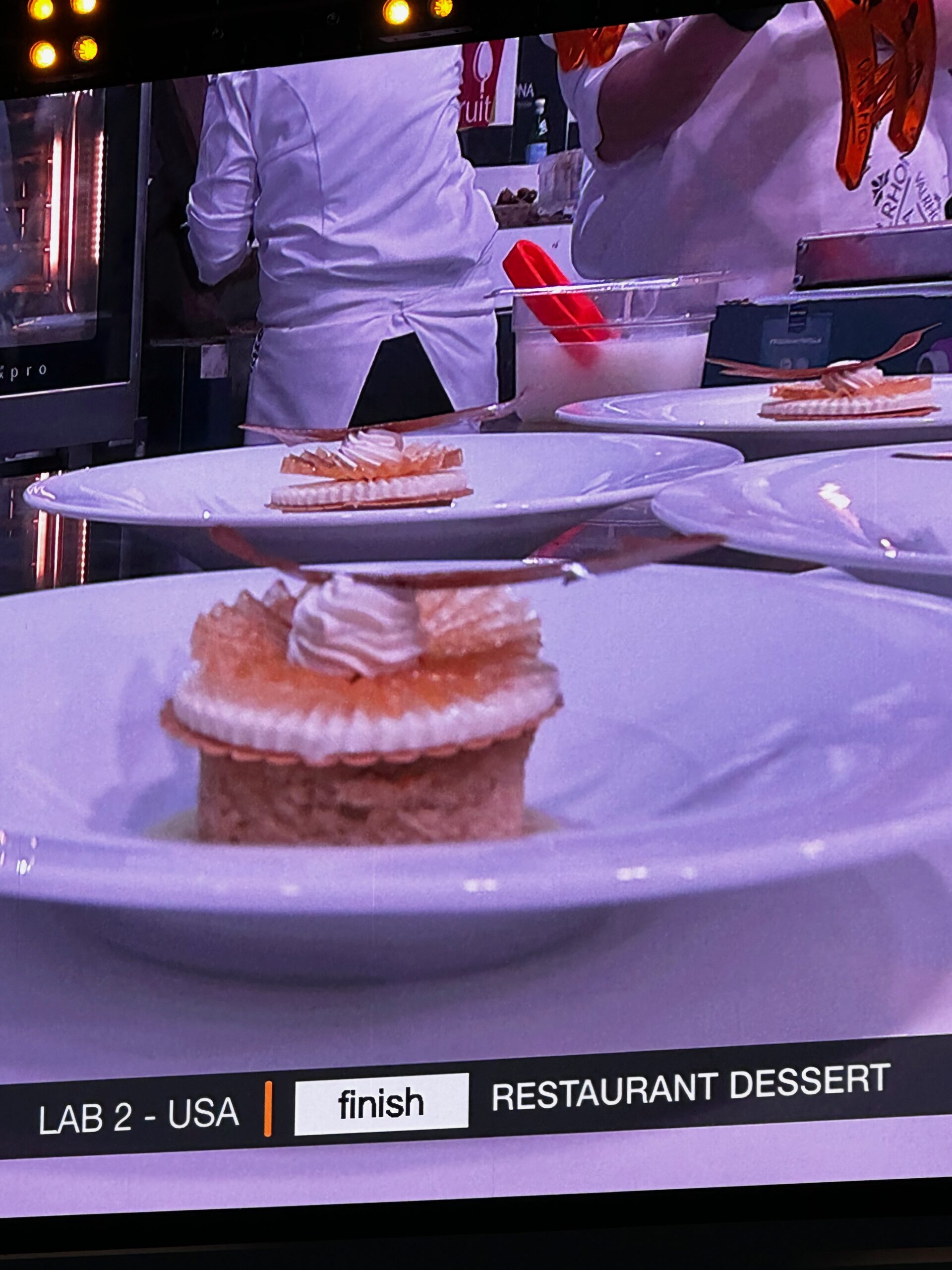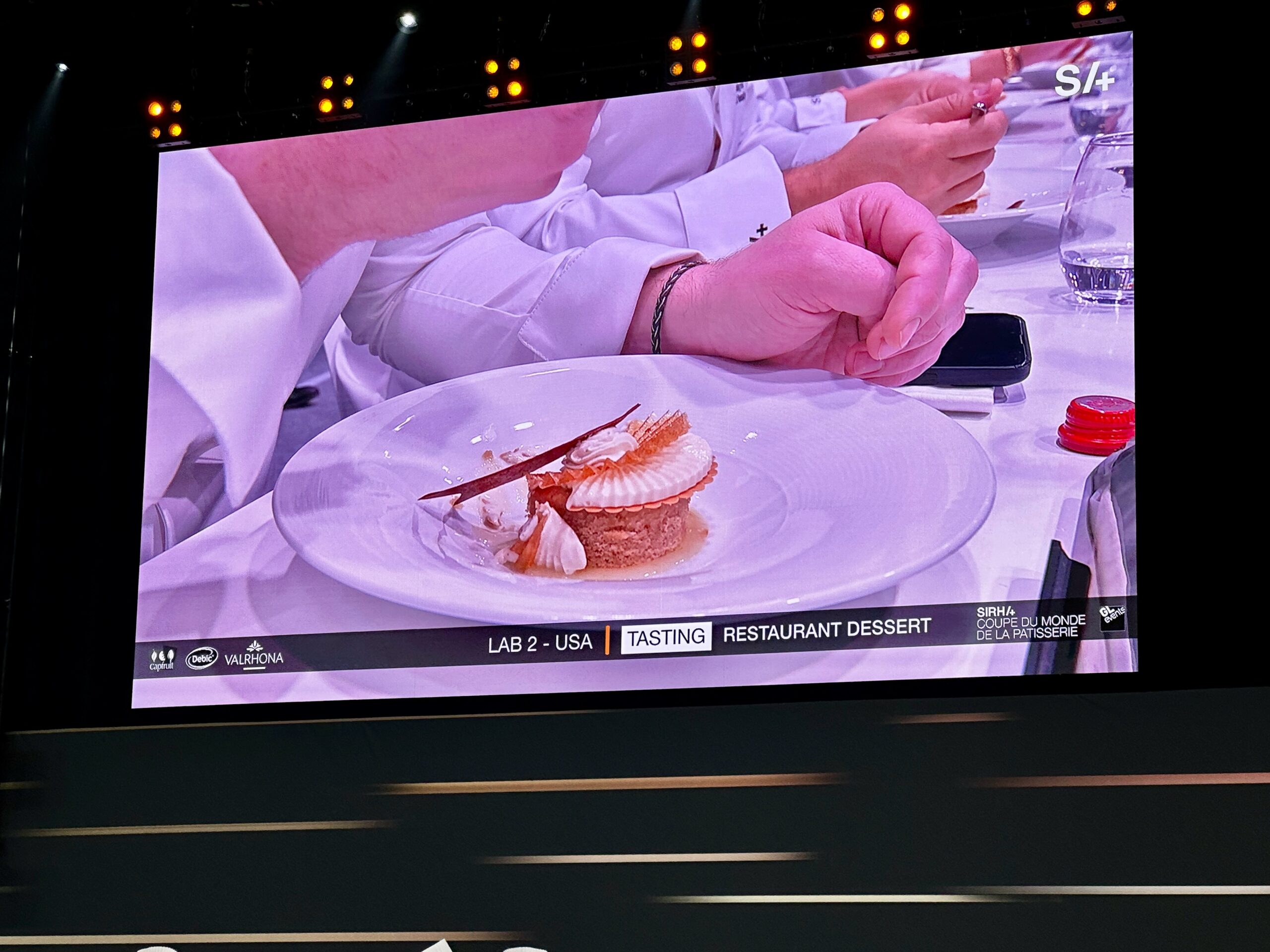 The name of Team U.S.A.'s plated dessert was "The Arrow."
The restaurant-style dessert is unique among the three presentations as it does not have a mock version. To accurately emulate a dessert served in a restaurant, hotel or standalone eatery, it must be made fresh on the premises, served promptly, and consumed immediately after preparation.
Each country must create 10 restaurant-style desserts incorporating another of the competition's sponsors, Debic® dairy products.
Other requirements for the restaurant-style dessert are:
8 desserts for tasting with identical composition and finish
1 dessert for the photo
1 dessert for presentation to the public
It must not include any colouring agents, titanium dioxide (E171) or iron oxides (E172)
The restaurant style desserts must be presented on a plate, prepared on site 'on the fly', in the manner of a dish served in a restaurant. These 'ephemeral' desserts are tasted immediately after they are sent for tasting, allowing for more delicate textures and temperatures than what is possible in a pastry shop.
Can be hot, cold, frozen or a mix of different textures and temperatures, more delicate than what is possible in desserts found in a shop
Must not be available for sale in pastry shops
The teams may work with a restaurant Pastry Chef to work on the design/conception of their creation before the contest
It must be presented on plain white plates with maximum diameter of 28 cm and 6 cm height. The choice of the plates is at the team's discretion.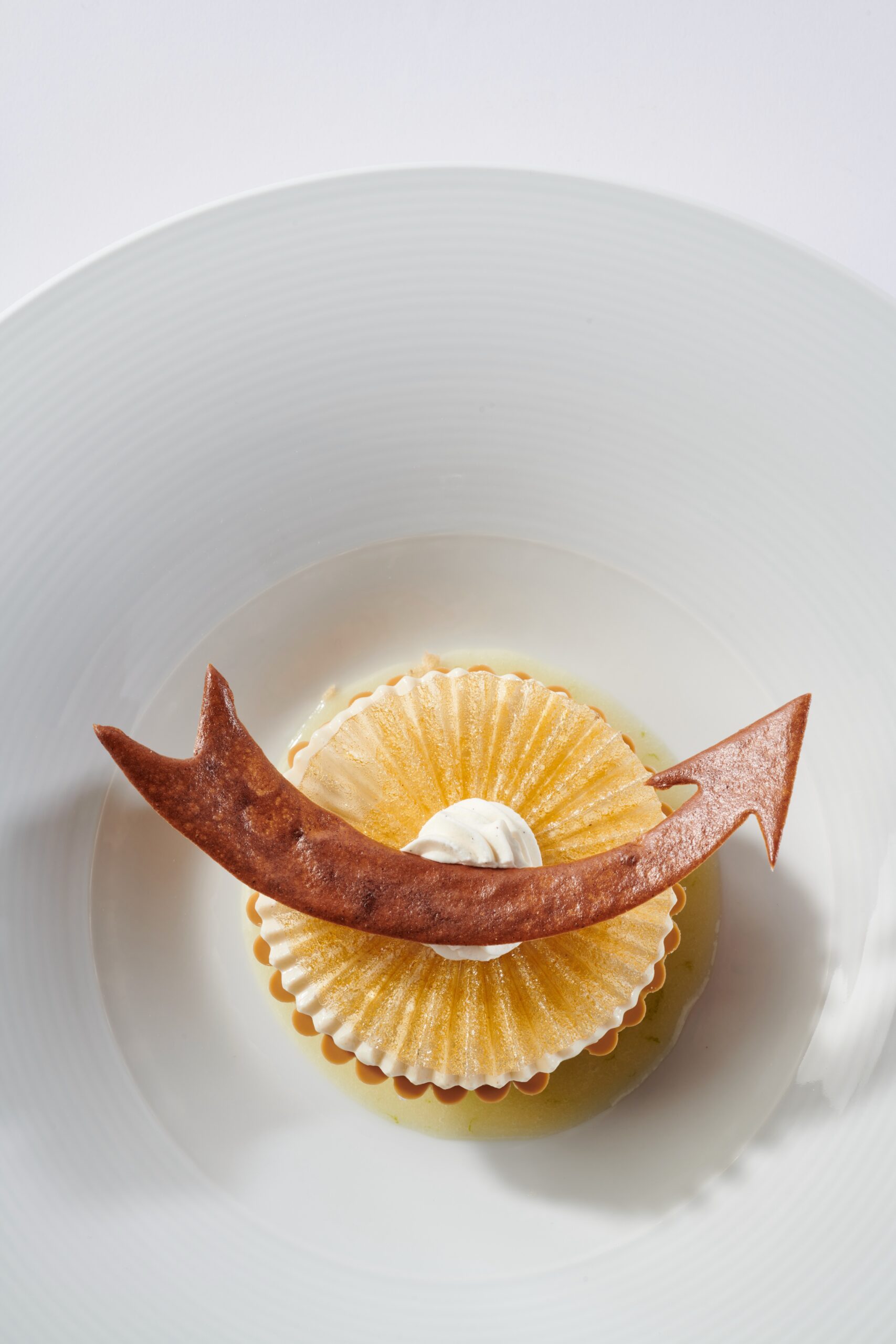 Restaurant-style Dessert – "The Arrow" has a hazelnut biscuit with a banana compote, rum and vanilla ice cream, topped with a disk of salted dulce de leche, and féve de tonka mousse. "The Arrow" is finished off with a rosette of crème fraîche, crunch praline, and a tuile cookie in the shape of an recycling arrow.
The Arrow represents the way to follow," says Team U.S.A. "It is also the same style of arrow used to represent the three recycling arrows."
The team was coached by two former Team U.S.A. participants: Chef Gilles Renusson, President, Club Coupe du Monde U.S.A., and Chef Andy Chlebana, pastry chef/instructor at Joliet Junior College in Illinois. Chlebana also served as one of the jury members at this year's Grand Finale.
Serving as consultants, and former Team U.S.A. members, were Chef Christophe Feyt, Chef Sylvain Leroy, and Chef Ewald Notter.
Team U.S.A. is sponsored by Valrhona (Founding Sponsor), CapFruit, Nielsen Massey, AUI Fine Foods, Midwest Imports, Paris Gourmet, St. Michel, Irinox, Chef Rubber, Bit Baking, de Buyer, The Ekus Group, Robot Coupe, Clement Designs, Tomric, and Steelite USA.
ABOUT CLUB COUPE DU MONDE USA
The club's purpose is to study and advance the art and science of food preparation and food service. Every two years the Club searches for and identifies America's best culinary educators, researchers, and foodservice professionals. By doing so, they hope to challenge those willing to participate in creating leading-edge advances in food preparation, taste combinations, and presentation styling.
ABOUT COUPE DU MONDE DE LA PÂTISSERIE
Founded in 1989, the Coupe du Monde de la Pâtisserie is an international competition representing different trades in the pastry industry including pastry chefs, ice cream specialists, chocolatiers, and confectioners.
Over the years, more than 50 nations have taken part in the various continental selection and final events. The top teams are invited to compete in the Coupe du Monde de la Pâtisserie. The competition typically takes place on the 2nd and 3rd day of the SIRHA trade exhibition. The Coupe du Monde de la Pâtisserie takes place biennially in the odd years during the month of January at the Eurexpo venue in Lyon, France.
Here is our continuing reporting on this year's Coupe du Monde de la Pâtisserie: