Club Coupe du Monde Team U.S.A. won the silver medal at the Coupe du Monde de la Pâtisserie's Americas Continental Selection in Santiago, Chile. Taking place over five hours on Wednesday, 13 July 2022, they, along with Chile (Gold Medal) and Argentina (Bronze Medal) will join the winners from the European selection: the United Kingdom, Sweden, and Denmark, as well as France at the Coupe du Monde de la Pâtisserie in Lyon, France on January 20-21, 2023. The final two continental selections, the African Pastry Cup and the Middle East Pastry Cup will take place this fall.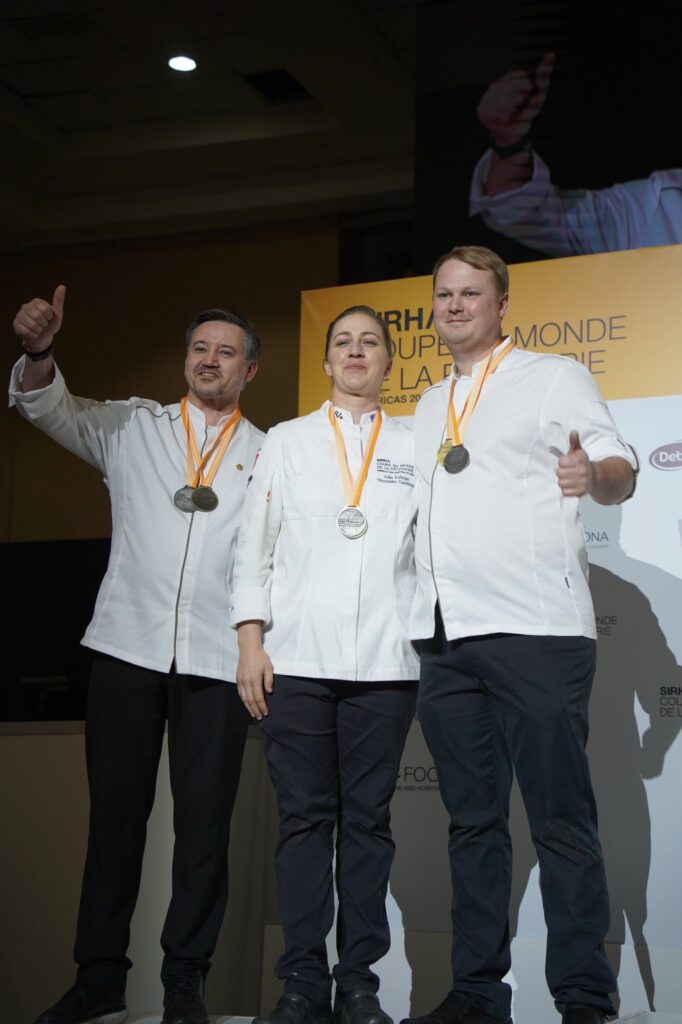 Team USA wins the silver medal at the Americas Continental Selection in Santiago, Chile. L to R: Chef Christophe Feyt (Jury & Team Coach), Chef Julie Eslinger (Team Captain), and Chef Jordan Snider/Coupe du Monde de la Pâtisserie/Twitter
Chef Julie Eslinger, team captain, and Chef Jordan Snider competed in the five-hour competition against six other countries from the Americas for one of three qualifying slots. Each team was required to produce three tasting and two artistic creations (one sugar and one chocolate centerpiece), as well as a buffet display integrating their creations and reflecting their chosen theme. Team U.S.A.'s theme was "casino."
Team U.S.A.'s dessert presentations were:
Frozen Dessert – the frozen fruit dessert, entitled "Lucky Sevens" was inspired by the reels on a casino slot machine and the iconic, lucky "7" imagery. The team chose tropical flavors: avocado ice cream, coconut ice cream, classic strawberry sorbet, and a bold mango parfait.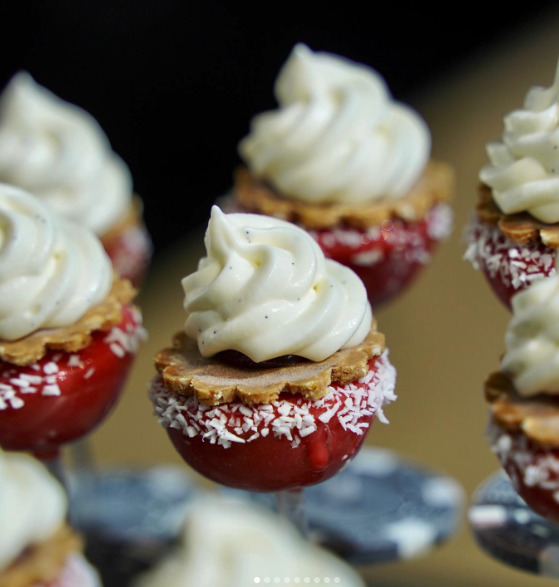 Frozen Lollipops – named "Neon Lights," reflects the vibrant colors found in neon signs typically found inside and outside a casino. The dessert combines lemon with strawberry and subtlety of hazelnuts.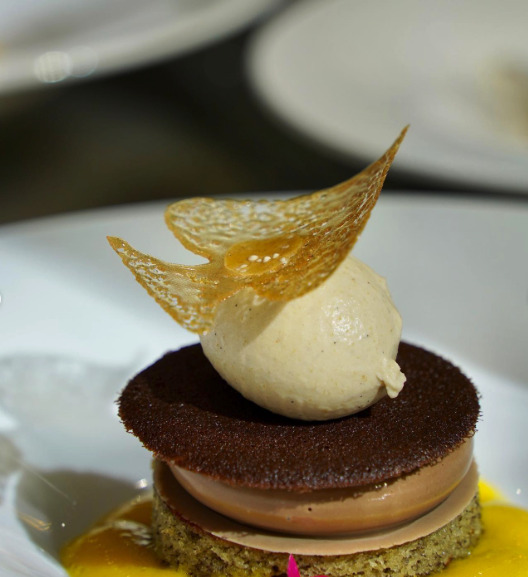 Restaurant Dessert – named "Sleight of Hand," was inspired by the creaminess of Valrhona Bahibe 46% paired with the Valrhona Tainori 64%. Reflecting the vivid tropical flavors, "Slight of Hand" paired perfectly with their frozen dessert and frozen lollipop. This restaurant plated dessert blended fresh banana ice cream, fresh mango, and flavors of passion fruit.
The three tasting creations are a frozen dessert unitizing CapFruit frozen purees, 12 frozen lollipops, and seven restaurant-style desserts with "Pure Origin" Valrhona chocolates.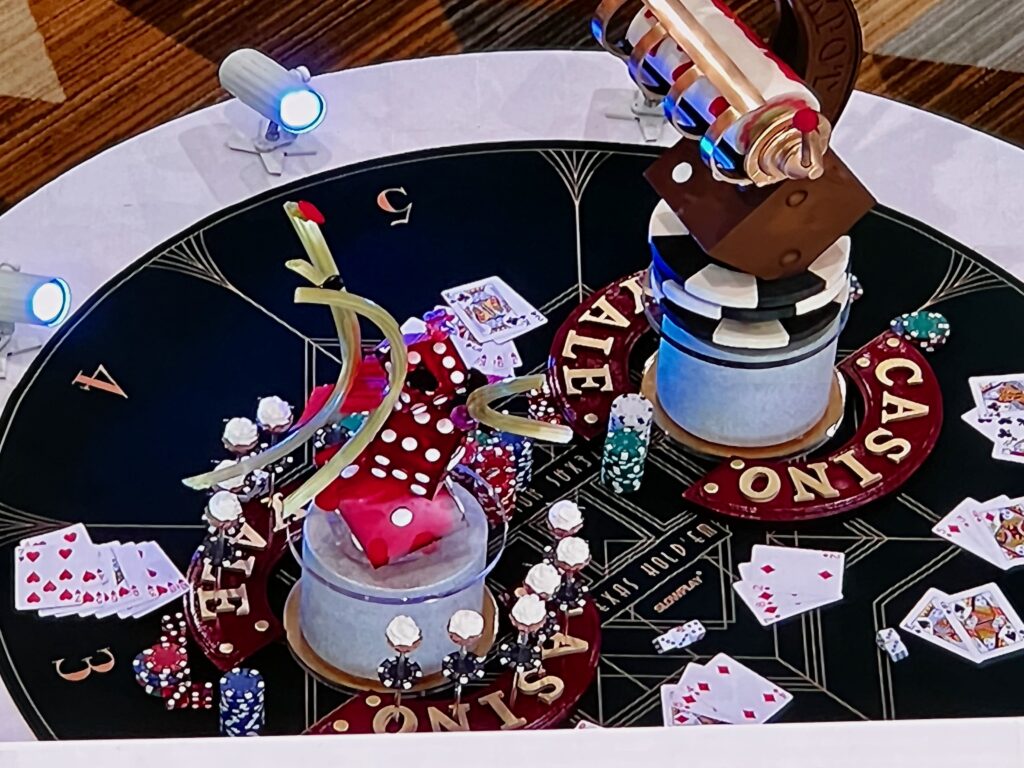 Team U.S.A.'s buffet display integrates their creations and reflects their chosen theme – Casino
The two frozen desserts are to serve eight persons – one for the photographers and the second for public presentation. Each frozen dessert must weigh between 800-1000 grams (1.76 – 2.2 pounds) and be identical in shape, composition, and finish. In addition, the rules state that the frozen dessert can be made of chocolate, "but must have a dominate taste of [CapFruit] fruit." It may also be brought pre-made, but cannot be finished, glazed, or decorated. It also must have a sorbet or ice cream coating and "all elements of the decorations" must be edible.
Each team must also bring a "mock" dessert, assembled but not finalized, that will be integrated into the chocolate display piece and placed on the presentation table.
Then seven restaurant-style desserts were to include five for tasting, one for photographic purposes, and one to display to the public.
These plated desserts are required to be identical in nature, prepared in a plain white dish as found in a restaurant, and can be hot, cold, frozen, or a mix of different temperatures.
The artistic sugar creation was to be made entirely from sugar and prepared on-site. According to the official rules, the sugar artistic creation is a free composition and must include 50% pulled and blown sugar, include hollow molded pieces, and cannot be more than 4.75 feet in height. The display was also to integrate mock versions of the 12 frozen lollipops.
The chocolate creation, also a free composition, must be made entirely from chocolate and fabricated onsite. The rules state that it will be composed of molded and hollow pieces, "composed of chocolate in all its forms (molded, cut-out, shaped, sculpted, etc), but "solid bloc moulding is forbidden." It also has the same height requirements as the artistic sugar creation and must include the mock frozen dessert.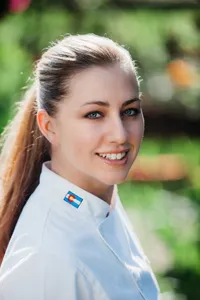 Pastry Chef Julie Eslinger, Team USA Captain and Executive Pastry Chef Jordan Snider
Julie Eslinger is currently the pastry chef at The Country Club at Castle Pines in Colorado and is this year's team captain. She is only the second woman to hold that position for Team U.S.A. Jordan Snider is the executive pastry chef at the Kiawah Island Golf Resort in South Carolina.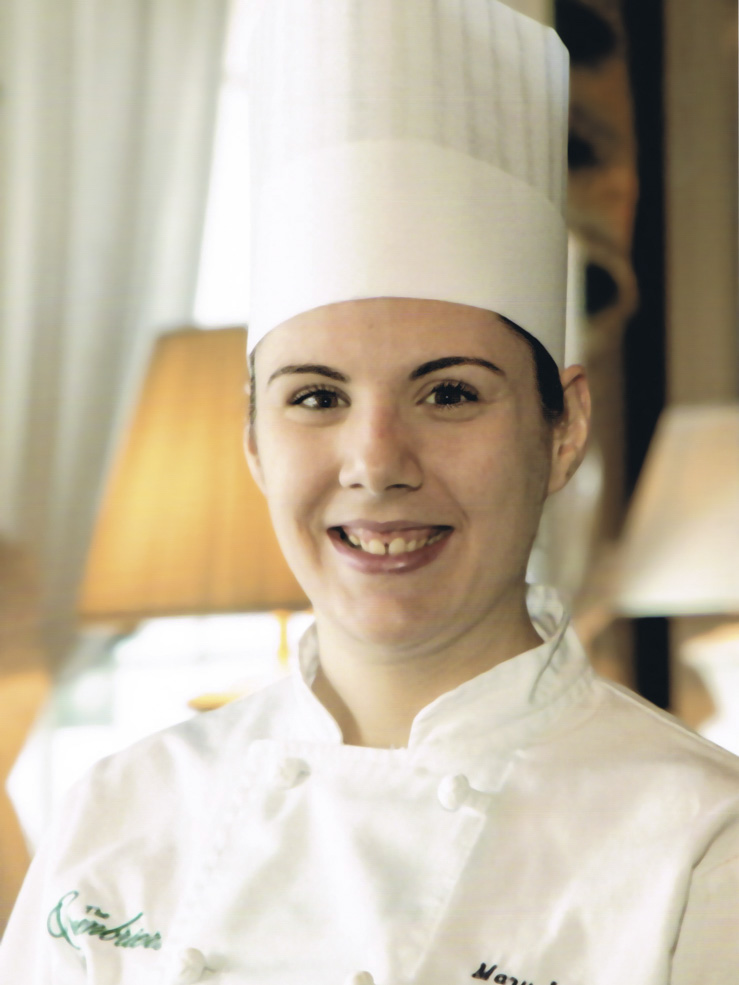 Assistant Pastry Chef Mary Lewis and Executive Pastry Chef François Behuet
Team U.S.A's other team members include Mary Lewis, assistant pastry chef at A la Folie Bakery in Illinois, and team alternate, François Behuet, executive pastry chef at the Ritz-Carlton, Los Angeles.
The team is coached by three former Team U.S.A. participants: Chef Gilles Renusson, President, Club Coupe du Monde U.S.A., and Chef Andy Chlebana, pastry chef/instructor at Joliet Junior College in Illinois, as well as Chef Christophe Feyt, Executive Pastry of Hilton Hotels & Resorts in Dallas, Texas.
Team U.S.A. is sponsored by Valrhona (Founding Sponsor), Nielsen Massey, CapFruit, Paris Gourmet, Midwest Imports, AUI Fine Foods, St. Michel, Chef Rubber, Irinox, Bit Baking, de Buyer, Robot Coupe, Tomric, The Ekus Group, and Steelite USA.
ABOUT CLUB COUPE DU MONDE USA
The club's purpose is to study and advance the art and science of food preparation and food service. Every two years the Club searches for and identifies America's best culinary educators, researchers, and food service professionals. By doing so, they hope to challenge those willing to participate in creating leading-edge advances in food preparation, taste combinations, shelf life extension, and presentation styling.
ABOUT COUPE DU MONDE DE LA PÂTISSERIE
Founded in 1989, the Coupe du Monde de la Pâtisserie is an international competition representing different trades in the pastry industry including pastry chefs, ice cream specialists, chocolatiers, and confectioners.
Over the years, more than 50 nations have taken part in the various continental selection and final events. The top teams are invited to compete in the Coupe du Monde de la Pâtisserie. The competition typically takes place on the 2nd and 3rd day of the SIRHA trade exhibition. The Coupe du Monde de la Pâtisserie takes place biennially in the odd years during the month of January at the Eurexpo venue in Lyon, France.