Next month, Club Coupe du Monde U.S.A. will participate in the Americas selection for a spot at the Coupe du Monde de la Pâtisserie in Lyon, France in January.
Representing the United States are pastry chefs Julie Eslinger, Mary Lewis, and Jordan Snider will once again make up the team of three with François Behuet as the team alternate.
Julie Eslinger, currently the pastry chef at The Country Club at Castle Pines in Colorado, will be this year's team captain and only the second woman to hold that position for Team U.S.A. Mary Lewis is the assistant pastry chef at A la Folie Bakery in Illinois. Jordan Snider is currently the executive pastry chef at the Kiawah Island Golf Resort in South Carolina. Team alternate, François Behuet is the executive pastry chef at the Ritz-Carlton, Los Angeles.
The team is coached by two former Team U.S.A. participants: Chef Gilles Renusson, President, Club Coupe du Monde U.S.A., and Chef Andy Chlebana, pastry chef/instructor at Joliet Junior College in Illinois.
After several editions in Mexico, the Americas selections of the World Pastry Cup will take place for the first time in Chile. The Metropolitan Santiago, a convention center managed by GL events, the organizer of the competitions, will host this international culinary competition showcasing the best pastry chefs from the American territories on 13 July 2022.
Eight teams will compete for 5 hours of competition. Each team will present creations in five categories:
Frozen desserts
Popsicles
Restaurant dessert
Sugar art piece
Artistic chocolate piece
In running order: Canada, Mexico, Colombia, Brazil, U.S.A., Ecuador, Argentina, and Chile.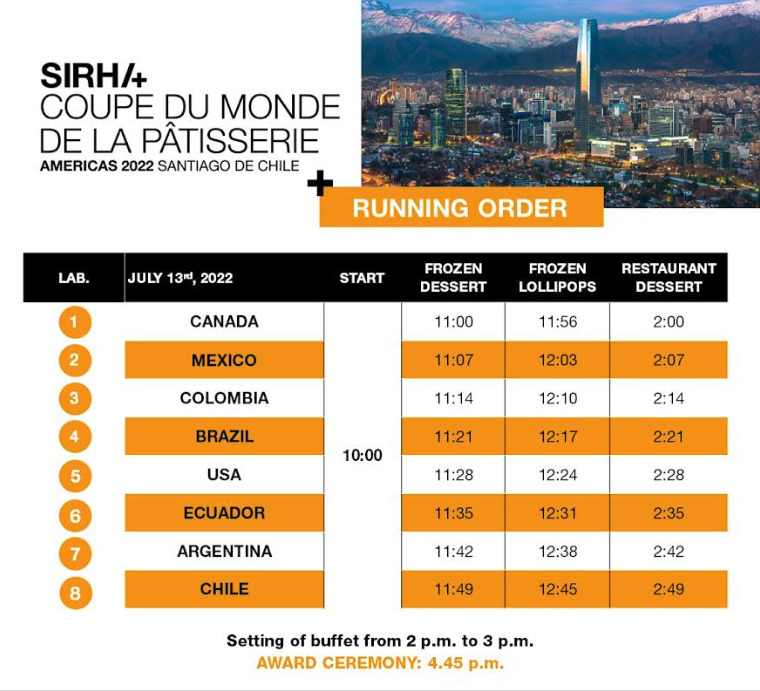 The three best teams will join the six teams already qualified for the Grand Finale of the World Pastry Cup (Denmark, France, Italy, Japan, United Kingdom, and Sweden) on 20-21 January 2023 at the Coupe du Monde de la Pâtisserie in Lyon, France. 
Team U.S.A. is sponsored by Valrhona (Founding Sponsor), Nielsen Massey, CapFruit, Paris Gourmet, Midwest Imports, AUI Fine Foods, St. Michel, Chef Rubber, Irinox, Bit Baking, de Buyer, Robot Coupe, Tomric, The Ekus Group, and Steelite USA.