Club Coupe du Monde U.S.A. has announced the team of pastry chefs who will represent the United States at the Coupe du Monde de la Pâtisserie on January 21-22, 2023, in Lyon, France. Team U.S.A. will be represented by pastry chefs Julie Eslinger, Jordan Snider, and François Behuet. Chef Andy Chlebana will serve as the team coach.
The current team was originally scheduled to participate in the 2021 Coupe du Monde de la Pâtisserie, however, they pulled out due to the ongoing coronavirus pandemic.
"The U.S. Team has participated in every Coupe du Monde de la Pâtisserie since its inception," said Chef Gilles Renusson, President, Coupe du Monde U.S.A. "However, the ongoing coronavirus pandemic made this impossible. We made the smart, responsible decision to wait until 2023. We are very excited to participate once again."
Founded in 1989, the Coupe du Monde de la Pâtisserie is a biennial international competition taking place in the odd years during the month of January. The organization represents different trades in the pastry industry including pastry chefs, ice cream specialists, chocolatiers, and confectioners.
2023 TEAM MEMBERS
Julie Eslinger – Team Captain – The Country Club at Castle Pines, Pastry Chef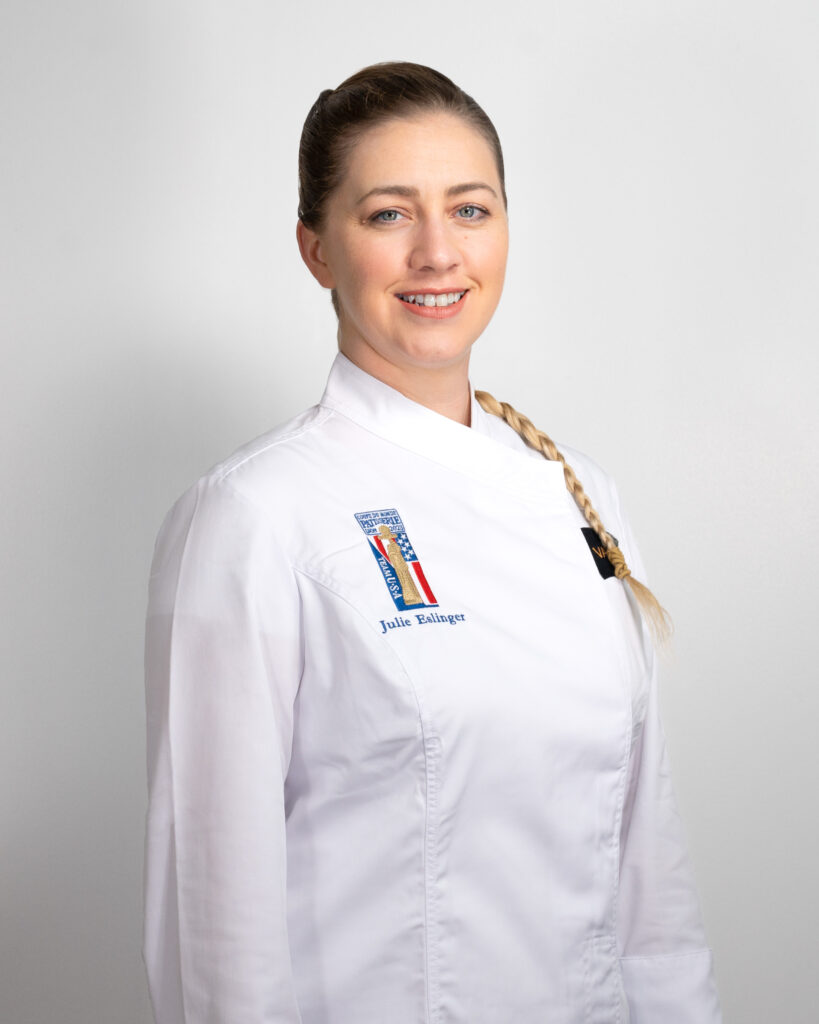 Club Coupe du Monde Team USA
Team Captain
Chef Julie Eslinger
Julie Eslinger, currently the pastry chef at The Country Club at Castle Pines in Colorado, will be this year's team captain and only the second woman to hold that position for Team U.S.A.
Born in Idaho, Eslinger worked in a number of different industries before finding her way into the pastry kitchen. Studying at the Art Institute of Colorado, she was introduced to sugar, chocolate, and ice carving techniques. She says she felt an instant connection with her artistic background.
While still in school, Eslinger began working for Centerplate at the Sports Authority Field, home to the Denver Broncos, at Mile High Stadium. In 2012 Eslinger graduated and became the Assistant Pastry Chef for Centerplate at the Colorado Convention Center. She oversaw the production of all in-house-made pastry items and specialized in custom cakes, sugar, and chocolate showpieces.
When the coronavirus pandemic shut the world down in March 2020, Eslinger hoped to return to Centerplate, but it was not to be. "Too much time had passed," she said. In August of that year, she accepted a position as pastry chef at the Country Club at Castle Pines, just south of Denver, in Castle Rock, Colorado.
"What I love most about pastry is the meticulousness and attention to detail involved in the profession," says Eslinger. "I know some culinary people hate that, but I love it! Also, there is so much to learn about the science of pastry. In addition, there are always new techniques to learn – whether they are traditional or modern.
Eslinger can be followed on Instagram: @slingerjl.
Jordan Snider – Team Member – Kiawah Island Golf Resort, Executive Pastry Chef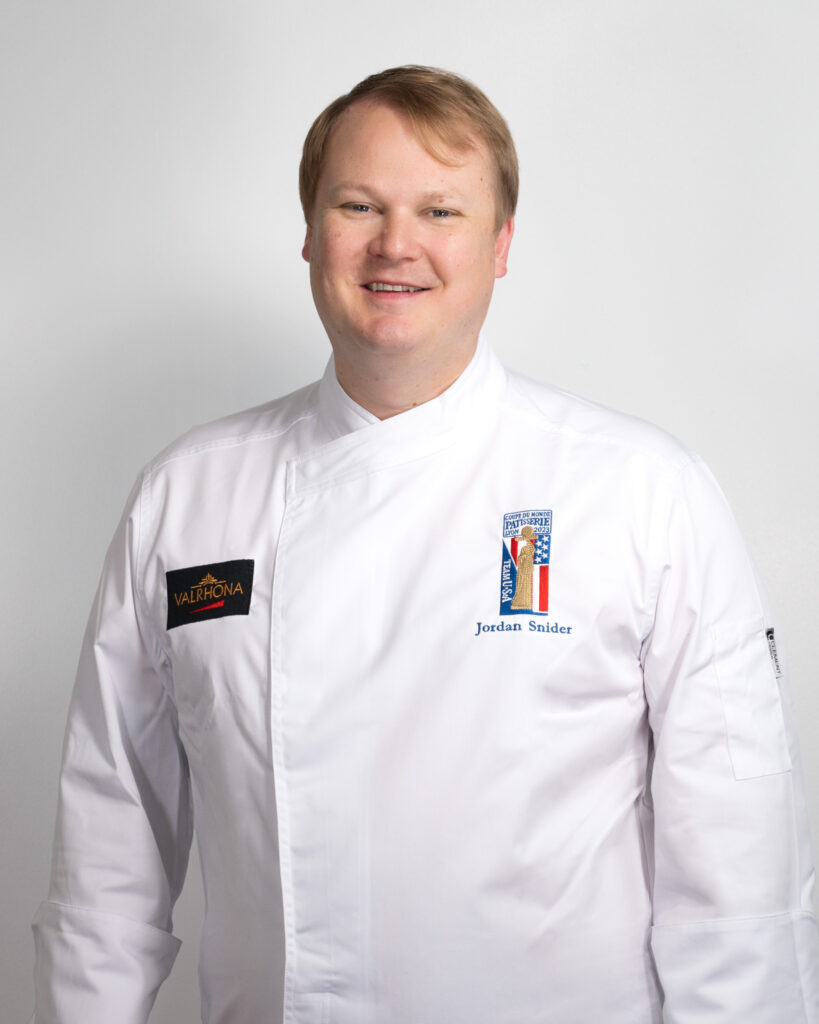 Club Coupe du Monde Team USA
Team Member
Chef Jordan Snider
Born in South Carolina and raised in Charleston, Jordan Snider, is currently the executive pastry chef at the Kiawah Island Golf Resort in South Carolina. Growing up all he wanted to be was a chef. After working in a number of different kitchens, Snider found his way into a production bakery and he was hooked.
Snider started working at a retail and production bakery in his hometown of Charleston working with bread and viennoiserie. He then spent a number of years working in fine dining and casual restaurants, until transitioning to a private club focusing primarily on banquets.
After 10 years, Snider and his wife relocated to Las Vegas where he worked in the banquet kitchens of some of the top resorts including the Mandarin Oriental, Paris Las Vegas, and Mandalay Bay. He said the volume and scale of banquets at these hotels shaped his career.
In 2014, he moved to San Diego where he was the executive pastry chef at the Fairmont Grand Del Mar, a Forbes 5-Star Resort, in San Diego, California. Four years later, Snider moved back to the Charleston area to work at The Sanctuary at Kiawah Island Golf Resort, South Carolina's only five-star resort, as the executive pastry chef.
Snider said that what he loves about the pastry profession – specifically working in hotels – is the fact that he can work in every area of pastry.
"Working in the pastry department of a hotel one day you can be doing a wedding cake, showpiece, or bread," stated Snider. "Then other days you can be involved in anything from plated desserts to ice cream or viennoiserie. We do it all. I like that it is ever-changing."
Being a part of Pastry Team U.S.A. has always been a professional goal for Snider. "For nearly 10 years now I have always wanted to represent my country at the Coupe du Monde de la Pâtisserie," he said. "I couldn't be more thrilled."
Snider can be followed on Instagram: @sniderjw.
François Behuet – Team Member – Ritz-Carlton, Los Angeles, Executive Pastry Chef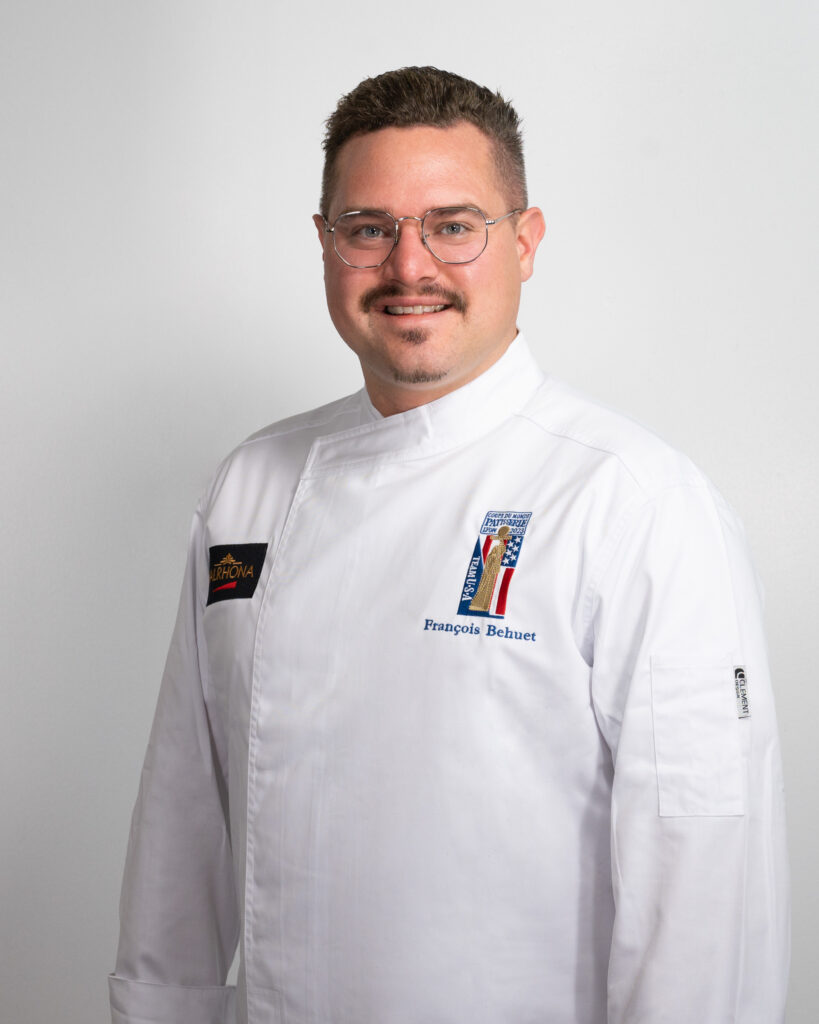 Club Coupe du Monde Team USA
Team Member
Chef François Behuet
Born in Caen, France, François Behuet discovered his passion for the art of pastry and chocolate at an early age. A 14-year-old François decided he would pursue pastry as his career. He desired to create and advance the art of traditional pastries, as well as to produce chocolate with an artistic touch.
In 2004, Behuet was employed as a pastry chef apprentice at Roussel Pastry, a renowned pastry shop in his hometown. Two years later, he accepted a chocolate apprenticeship at Chocolaterie Les Marianik's in Deauville, France. The chocolate was all handcrafted as it originally was at the time the company was first established. After working there for three years he became a chocolate demonstrator for Flyn Chef, an international company known for its chocolates and confectionery.
In 2012, Behuet moved to Paris, where he was employed as the chocolate bonbons production manager at the renowned Chocolaterie Jadis et Gourmande.
He eventually made his way to the United States and in 2014 Behuet worked for François Payard as an executive chocolate chef. After three years, he accepted a position as the executive pastry chef for Petrossian. In 2018, Behuet headed west and joined the California-based restaurant, market, café, and patisserie Bottega Louie as a pastry chef. During his time there, he was also part of the research and development team for a second Bottega Louie in West Hollywood.
In 2019, Behuet was part of the opening team at The Pendry West Hollywood. He worked with Chef Wolfgang Puck, who was responsible for designing the hotel's dining and beverage venues. For seven months, he, and the other opening team members, were responsible for the kitchen design, creating the pastry menus for the hotel's three restaurants and a pastry boutique. The Pendry West Hollywood opened to the public in 2020.
Recently, Behuet has joined the award-winning, AAA four-diamond Ritz Carlton, Los Angeles.
Behuet can be followed on Facebook: François Behuet and Instagram: @francoisbehuet.
2023 TEAM COACHES
The team is coached by two former Team U.S.A. participants: Chef Gilles Renusson, President, Club Coupe du Monde U.S.A., and Chef Andy Chlebana.
Andy Chlebana – Team Coach – Joliet Junior College, Pastry Chef Instructor, C.E.P.C., C.C.A., C.H.E.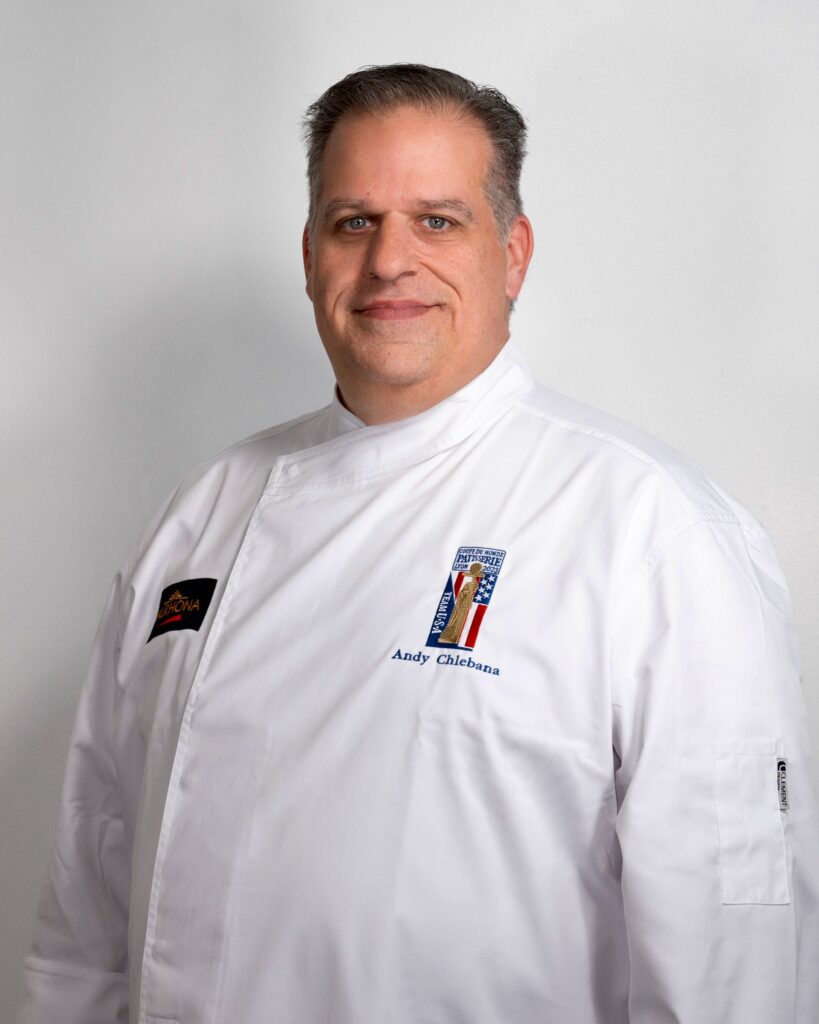 Club Coupe du Monde Team USA Coach Chef Andy Chlebana
Andy Chlebana did not know what he wanted to be after graduating from Marist High School in Chicago, Illinois, he decided to follow his brother to study culinary arts at Joliet Junior College.
During his third semester, Chlebana took an advanced baking and pastry class and realized he found his calling. After graduating, he obtained a certificate in baking and pastry at the Culinary Institute of America (CIA), in Hyde Park, New York. He went on to earn his bachelor of science degree in hospitality management from the University of Phoenix.
While earning his degree at the CIA, Chlebana worked on the weekends at the Beekman Arms and Delamater Inn in Rhinebeck, New York. After graduating, he moved back to Chicago where he spent three years creating desserts for the Four Seasons Chicago's signature dining room. He then moved to Florida and worked at the Ritz-Carlton Amelia Island preparing the desserts for their fine dining restaurant, as well as working as an overnight baker. Chlebana was also on the opening team for the Ritz-Carlton Washington, D.C. before accepting a job with Albert Uster Imports as a corporate account manager.
"Working at Albert Uster Imports, I learned more about the science of ingredients that chefs work with than ever before," said Chlebana.
Currently, Chlebana has spent the past 16 years working as a pastry chef/instructor at his alma mater – Joliet Junior College. He says it is the "best job" he has ever had. He has also written a pastry arts textbook, "The Advanced Art of Baking & Pastry," published by Wiley. The 498-page book covers a broad range of topics encompassing items produced in the bakeshop, including bread, viennoiserie, creams, pies, tarts, cakes, and decorative work in a professional manner that is easily approachable for baking and pastry students, professionals, and those who want to further their knowledge about baking and pastry.
Chlebana, who was on the 2013 U.S. World Pastry Cup Team, honestly did not think he would make the team when he tried out for it. "There have been so many great pastry chefs on the team before and after me," said Chlebana. "It is an honor to be listed among them and represent the United States."
In addition, in 2013, Chlebana was also named one of the ten best pastry chefs in America by Dessert Professional magazine.
Chlebana can be followed on Facebook: Andy Chlebana, Twitter: @AndyChlebana, and Instagram: @chefandychlebana.
Gilles Renusson – President, Coupe du Monde U.S.A., C.M.P.C., Chevalier du Merite Agricole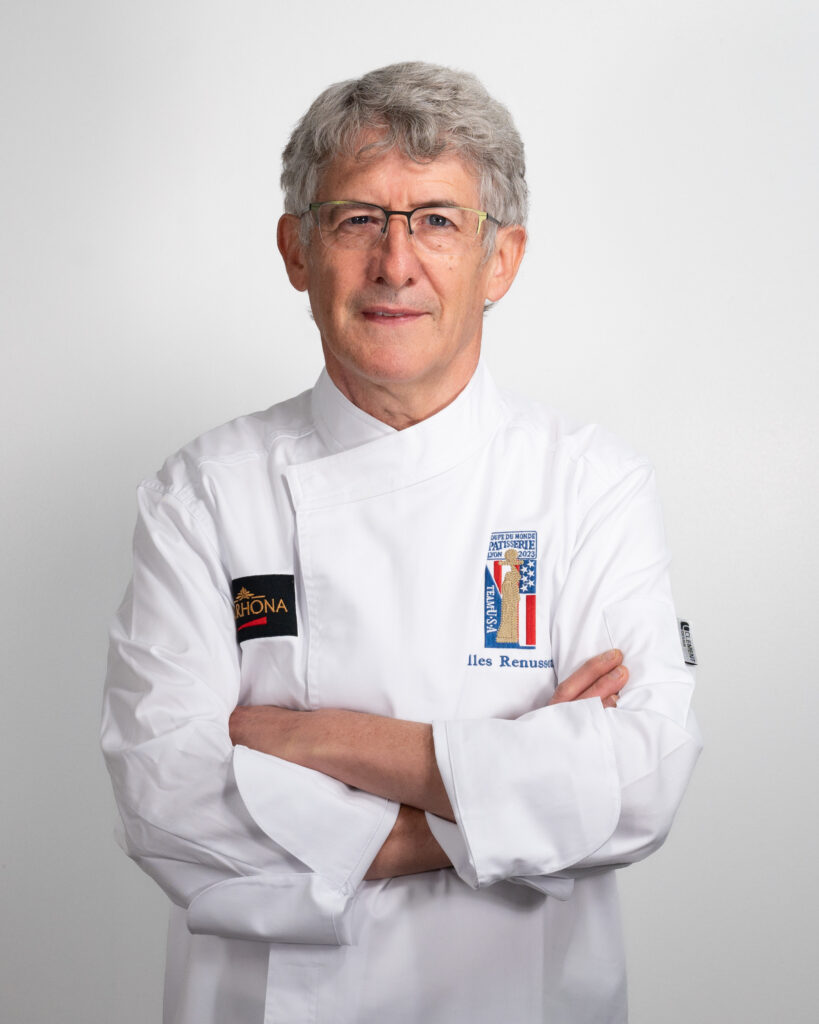 Club Coupe du Monde Team USA President Chef Gilles Renusson
In addition to being a team coach, Gilles Renusson is a former member and team captain of Team U.S.A., President of the Coupe du Monde U.S.A., and a Certified Master Pastry Chef.
Last year, Renusson retired after almost 30 years as a professor for the Secchia Institute for Culinary Arts at Grand Rapids Community College in Michigan. However, the pastry profession was not in Renusson's plan when he was younger.
When he was 14 years old, Renusson brought home a less than flattering report card. After dinner, he was asked to show it to his father who promptly informed him that if his grades did not improve he was going to boarding school. He chose a school and after four years graduated with a degree in culinary arts.
It was at his first job, Maxim's at Charles de Gaulle airport, where Renusson discovered his love of pastries. Afterward, he found himself at one of Paris's top pastry shops, Fauchon. "At Fauchon I was fortunate enough to work with M.O.F.s, three of them in one operation. The Executive Chef was Claude Bonté M.O.F., Serge Breda M.O.F. was running the entremets section and was Chef Bonté's assistant, and Michel Foussard M.O.F. who assisted Chef Serge Breda with the entremets."
In 1978, Renusson moved to London and worked in the pastry shop of the prestigious Connaught Hotel. It was here where he met his wife, Eva Marie. After a year, Renusson returned to Paris with Eva, who was now his financé. He accepted a position with another one of Paris's famous pastry shops, Dalloyau Gavillon – as it was known in 1979.
"When I obtained my 'Brevet de Maîtrise' in 1979, it was with the intention of mastering our craft and sharing my knowledge over time," said Renusson. "I did not expect to obtain a teaching position early in my career."
In 1980, along with Eva – who was now his wife – Renusson moved to the United States and accepted a position as a chef instructor at Johnson & Wales University in Providence, Rhode Island. After a year, he became the executive pastry chef at the Ritz-Carlton Hotel in Chicago.
This was the first time Renusson was in charge of a pastry department. Although he knew production work, being a manager was something new for him. "I had a lot of technical skills and the organizational skills I was missing were quickly drilled in me by Chef Edward Mérard, Executive Chef at the Ritz-Carlton."
Two years later, after being contacted by a headhunter, Renusson left to assume the role of executive pastry chef at the Amway Grand Plaza in Grand Rapids, Michigan. "I spent eight wonderful years in this large pastry shop with a staff of 17 to 20," said Renusson.
Renusson's neighbor, Robert Garlough, created the Hospitality Program at Grand Rapids Community College. Eventually, he taught a few pastry seminars at the college. One day Garlough called to say that the pastry chef instructor was retiring and he thought Renusson should apply.
"I was looking forward to teaching again," said Renusson. "I now had ten more years of experience to share with students, and I thought I could better contribute to the growth of the program. A few weeks later I was hired. I started 1992 with a new job, and the rest is history."
Since 2008, Renusson has served as the pastry advisor to the WorldChefs, the former World Association of Chefs Societies, Culinary Competitions Committee.
In 2019, Renusson was awarded the Chevalier du Merite Agricole – the Order of Agriculture Merit. It is bestowed by the French Republic for outstanding contributions to agriculture.
Renusson was unaware he was going to receive the award. During a reception for the American team, family, and friends at the Coupe du Monde de la Pâtisserie in Lyon, Chef Gabriel Paillasson M.O.F. and the Commandeur du Merite Agricole stood in front of the podium and asked Renusson to join them.
"After a short speech, he pinned the Medaille du Mérite Agricole on my chef's jacket," said Renusson. "The emotion was overwhelming. I had no idea that Chef Gabriel Paillasson was going to bestow, on behalf of the French government, this honor on me."
"How did I, with my humble origins, deserve such accolade and recognition from my peers, the professional in general, and the French government," says Renusson.
Renusson can be followed on Facebook: Gilles Renusson and Instagram: @chefgillesrenusson.
Christophe Feyt – Consultant – Executive Pastry Chef, Hilton Hotels & Resort
Born in Agen, France, an area known for high-quality food products in southwest France, Christophe Feyt was introduced to the art of pastry at a patisserie owned by his family for over 40 years.
As a pastry apprentice, Feyt studied the fundamentals of pastry through classes and hands-on experience at Pâtisserie Marty and as a pastry cook at Pâtisserie Mandion, both nationally-recognized shops in southwest France.
In 1991, Feyt was the pastry chef de partie for the French Prime Minister at his Paris residence, the Hotel de Matignon. Here, Feyt prepared desserts for residents and staff, as well as for large dinners and receptions held by the prime minister.
After one year of preparing desserts for some of the most prominent diplomats in France, Feyt was offered the pastry chef position at Pâtisserie Floréal pastry shop where he was responsible for the production of all pastries, creating sugar and chocolate display pieces, as well as item innovation and development, ordering.
In 1994, Feyt earned his Brevet de Maîtrise diploma, making him a master pastry chef. He made his way to the United States and became the pastry chef at The Bostonian Hotel in Boston, Massachusetts. He oversaw the pastry operations for over 250 rooms as well as the acclaimed Seasons restaurant as pastry chef of the 4-star hotel.
In 1998, Feyt was appointed executive pastry chef at the 4-diamond Le Meridien Hotel in Boston overseeing all pastry operations for banquets, room service and fine and casual dining outlets. After four years, Feyt accepted the executive assistant pastry chef position at Boston's Mobile 5-star, AAA Five Diamond, Four Seasons Hotel.
In 2005, Feyt was became the executive pastry chef position at the award-winning Four Seasons
Hualalai Resort in Hawaii. Four years later, he returned to the mainland as the buffet pastry chef
at the AAA Five Diamond Bellagio Resort & Casino in Las Vegas, Nevada. Here Feyt managed a team that created desserts for an average 4,000 guests daily, as well as showpieces. Within a year, Feyt was recruited by the Paris Las Vegas Hotel and Casino where he oversaw six sous chefs and 35 pastry cooks while managing production for 11 restaurants and shops.
In 2013, he was selected to represent The United States in the 2013 Coupe du Monde de la Pâtisserie (in essence the Olympics of pastry) in Lyon, France.
In 2013, Feyt accepted the executive pastry chef position at Mandalay Bay Resort and Casino
where he managed a staff of over 50 pastry chefs, where he remained for eight years.
Currently, Feyt is the executive pastry chef for the Hilton Hotels & Resorts in Dallas, Texas.
Feyt was also on the 2013 U.S. World Pastry Cup Team, along with Chlebana and in the same year, was named one of the top ten pastry chefs in America by Desserts Professional magazine.
Club Coupe du Monde U.S.A. Sponsors
Team U.S.A. is sponsored by Valrhona (Founding Sponsor), Nielsen Massey, CapFruit, Paris Gourmet, Midwest Imports, AUI Fine Foods, St. Michel, Chef Rubber, Irinox, Bit Baking, de Buyer, Robot Coupe, Tomric, The Ekus Group, Clement Design, and Steelite USA.
About Club Coupe du Monde U.S.A.
Club Coupe du Monde U.S.A.'s purpose is to study and advance the art and science of food preparation and food service. Every two years the Club searches for and identifies America's best culinary educators, researchers, and food service professionals. By doing so, they hope to challenge those willing to participate in creating leading-edge advances in food preparation, taste combinations, shelf life extension, and presentation styling.