October proves to be a bustling month in the culinary world. It not only boasts the titles of National Dessert Month, National Dessert Day, and National Baking Week but also brings us National Chocolate Cupcake Day today, October 18! While truth be told, we don't require a dedicated day or month to indulge in sweets, at least now we have a ready answer if someone inquires about our dessert cravings!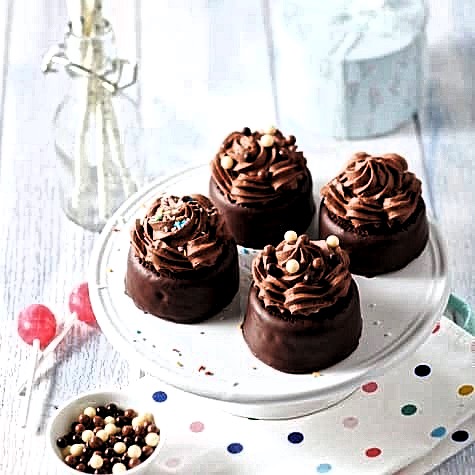 Selecting the ideal chocolate cupcake recipe proved to be quite a challenge. Ultimately, we settled on the delectable chocolate praliné cupcake crafted by our dear friend and primary sponsor, Valrhona, to mark this special occasion.
What we truly love about this recipe, aside from its rich chocolate essence, was the unexpected touch of almond within the cupcake and the luscious almond-hazelnut buttercream frosting.
Valrhona's Chocolate Praliné Cupcakes
Yield: 15 cupcakes
| | |
| --- | --- |
| INGREDIENTS | METRIC MEASUREMENT |
| Eggs, large | 250 g |
| Acacia Honey | 75 g |
| Superfine sugar | 115 g |
| Bread flour | 120 g |
| Valrhona cocoa powder | 25 g |
| Finely ground almonds | 75 g |
| Baking Powder | 7 g |
| Heavy Cream | 120 g |
| Chocolate liqueur (optional) | 50 g |
| Butter, unsalted | 105 g |
| Valrhona ORIADO 60% chocolate | 55 g |
Instructions
Mix together the eggs, honey and sugar without whisking.
Add the finely ground almonds.
Sift together the flour and cocoa powder, then sift into the mixture.
Add the baking powder.
Stir in the whipping cream.
Add the chocolate liqueur (optional).
Finally, the melted ORIADO 60% chocolate and butter.

Pour approx. 60g of mix into the silicone cupcake moulds. Cover with greaseproof paper and place 1 or 2 trays on top to make a weight (so the cake stays flat and will not rise too much in the oven). Bake in a fan-assisted oven at 180°C (400 degrees Fahrenheit – standard oven) for approx. 15 minutes. Turn out once completely cooled.
Original recipe courtesy of l'École Gourmet Valrhona