Numerous outstanding culinary schools are found in the United States, but Johnson & Wales University stands out as a premier choice for aspiring culinary professionals.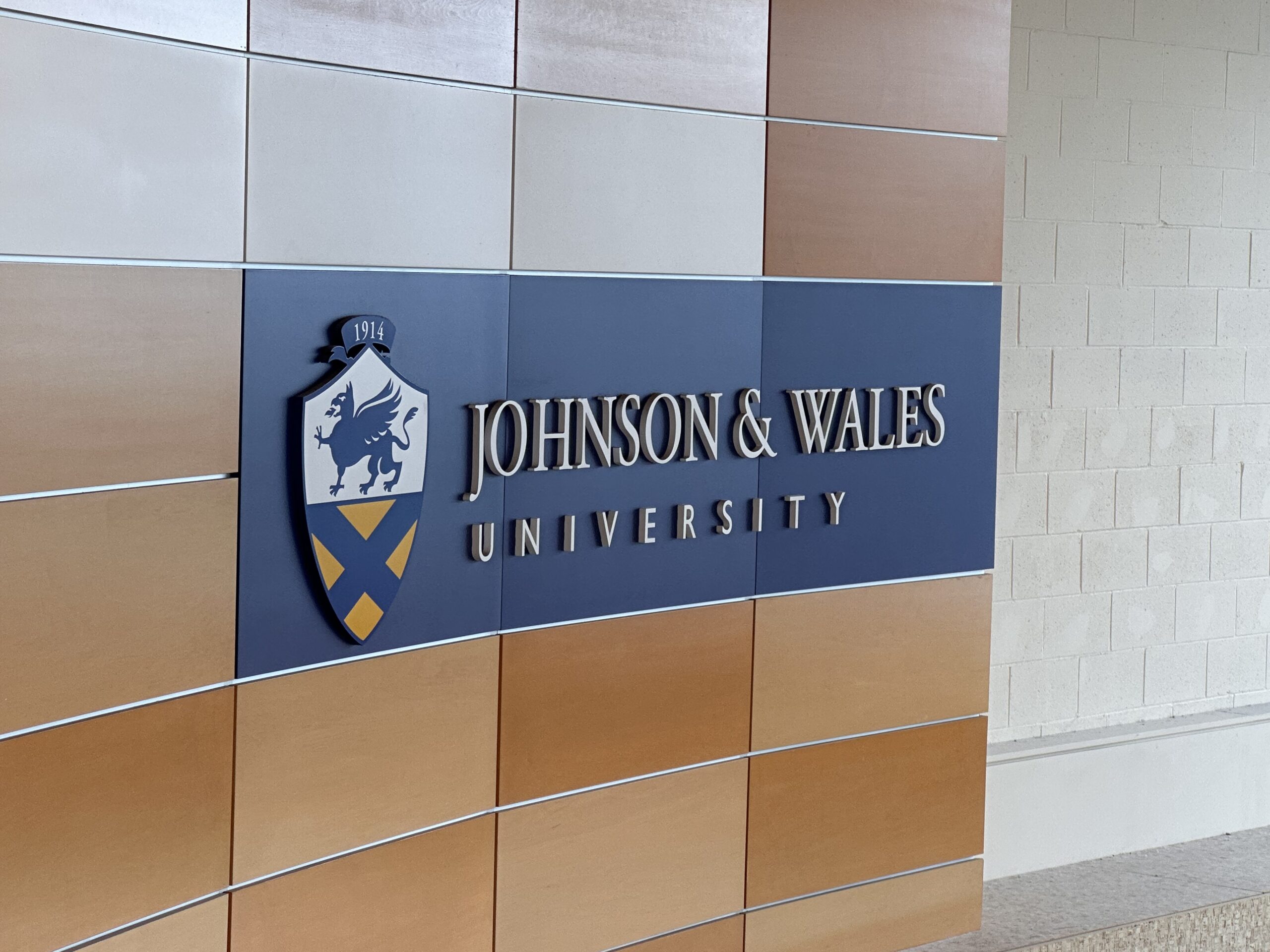 The culinary division is operated on two campuses, with its Providence, Rhode Island location being regarded as the primary or flagship campus, and the second one situated in Charlotte, North Carolina. These campuses provide a wide range of culinary majors to choose from, including culinary arts, baking & pastry, food & beverage management, and hospitality management, among others. Notably, the Providence campus is the only school in the United States offering a comprehensive four-year program specializing in baking & pastry arts.
Students who have graduated from the culinary or baking and pastry arts program have gone on to prominent positions in the hospitality profession. In fact, Chef Gilles Renusson, who formerly served as an instructor at the Providence campus, has been the Chairman of Club Coupe du Monde USA for many years and was once a competitor.
History of Johnson & Wales Founders
Johnson & Wales University (JWU) is a private university that was founded as a business school in 1914 by Gertrude I. Johnson (1876-1961) and Mary Tiffany Wales (1874-1952). From its origins as a school devoted to business education, JWU has grown to a junior college, senior college, and ultimately university status.
Both Johnson and Wales were born more than four decades prior to the historic achievement of women's suffrage, during a time when societal expectations often cast women in the role of obedient homemakers. In cases where women did enter the workforce, their options were typically limited to professions such as cooks, domestic workers, or laborers in factories.
Mary Tiffany Wales was born in Wilmington, Delaware, in 1874. She successfully completed her education, graduating from the Pennsylvania State Normal School at Millersville in 1893. After obtaining her degree, Mary embarked on a teaching career, initially in Pennsylvania and subsequently in Massachusetts. It wasn't until 1911 that she relocated to Providence, Rhode Island. Shortly after her move, Mary secured a teaching position at the Rhode Island Commercial School, which would later evolve into Bryant University.
Gertrude Irene Johnson, born in Norristown, Pennsylvania, in 1876, pursued her education following her secondary schooling. She enrolled at the State Normal School in Millersville, Pennsylvania, where she had the opportunity to meet and cultivate a lasting friendship with Mary T. Wales.
Two years after her graduation in 1895, Gertrude earned her master's degree in education. Following her academic pursuits, she briefly worked as a schoolteacher before transitioning to a position as an examiner at a local bank and trust company. In this role, she honed valuable business skills that would prove essential in her future career.
In 1913, Gertrude made a significant move, leaving Pennsylvania and her banking career behind to take up a teaching position in Providence at the Rhode Island Commercial School. It was here that she rekindled her enduring friendship with Mary Wales, a bond that would last a lifetime. Together, these two women harbored a shared dream of establishing a small business school in Providence, much like the one where they were currently employed.
In September 1914, they established their own business school, initially located at Gertrude's residence on Hope Street in Providence. Later, they moved it to Olney Street near Hope High School. Their venture began modestly, with just one student and a single typewriter. However, as the specter of a world war loomed on the horizon, it became evident that there would be a growing need for well-trained female office workers to fill the void created by the men who were joining the war effort. Mary focused on teaching while Gertrude was the school's administrator.
Their school flourished and eventually relocated to 36 Exchange Place and later to the Gardner Building on Fountain Street in Providence.
For a span of 33 years, both Mary and Gertrude dedicated themselves tirelessly to business education. The curriculum in the early part of the 20th century included bookkeeping, typing, shorthand, English, and mathematics. The school admitted both men and women.
However, by 1947, with Mary's health deteriorating, the two women made the difficult decision to entrust their cherished school to capable successors. They sold their institution to Navy buddies Edward Triangolo, the husband of a former student, and Morris Gaebe, the latter being a JWU 1980 Hall of Fame inductee. At the time, the school had approximately 100 students. These individuals would guide the school through the latter half of the twentieth century.
After their retirement, Gertrude and Mary relocated to a new residence in Warwick, where Mary passed away in 1952. Following Mary's passing, Gertrude returned to her childhood hometown of Norristown, Pennsylvania, and spent her remaining years in peaceful retirement. She eventually passed away there in 1961.
"In 1960, the school became an accredited junior college, and in 1963, Johnson & Wales, under [a] state charter, became a nonprofit institution," writes Frank L. Grzyb and Russell J. DeSimone on the Small State, Big History website. "In 1970, the school became a four-year college, and in 1988, it became a university. Today, the school is nationally known for its hospitality programs and is internationally recognized for its School of Culinary Arts."
Johnson & Wales Harborside Campus
Before 1942 much of Johnson & Wales University's Harborside Campus was part of the Providence River. In the late 19th and early 20th centuries, it was a beach resort, residential enclave and pristine public park. The area once included an island — now the location of Save The Bay, an award-winning environmental organization.
Between 1942 and 1945, the land was filled in to create Fields Point Navy Shipyard which built World War II frigates and Liberty ships. Once the shipyard closed, various businesses moved in, including a market, a drafting school, trucking terminals, a steel fabricator, a train maintenance yard, a drive-in theater, an ice rink, car storage, a restaurant and dance hall, and a marina. Part of the location was also a dumpsite.
This history inspired JWU to revitalize approximately 100 waterfront acres. At its own expense, JWU removed residual contaminants and underground oil storage tanks from former businesses on various parcels, providing a range of environmental and recreational benefits to the community, and a stunning natural setting for the campus.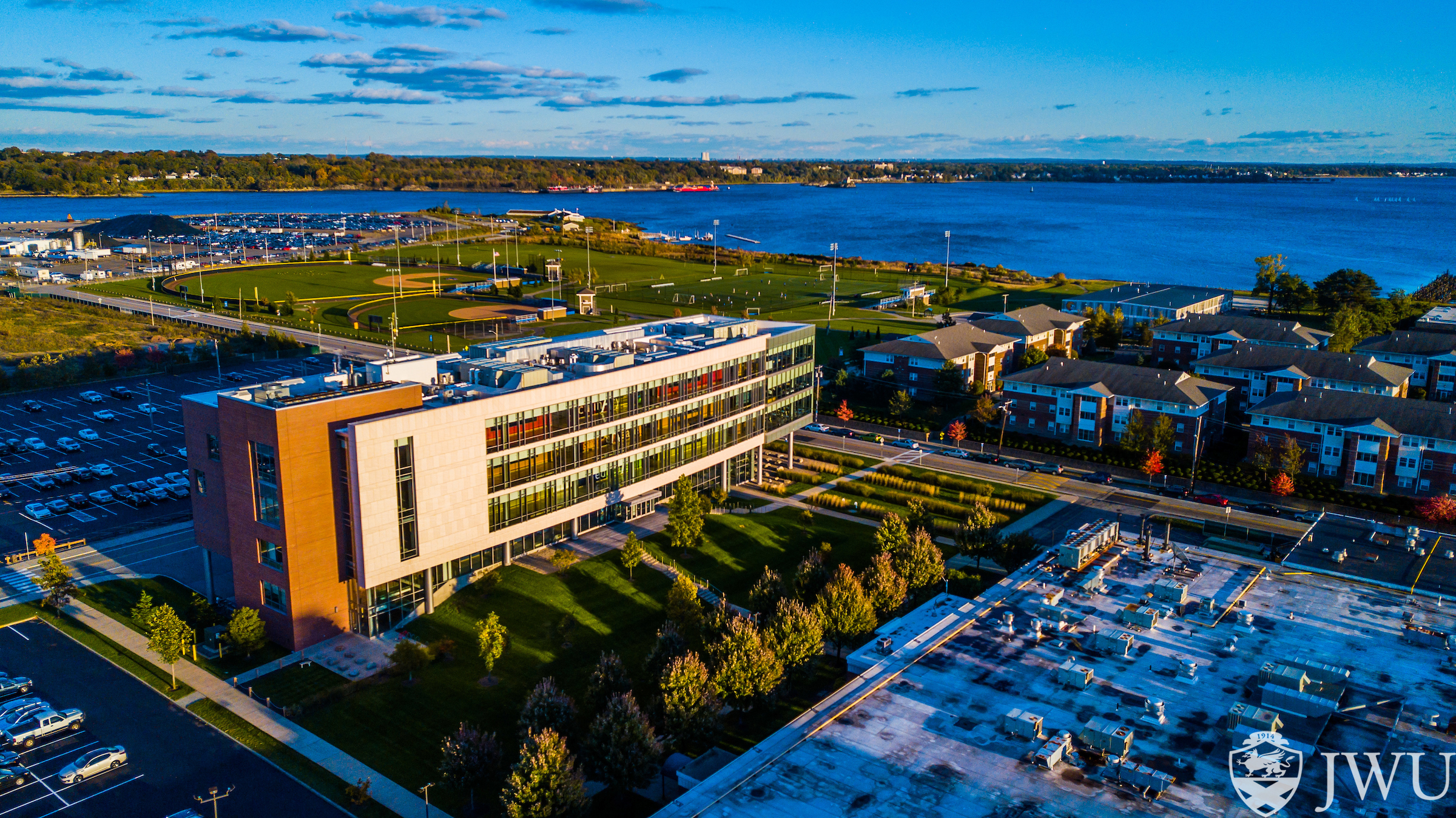 Johnson & Wales University – College of Food Innovation & Technology Today
We recently visited the Providence campus to check out the Harborside Campus. When Chef Renusson taught at the school, the culinary education building was on the opposite side of the Harborside campus. According to the Johnson & Wales University website, the school purchased more than 100 acres along Narragansett Bay in 1973 and transformed a WWII Liberty shipyard into a school to teach culinary arts.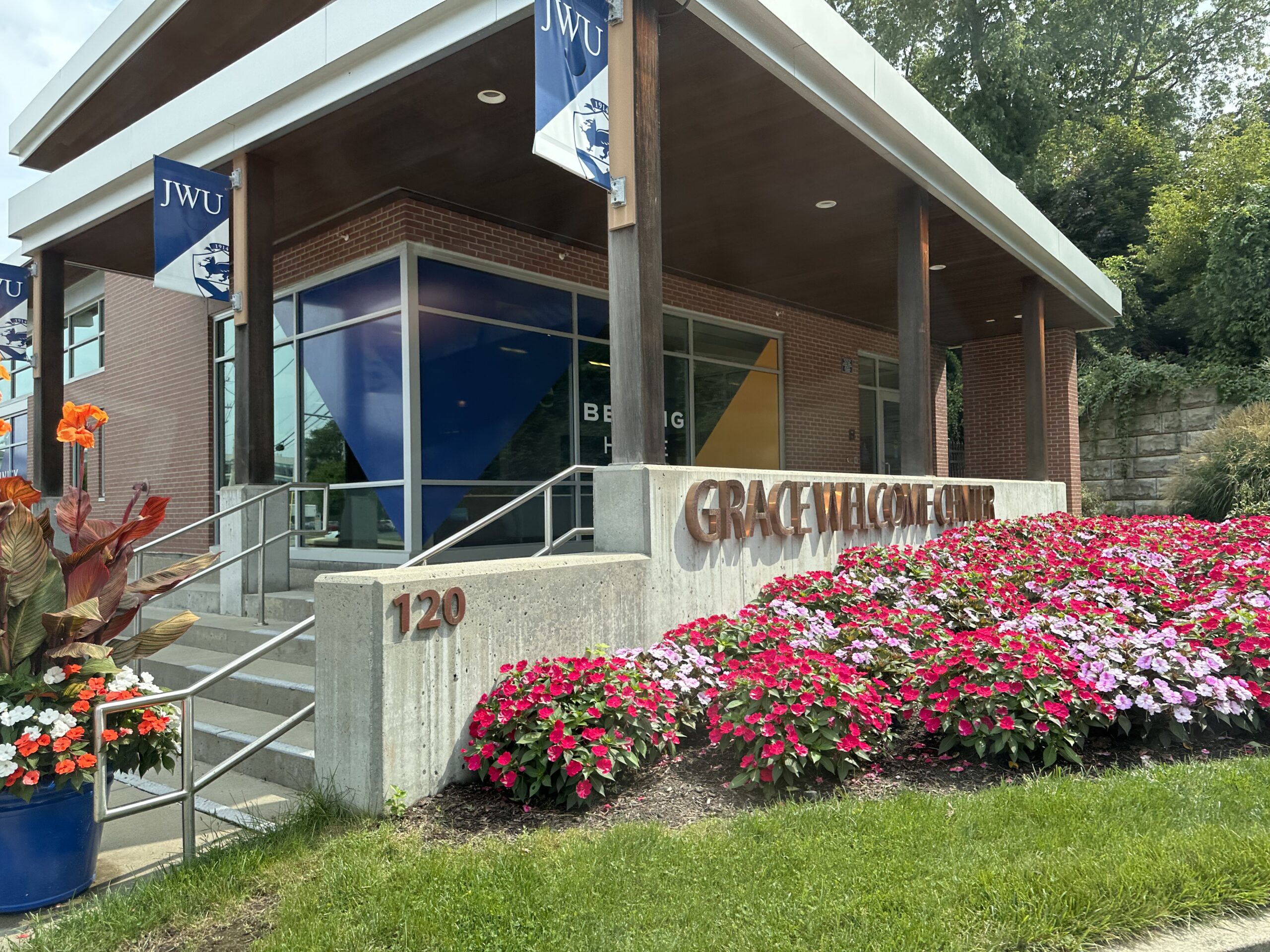 Instead of coming down Washington Street, students and visitors now drive down Harborside Boulevard, a few blocks south of the original entrance, to the Grace Welcome Center.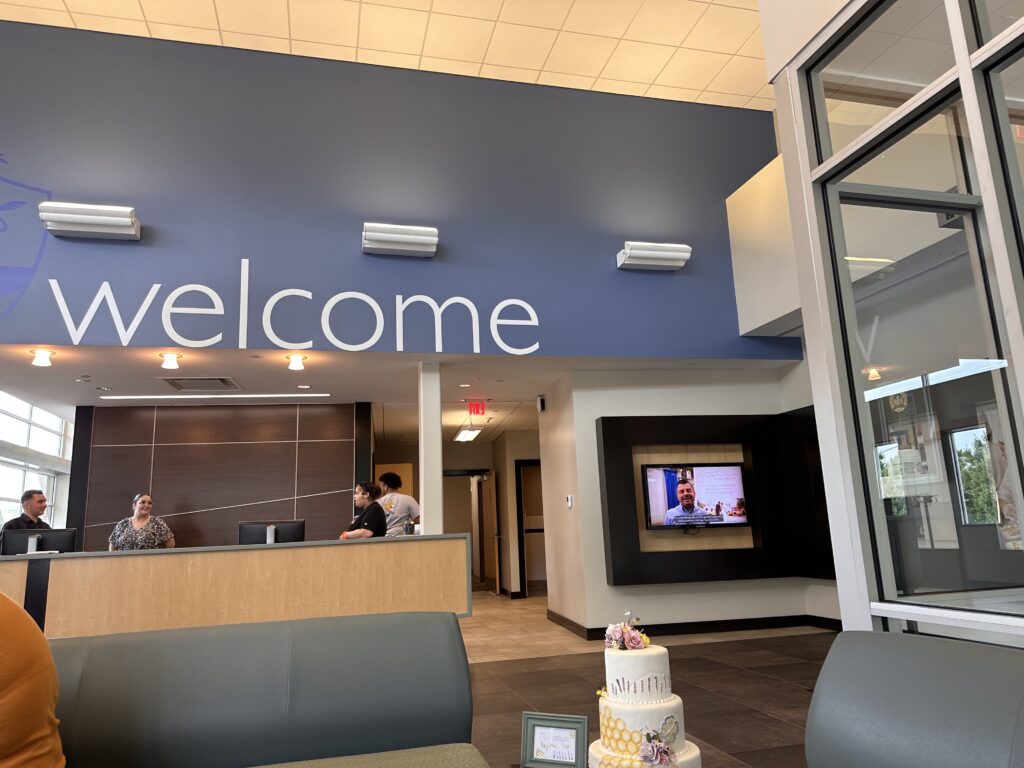 The center is the location for Culinary and Graduate Admissions. The facility includes a 70-seat presentation room, a Galleria of Culinary Artifacts, a conference room, a welcome area, as well as staff office space.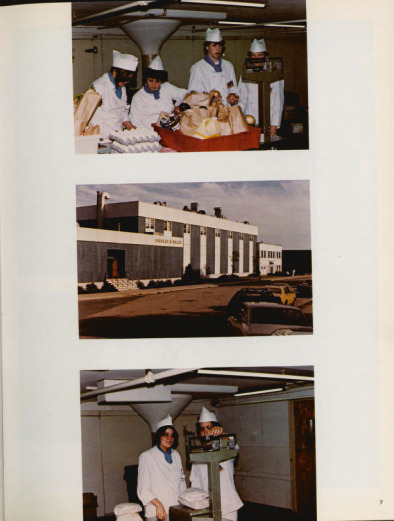 The original culinary building (above center photo), which was opposite the dorm buildings (former Army barracks) was on Washington Street and remained operational until 2011 when it made way for the new Cuisinart Center for Culinary Excellence.
The original culinary building was razed and a modern athletic center, Wildcat Center, took its place. Today's Harborside Campus sits on 105 scenic acres along Narragansett Bay and houses the College of Culinary Arts in the Cuisinart Center for Culinary Excellence and the Wildcat Center (home of the NCAA Division III Wildcats). Residential facilities are located throughout Providence and Cranston.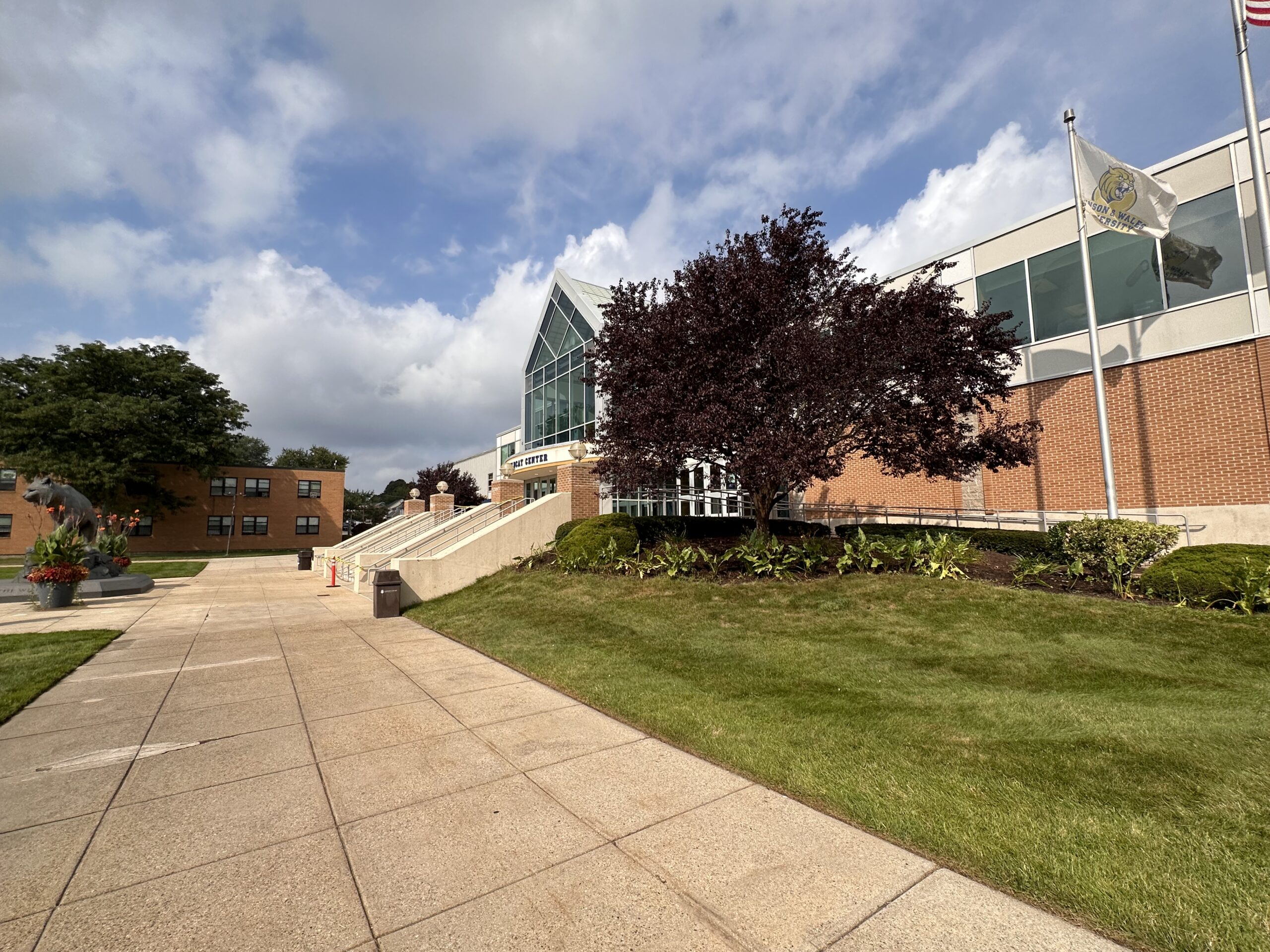 Cuisinart Center for Culinary Excellence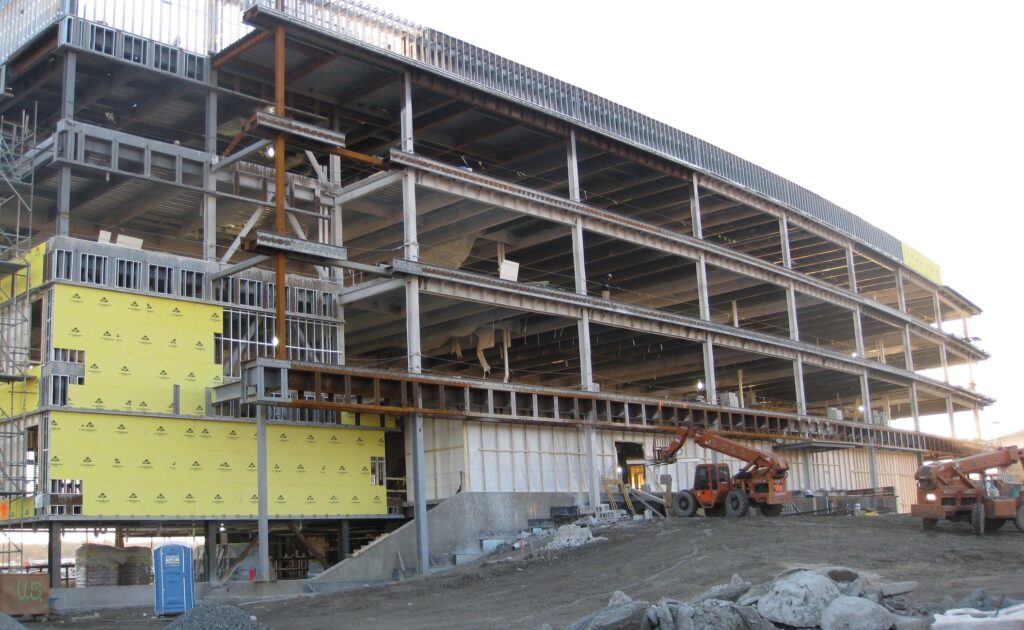 The new culinary building consists of four floors of teaching kitchens, faculty office space, and classrooms, all totaling 82,000 sf. The building includes a dramatic cantilevered section that elevates the occupied floors above a velocity flood hazard zone along the adjacent waterfront.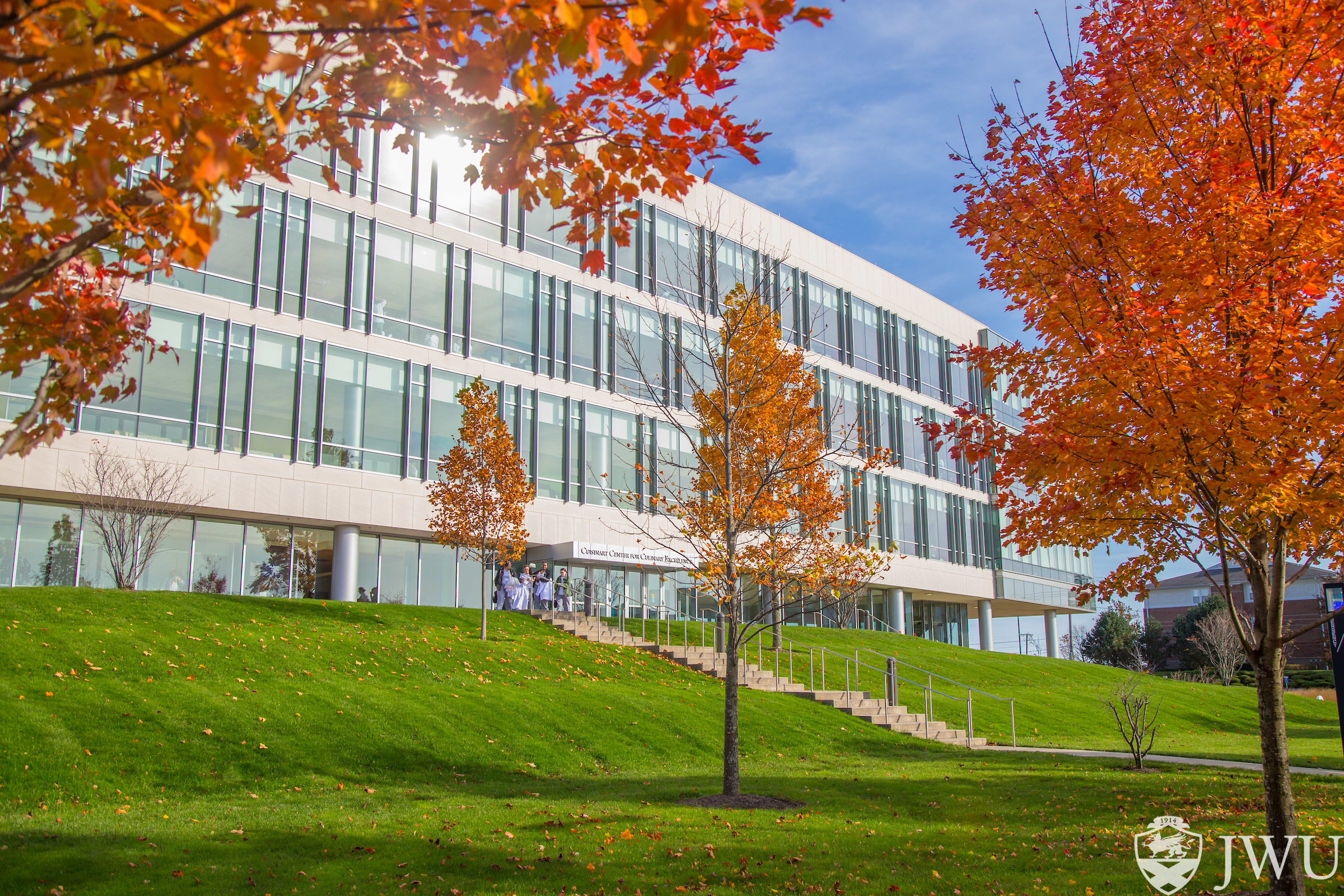 This also includes the College of Food Innovation & Technology (CFIT) faculty offices, deans' and administrative offices, the Coors Brewing Laboratory, and the International Baking & Pastry Institute.
The center includes hot and cold kitchens, bakeshops and pastry shops, dining rooms, meat-cutting and meat processing rooms, receiving and storeroom, an oenology and beverage service laboratory, and culinary purchasing offices.
In total, there are 30 classrooms and labs, including hot and cold kitchens, bakeshops and pastry shops, dining rooms, meat cutting, and meat processing rooms, receiving and storeroom, an oenology and beverage service laboratory, and the Coors Brewing Laboratory.
The brand new, state-of-the-art home opened on the Harborside Campus in 2011. The Cuisinart Center for Culinary Excellence is also the country's first culinary facility certified by Leadership in Energy and Environmental Design (LEED).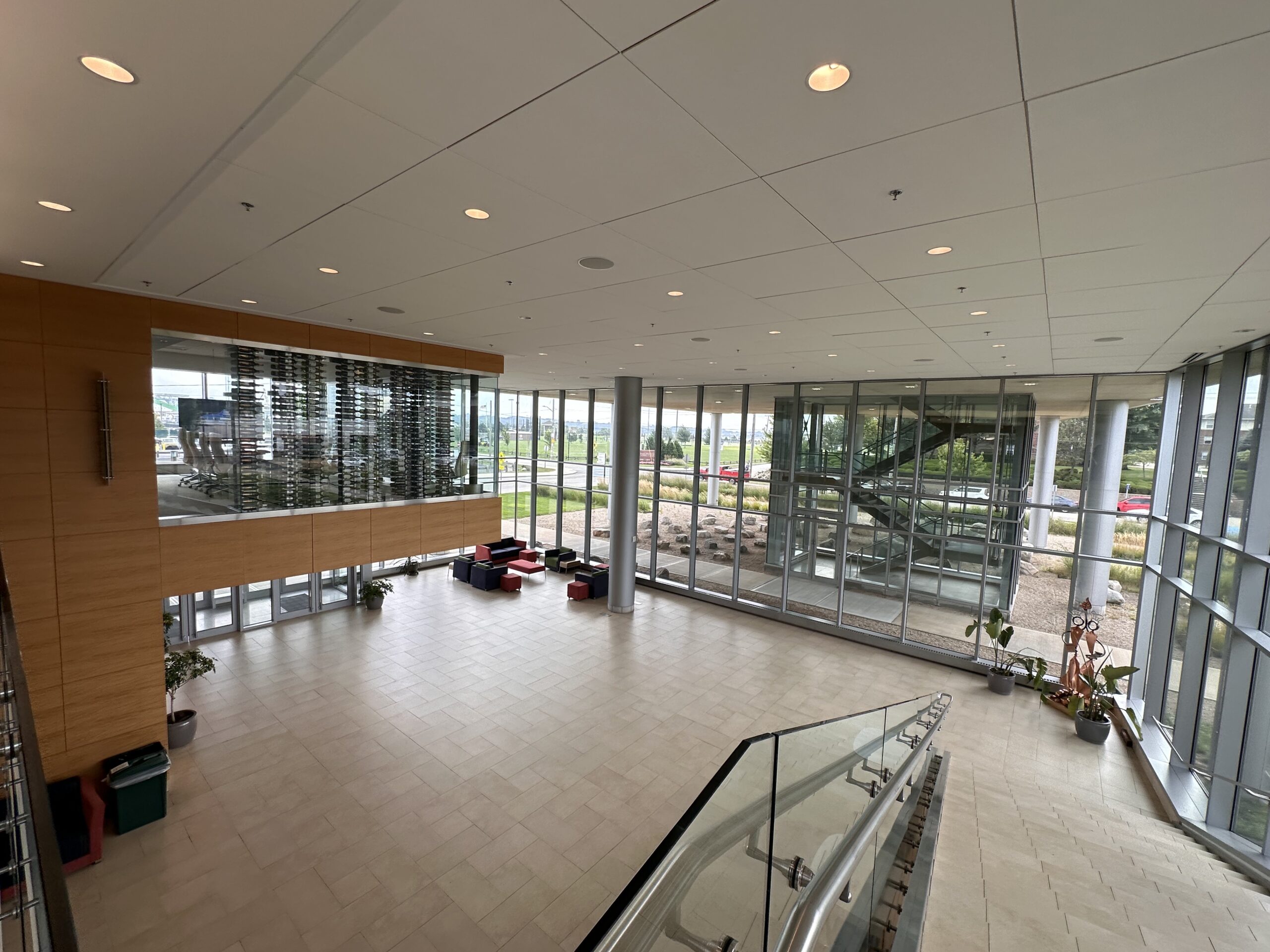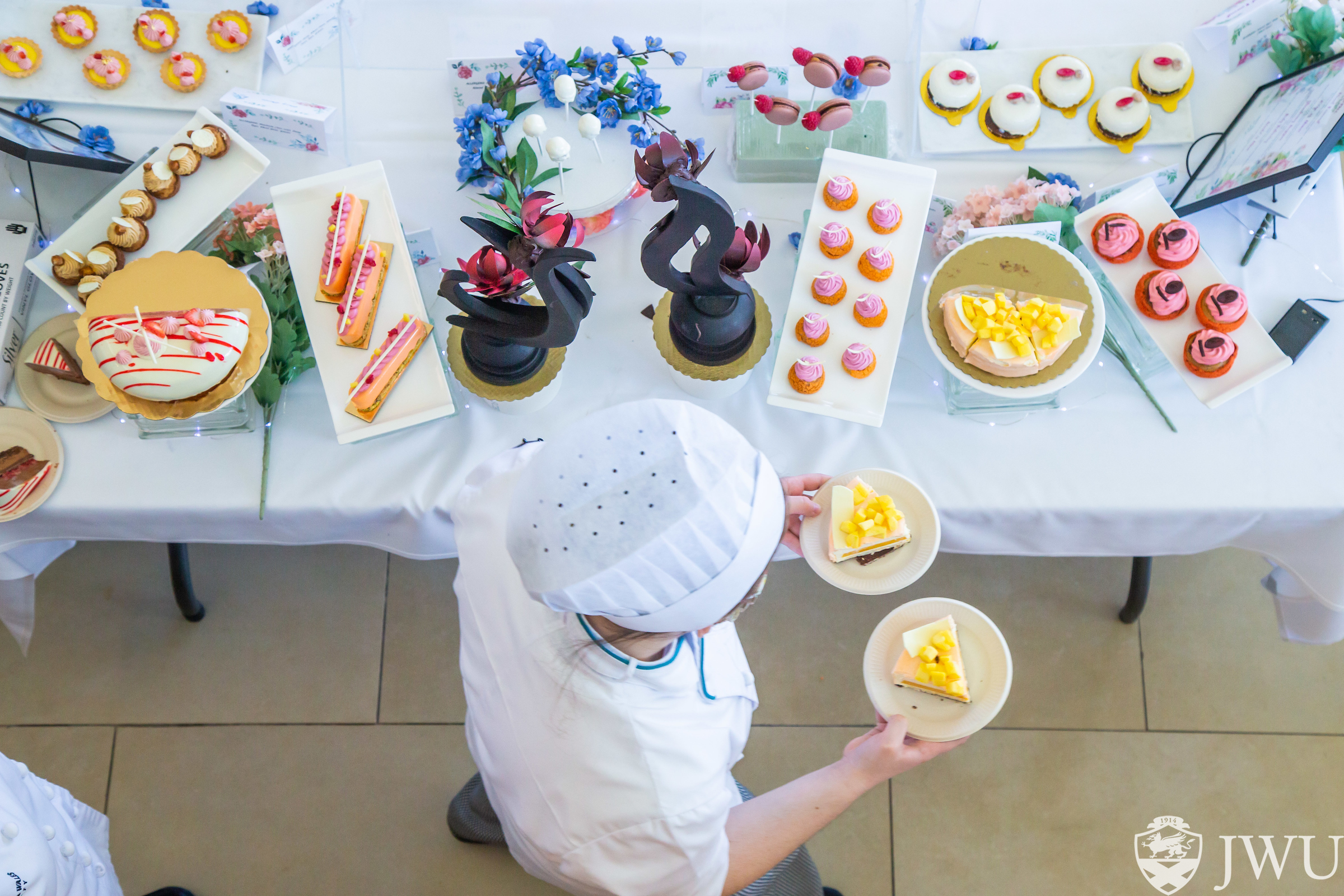 The building has a soaring, two-story glass entrance with a small seating area. It is a multi-purpose atrium that can be used for special events, large gatherings, and more.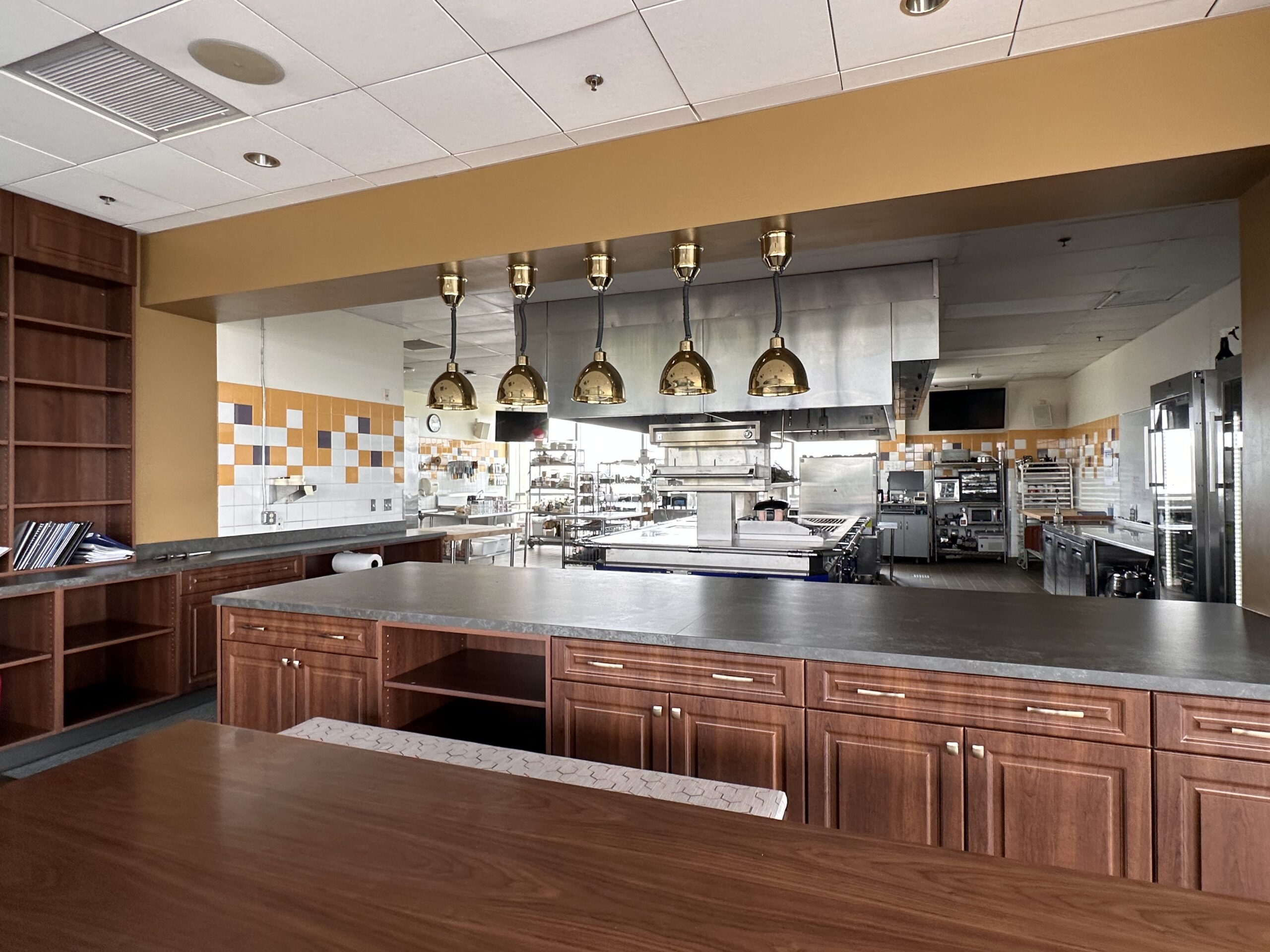 The space jettisoning out over the reception area (upper left) is a teaching dining room and kitchen where students cook and serve other culinary students and faculty members.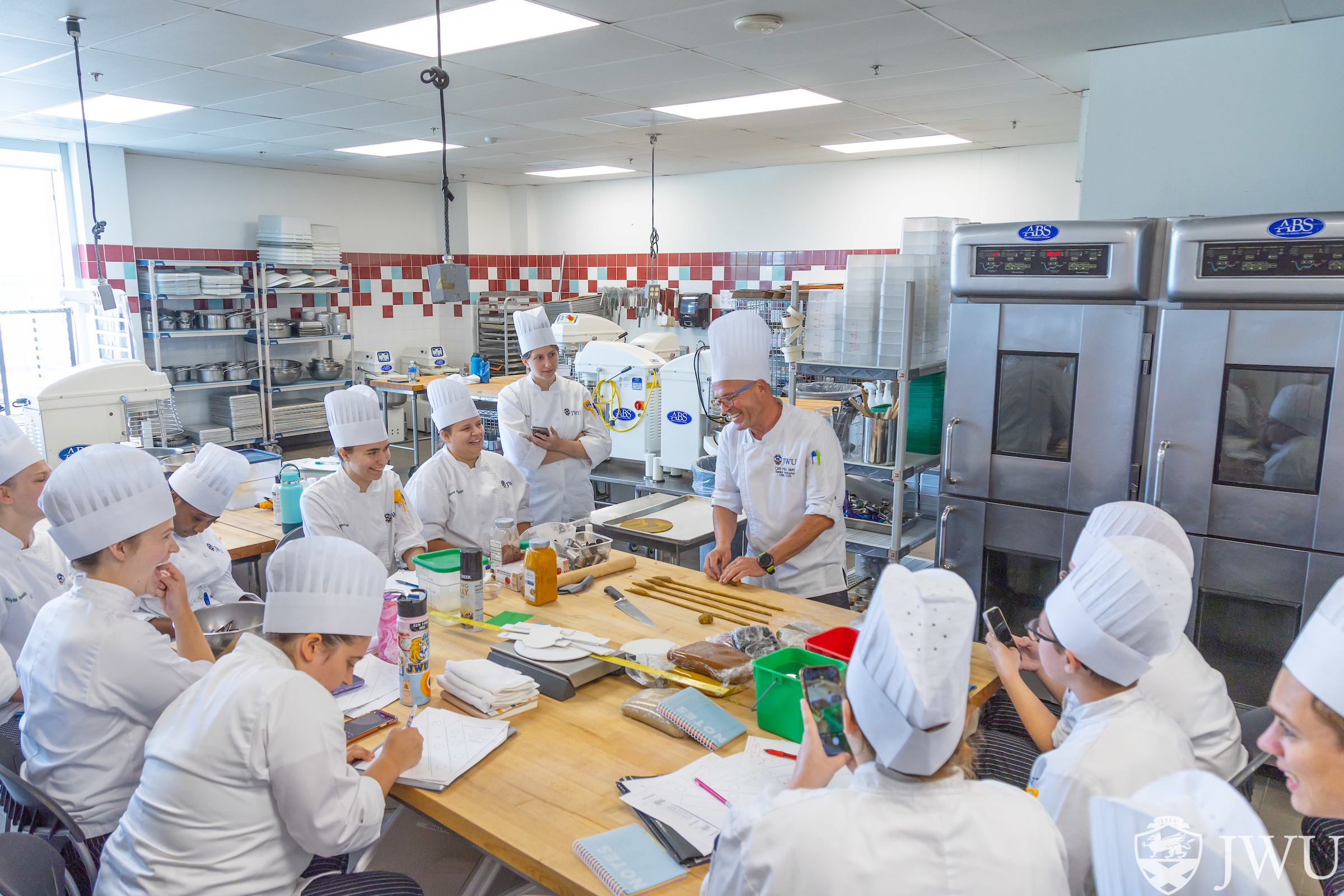 In the former building, the storeroom was located on the basement level of the school. In the current building, the storeroom is on the upper floors and central to the classrooms.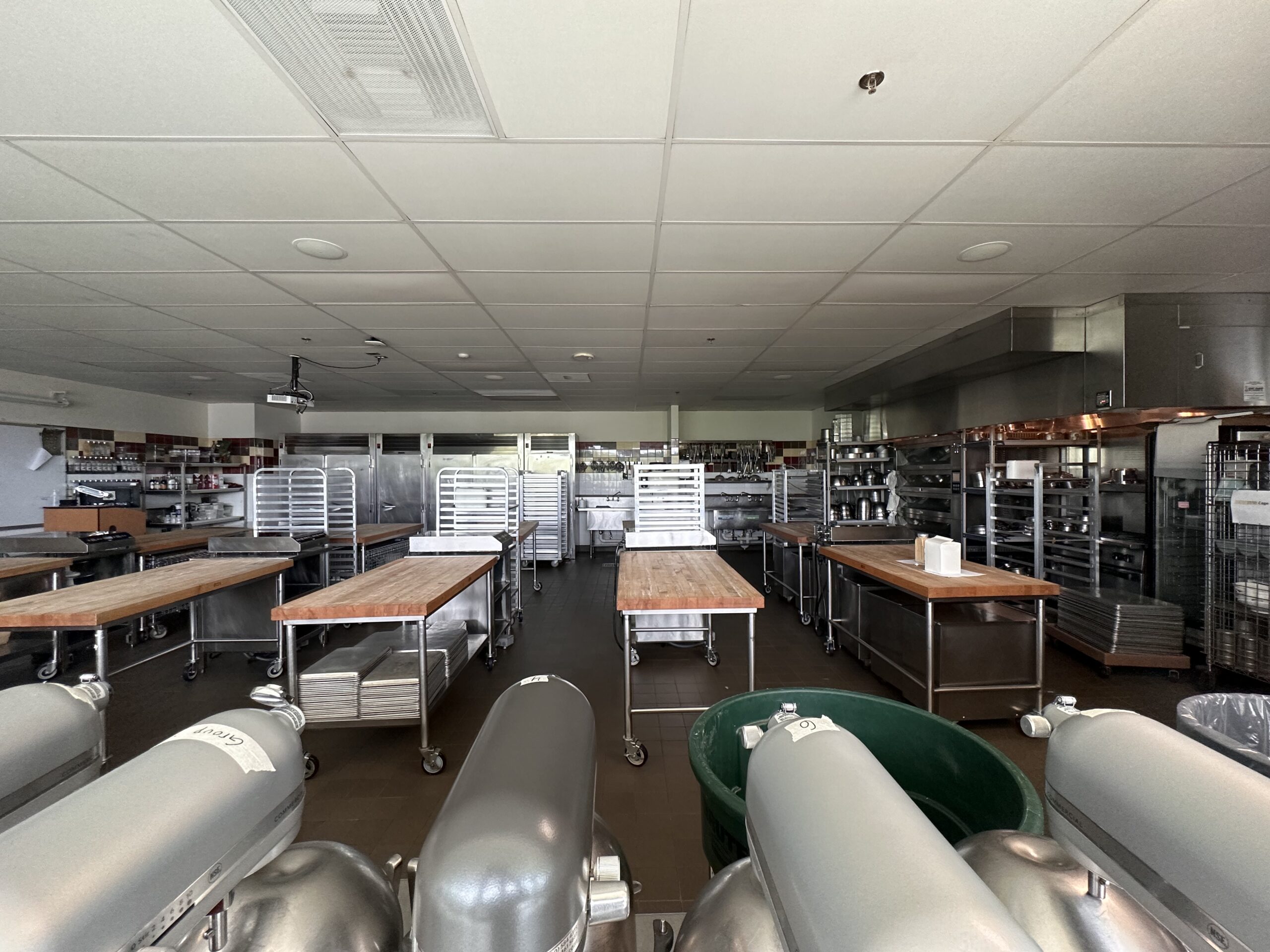 These high-tech kitchens are equipped to give students the ultimate learning experience from production cooking to sugar and chocolate work.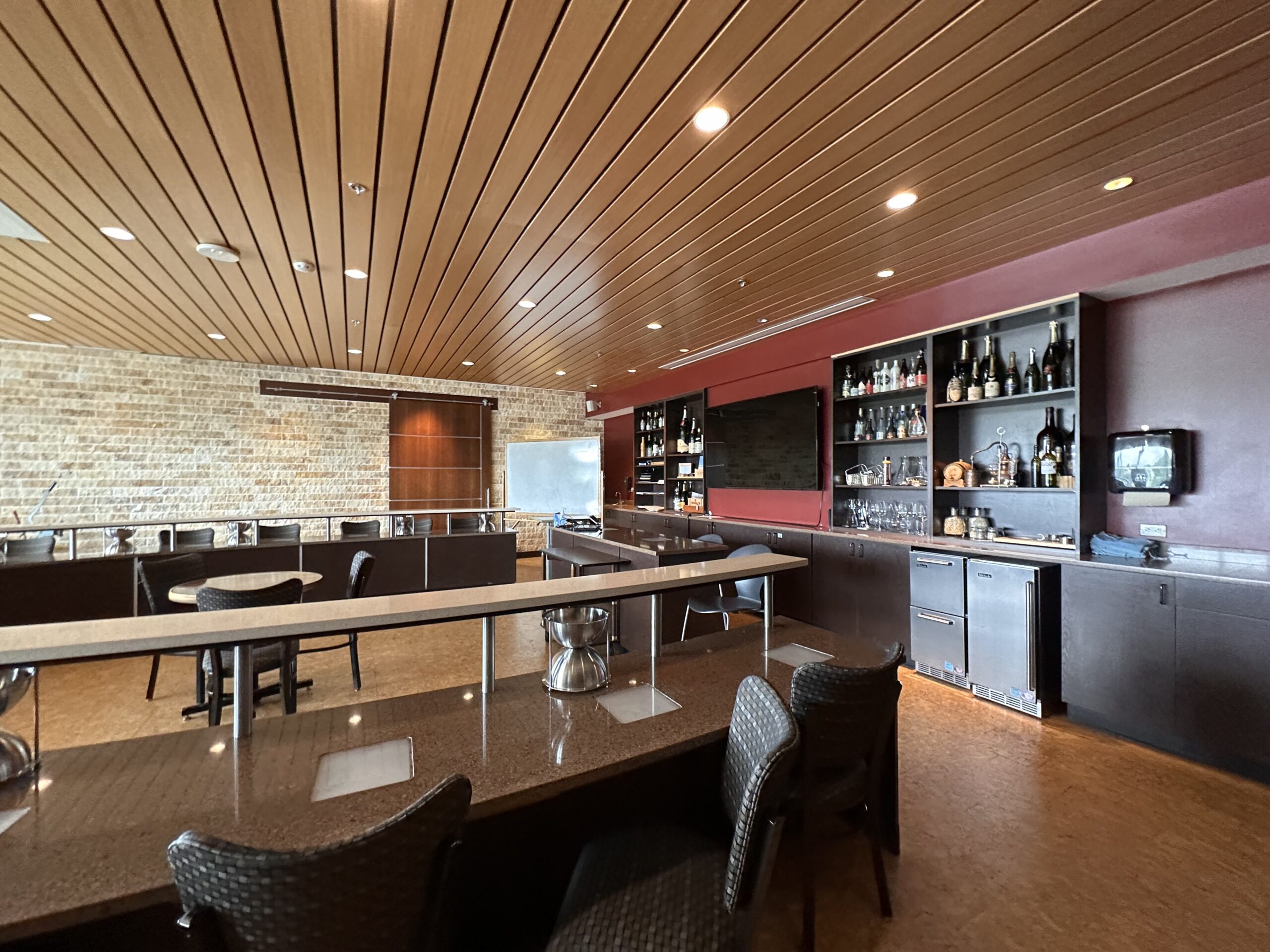 Above is a specially designed classroom for wine-tasting classes. This brightly lit classroom is equipped with designated demonstration zones, convenient spittoons, and embedded illuminated panels on the counters and at each chair, all tailored for assessing the clarity of each wine.
Harbor View, located at 1150 Narragansett Blvd. in Cranston, houses Campus Dining's commissary/bakeshop, and a residence hall with laundry facilities. The Auxiliary Services department offices are located on the first floor.
The Harborside Academic Center (HAC), opposite the Cuisinart Center for Culinary Excellence, at 265 Harborside Blvd. houses department faculty offices for the College of Food Innovation & Technology, as well as the department chairs of culinary arts and food service management.
Academic facilities include classrooms, the chocolate and sugar lab, and the baking technology lab. CAFE, the Culinary Arts Foodservice Exposition, is an addition to the Harborside Academic Center and features state-of-the-art kitchens and laboratories, bakeshops, a food science and product development lab, and the Cintas Dining Room used by culinary arts students. HAC also contains a Starbucks, Harborside Café, the University Office of Culinary Education, microbiology lab, a multimedia center, the HAC Amphitheater, Culinary Special Services and the Harborside Computer Center, containing 156 computers, 5 computer labs and an administrative staff area.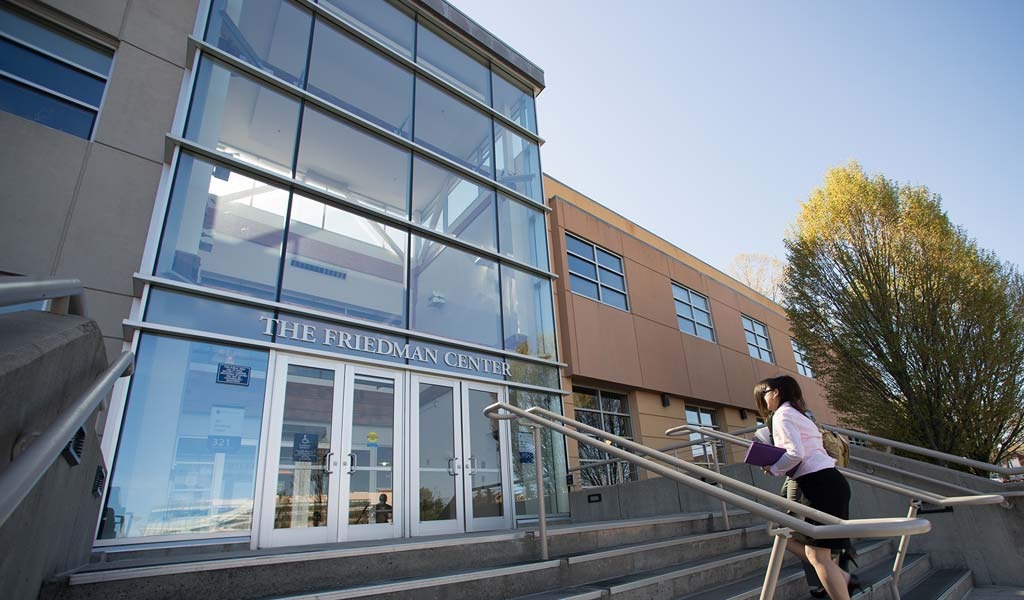 The Friedman Center at 321 Harborside Blvd. houses Experiential Education & Career Services, International Student Services, Residential Life, and Student Academic & Financial Services.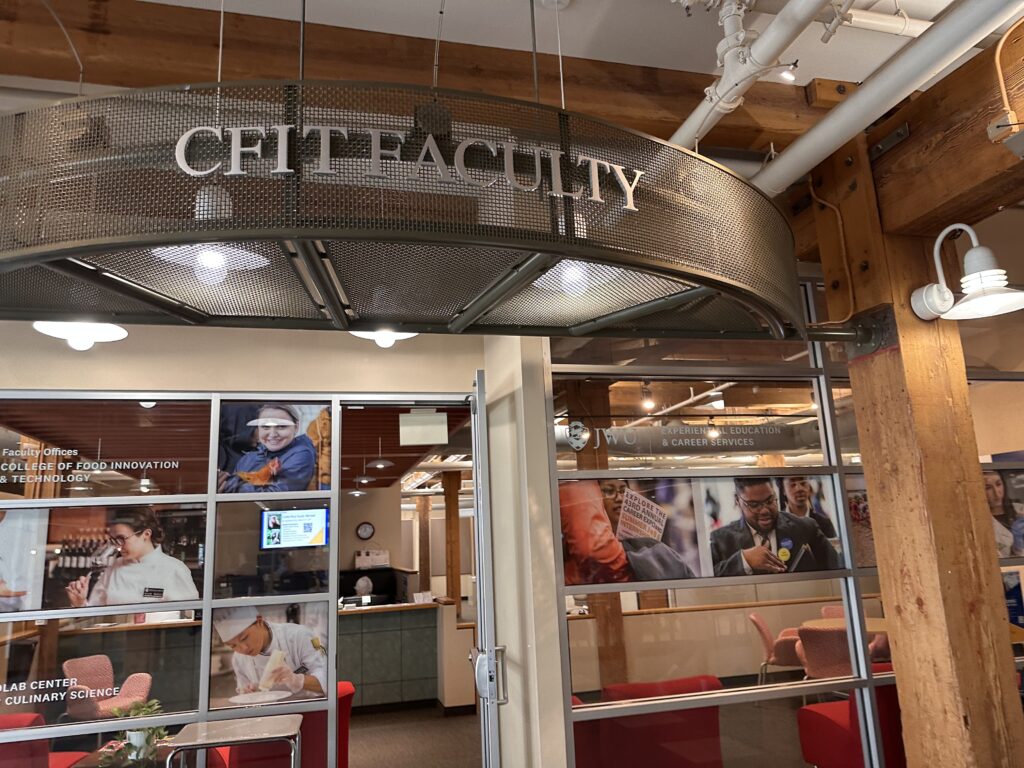 Also located in this building are the Academic Success Center, Culinary Arts Museum at JWU, Harborside Campus Library, Printing & Mailing Services, Harborside substation of Campus Safety & Security, Liberty Market, warehouse, administrative offices of Facilities Management, Facilities Engineering and Maintenance, Special Events, classrooms, office of the vice president of student affairs, Student Conduct, Counseling Services on the second floor, and department faculty offices for the John Hazen White College of Arts & Sciences and College of Management. The Entrepreneurship Center is housed on the first floor, as is the Food Innovation Design Lab (FIDL).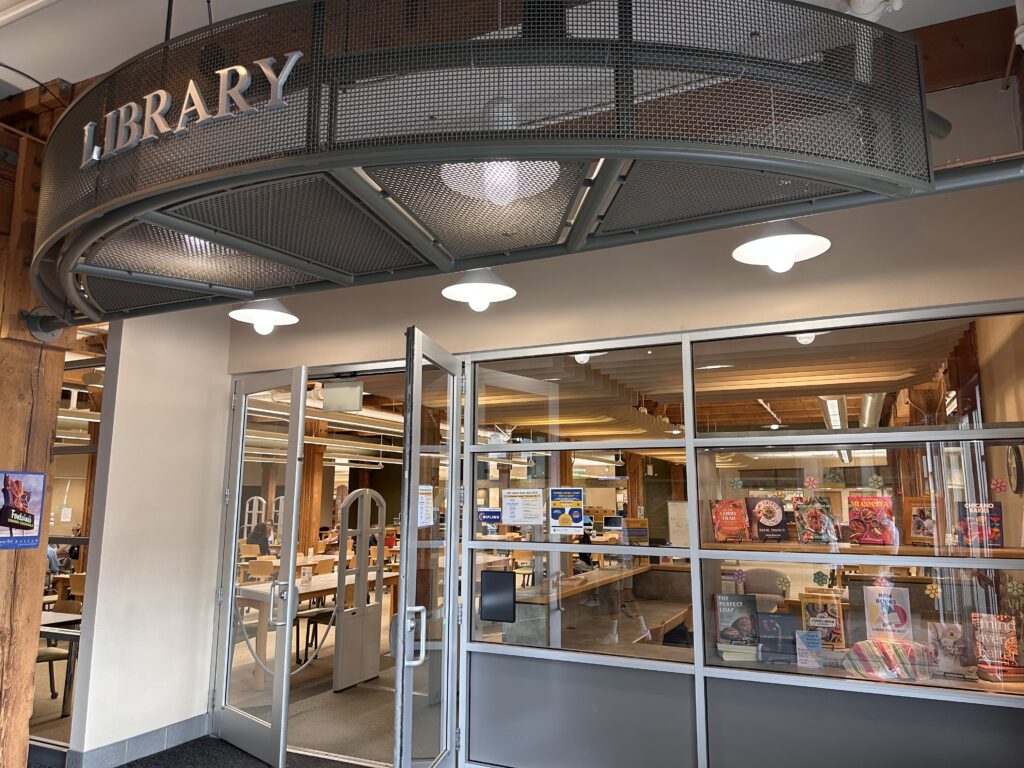 Culinary Arts Museum at JWU
Through the doors of the Innovation Hub, located opposite the entrance to the Friedman Center, is the Food Innovations Design Lab (FIDL) and The Culinary Arts Museum.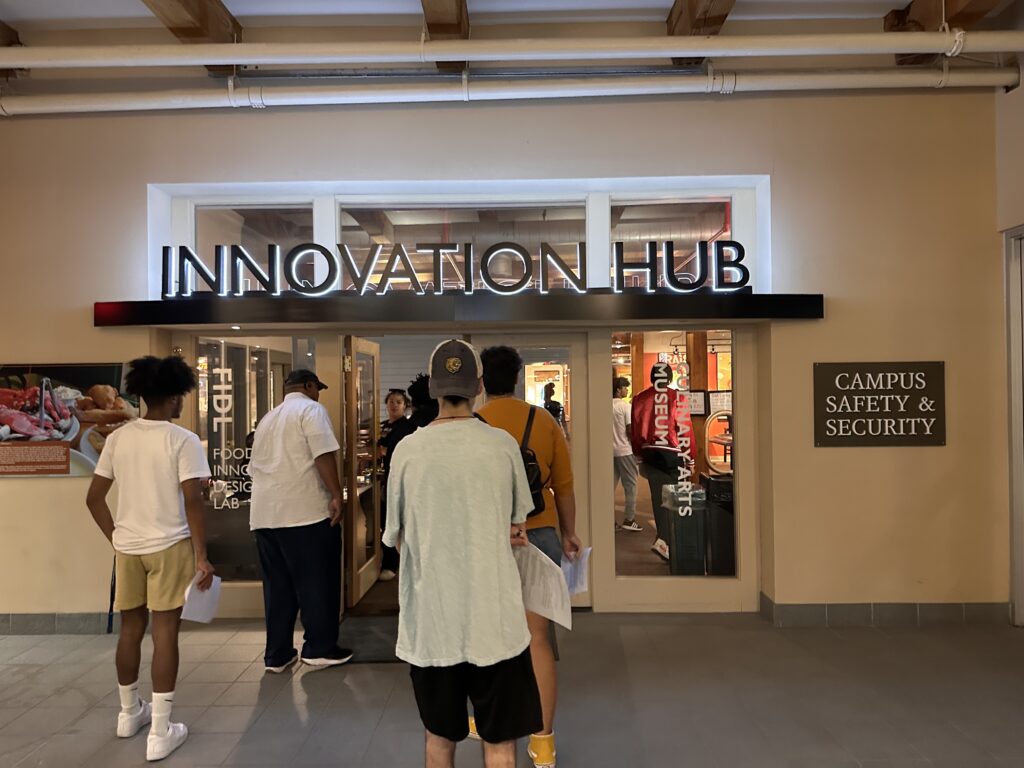 The Culinary Arts Museum, situated within a former restaurant-supply-company warehouse, boasts an extensive collection that covers almost every facet of food and the hospitality industry. Their exhibits and collection house a multitude of authentic items, encompassing bars, china, menus, cookbooks, culinary equipment, tools, and an assortment of additional artifacts associated with the culinary and hospitality fields.
This is from an exhibit on dining aboard cruise ships.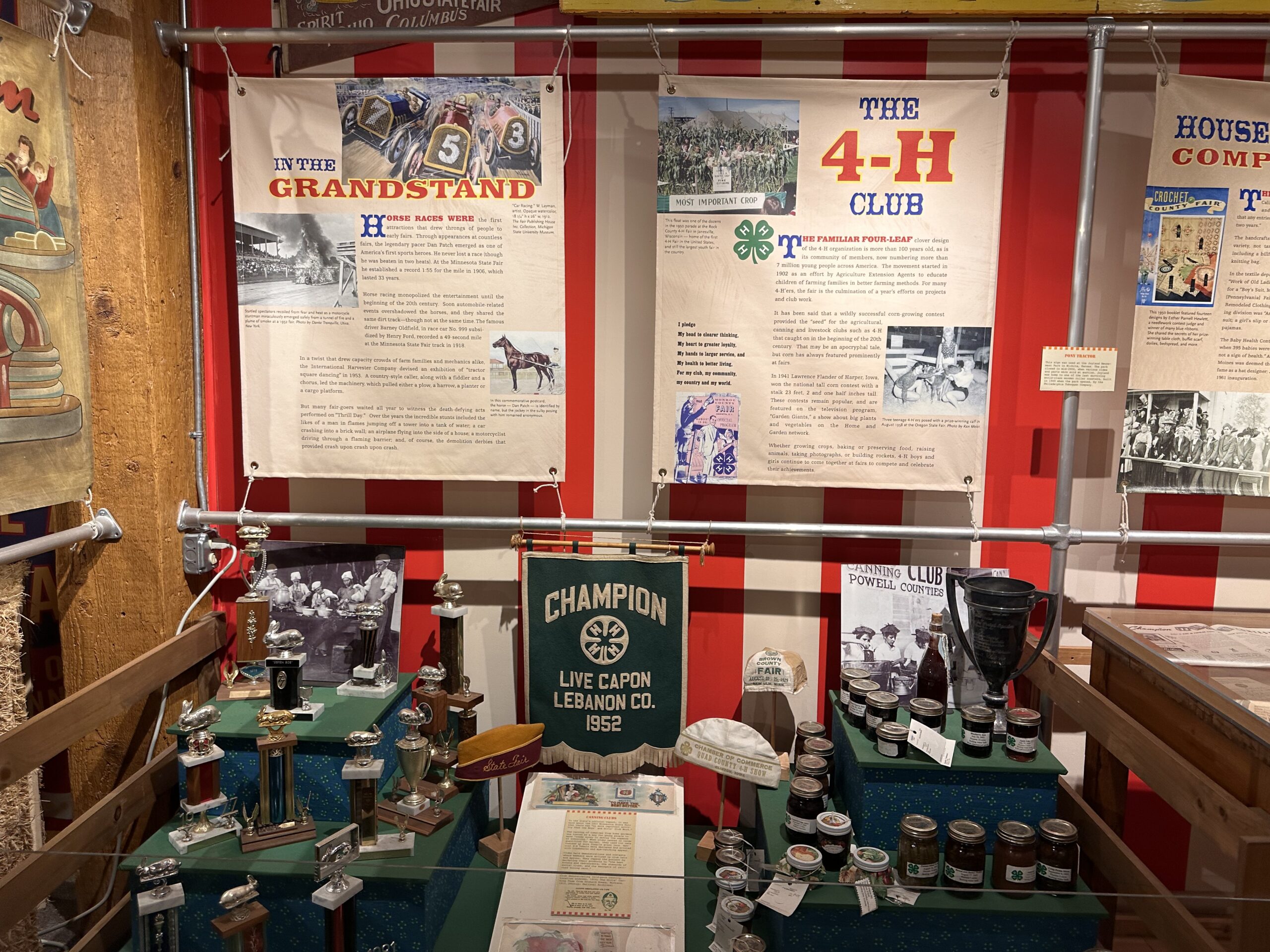 In the back corner of the museum is an extensive display on the influence of diners in the American culture.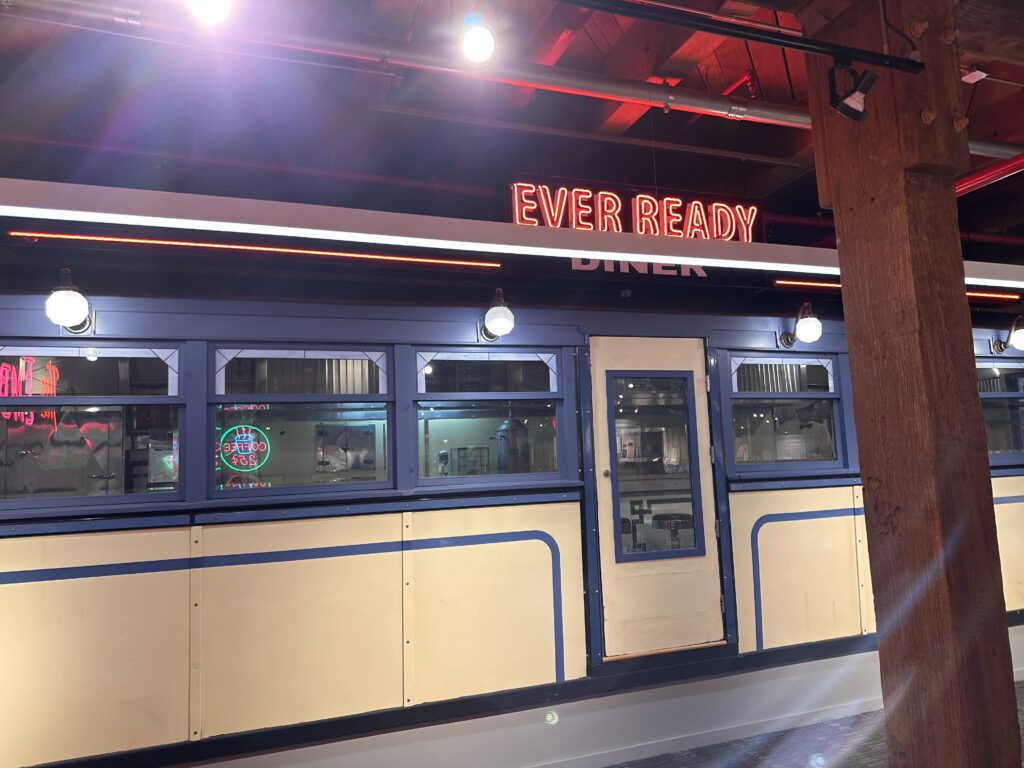 The 25,000-square-foot museum is filled with all sorts of artifacts representing cooking as well as the culinary and hospitality profession. One of the standout exhibits is the Ever Ready Diner, which dates back to 1958.
According to a placard in the museum:
"Since the 1930s, the Conley and Heffernan families had been running the Ever Ready Diner on Charles Street in Providence, Rhode Island. [Their] original, small diner was torn down in the 1950s when Route 146 was widened, Tom Conley and Roger Godin went to the Worcester Lunch Car Company looking for another diner, and they bought #549. They moved it to Admiral Street in Providence, renaming it the Ever Ready Diner. It opened in 1958. After decades in the diner business, Conley and Godin served their last meals in 1984 and then retired. The diner changed hands two more times before it was donated to the Culinary Archives & Museum at Johnson & Wales University by Morris Nathanson and Bud Frank in 1989."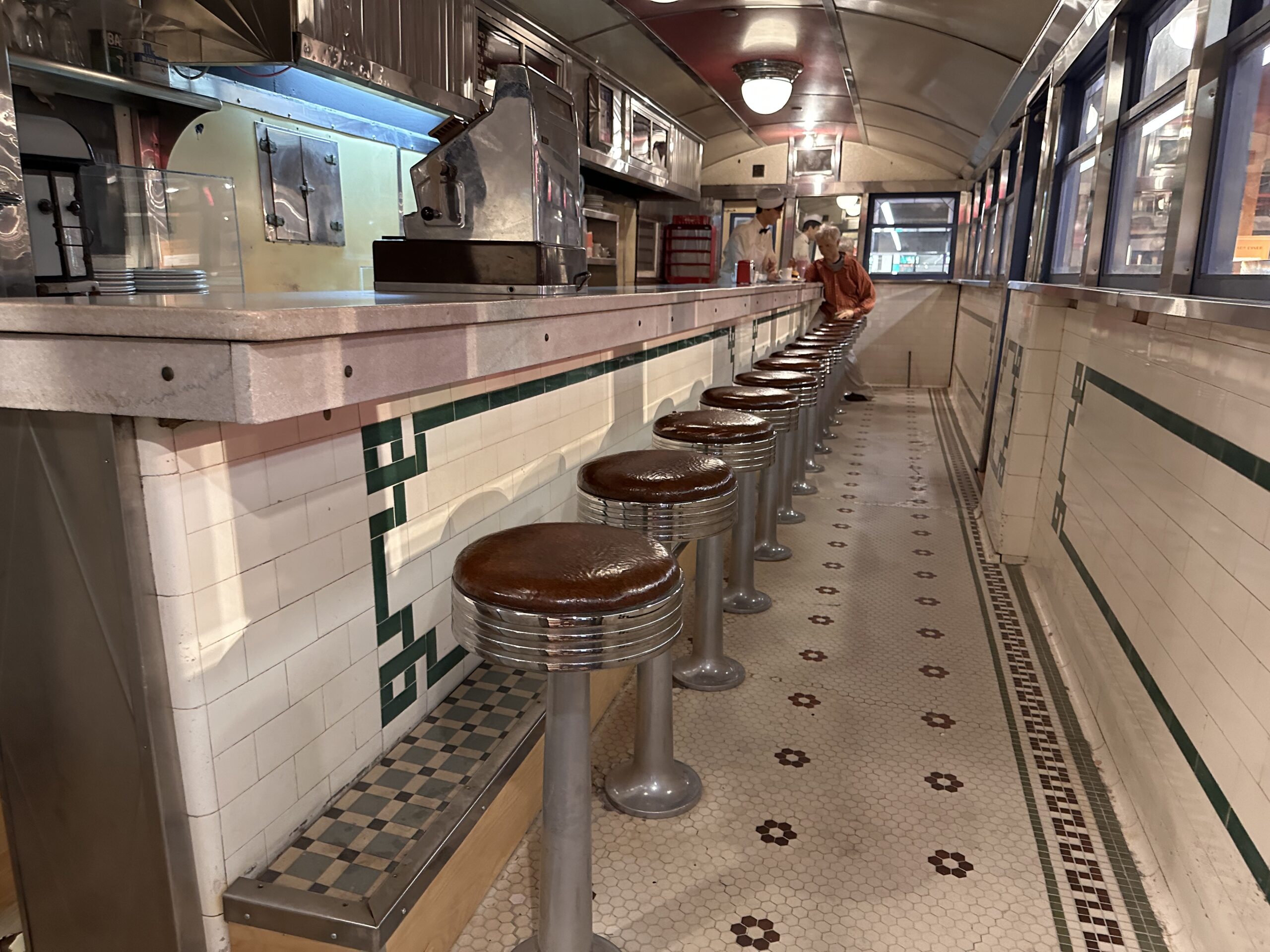 Johnson & Wales Culinary Students at Work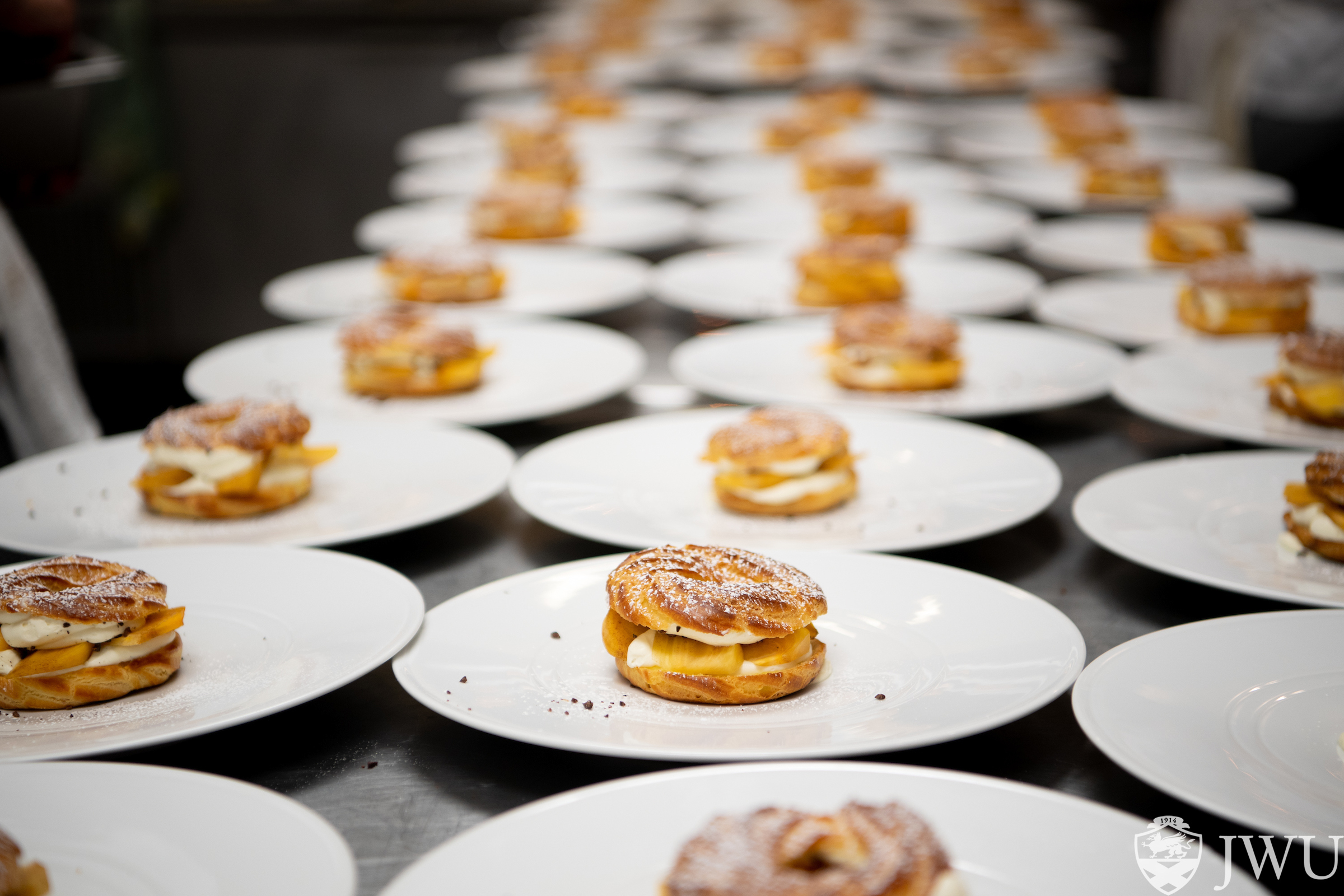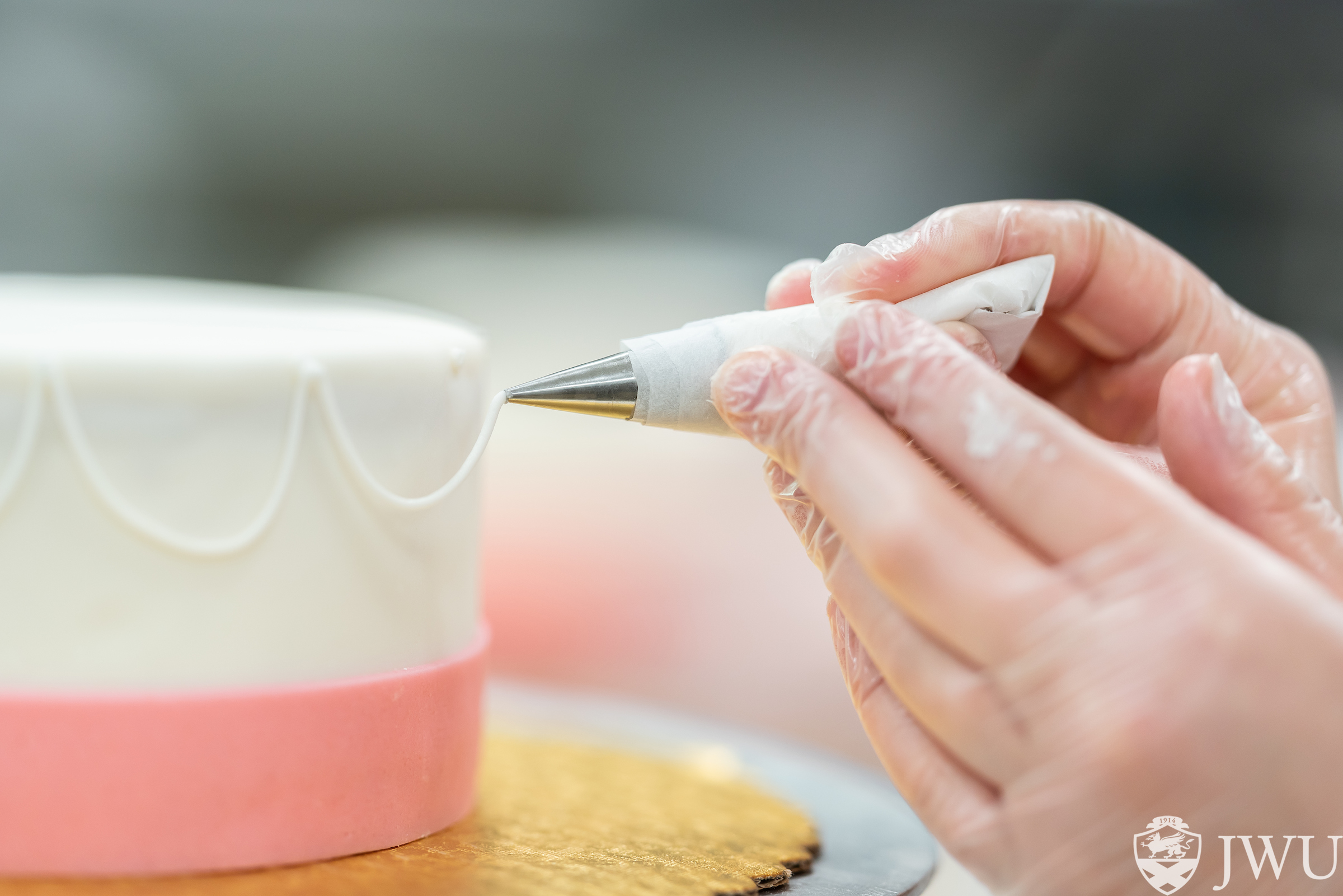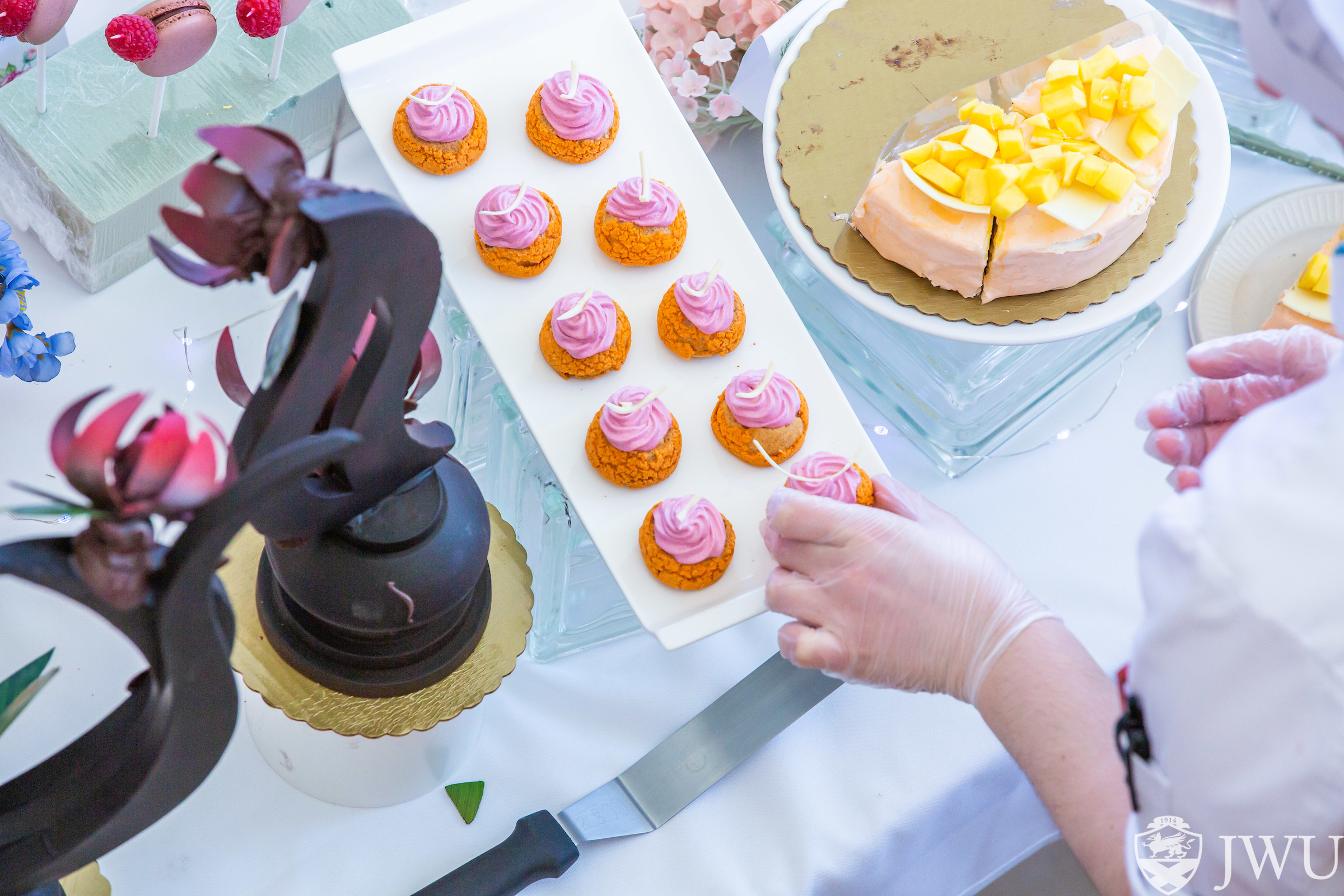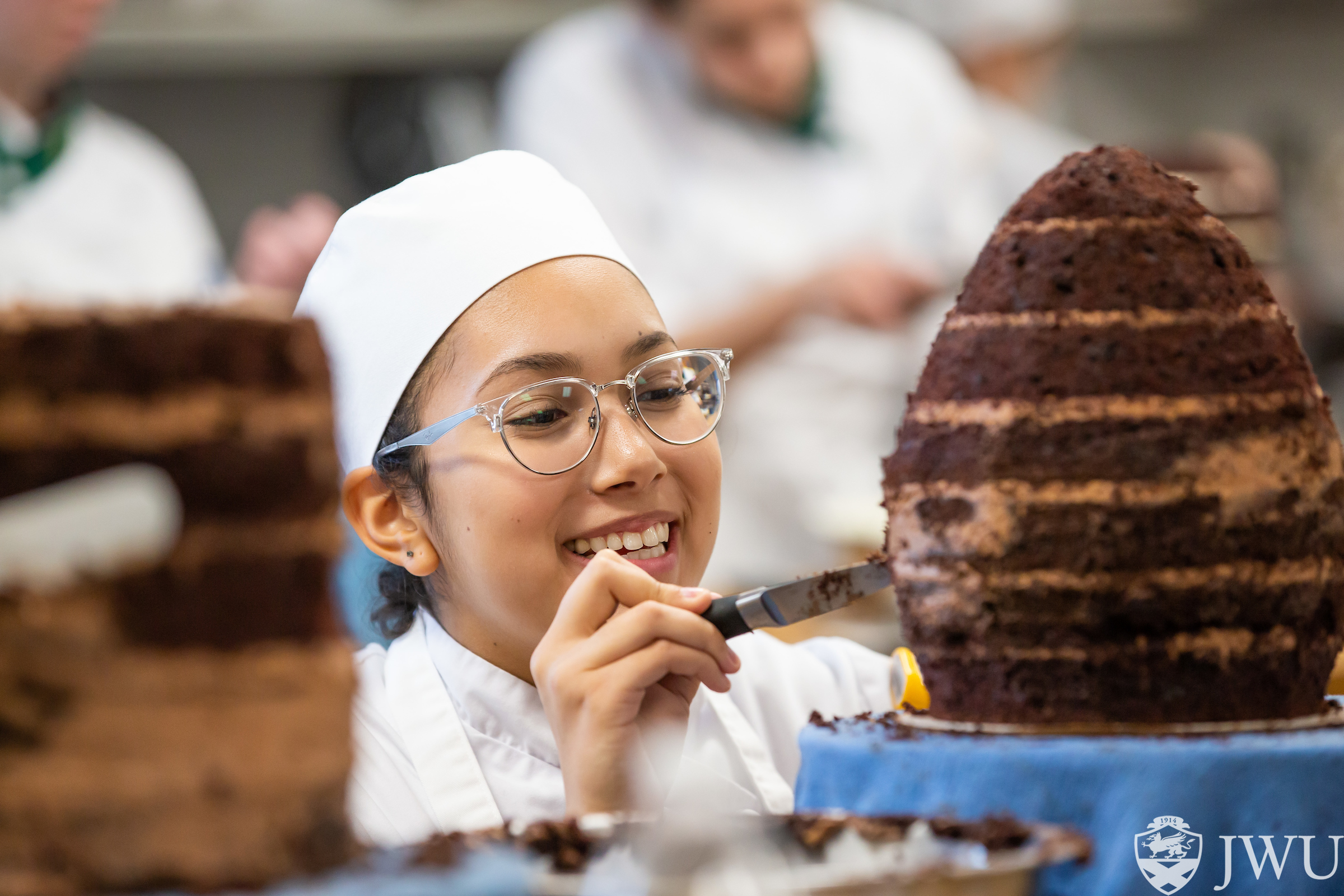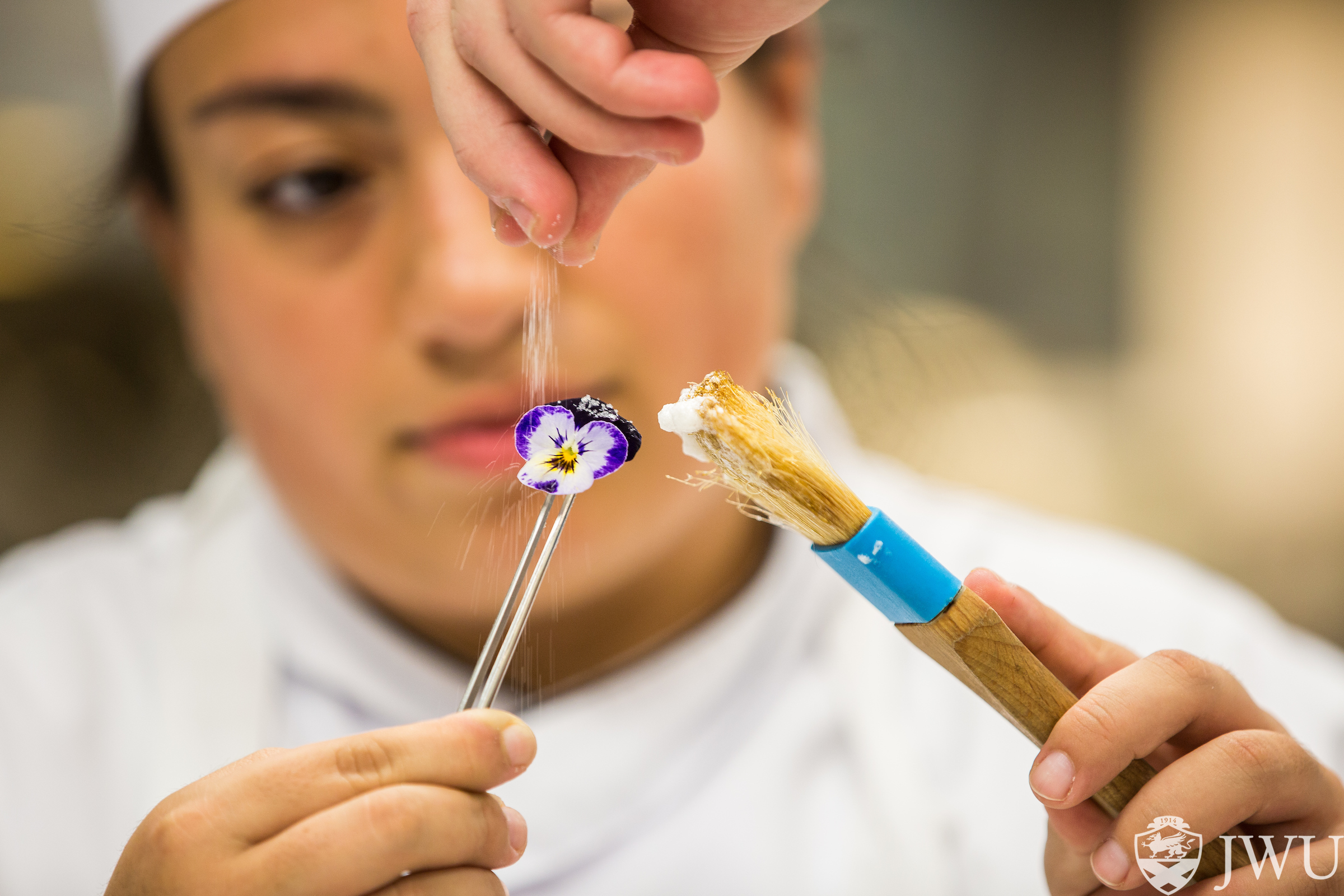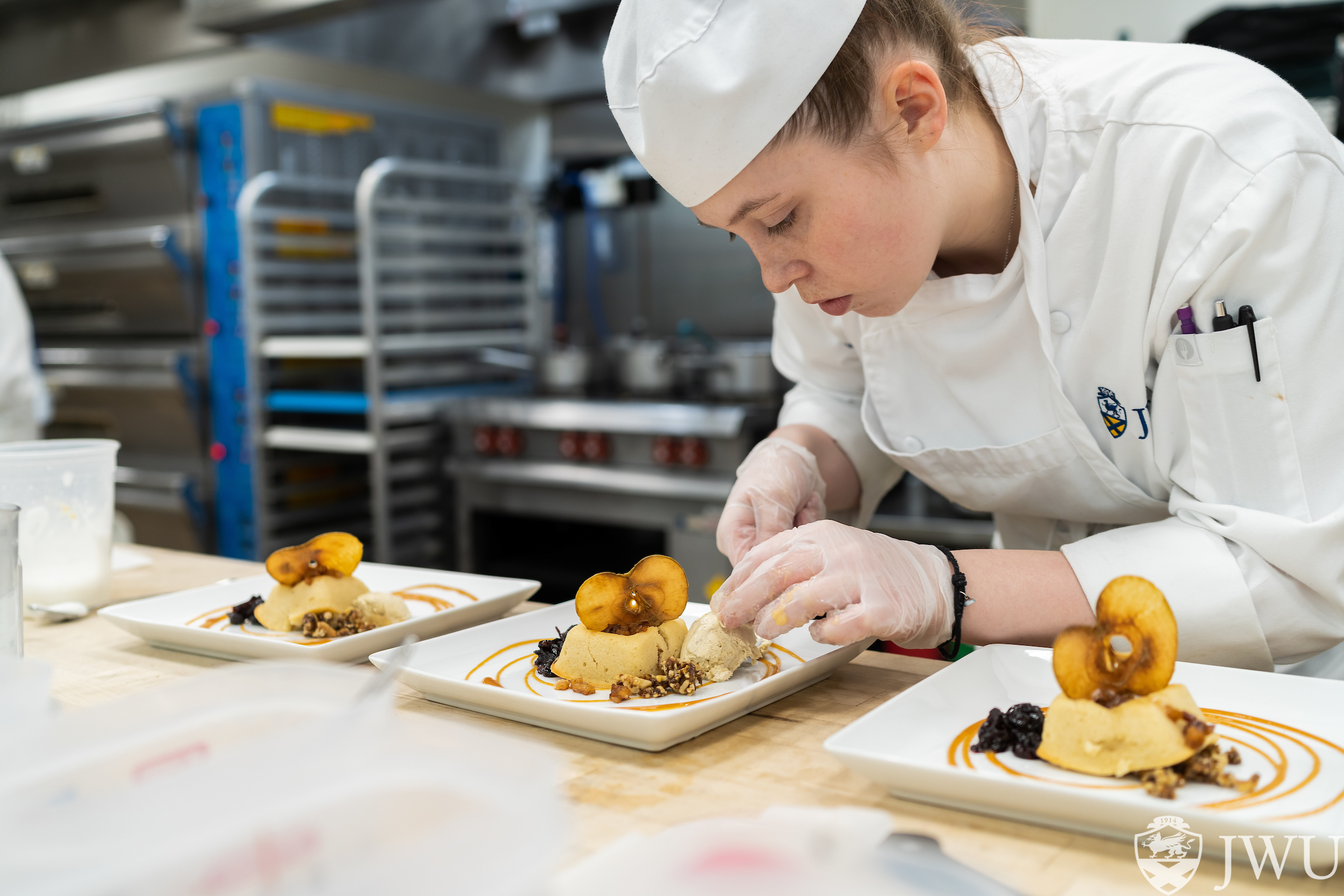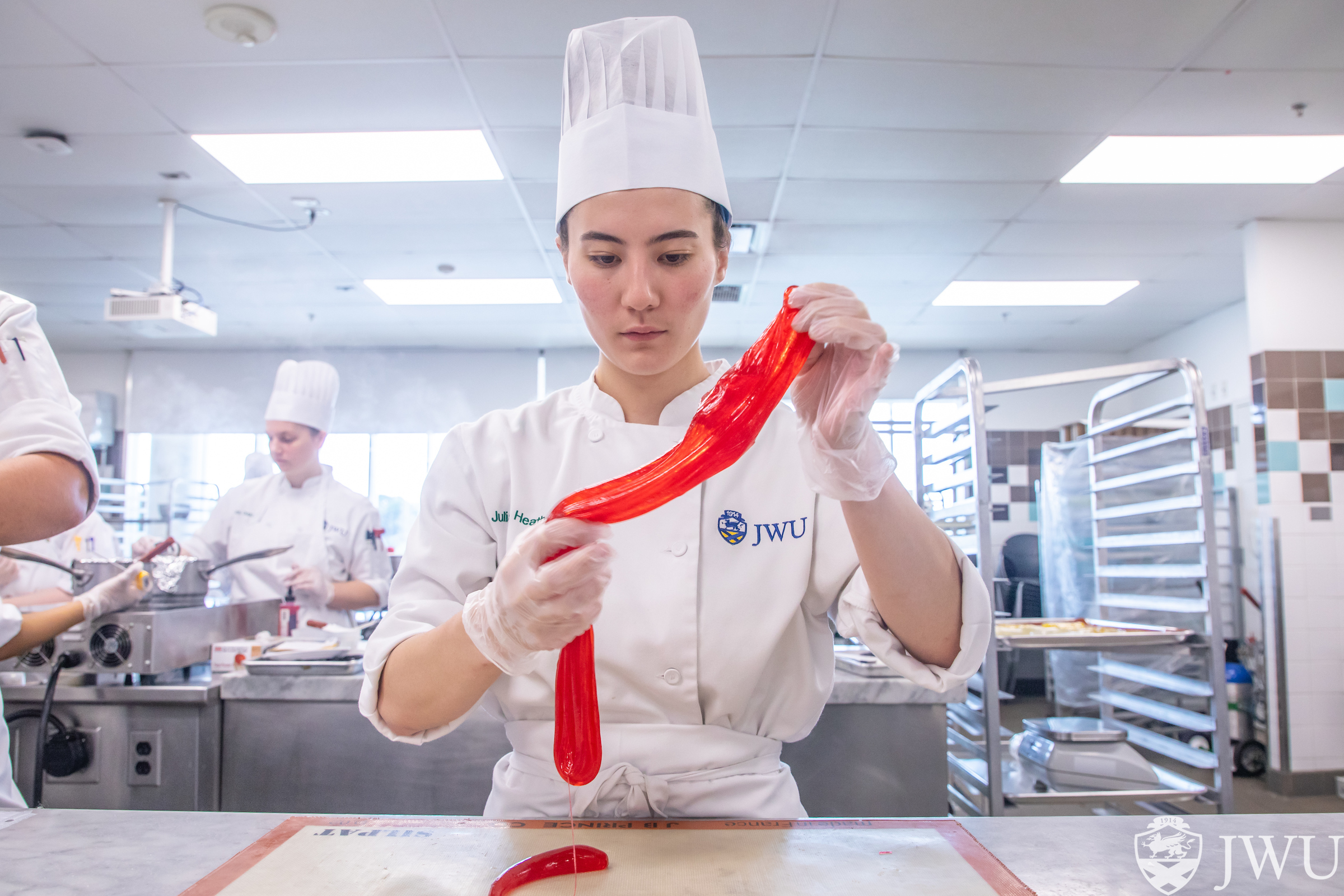 Johnson & Wales Harborside Culinary Campus is a beautiful place with impressive facilities. We are looking forward to hopefully seeing pastry chef graduates involved with Club Coupe du Monde USA in the future!
Sources:
Rhode Island Heritage Hall of Fame
Mulvaney, Katie. "One student and one typewriter: How two women with a vision founded Johnson & Wales" Providence Journal [Rhode Island], 30 March 2023
Johnson & Wales University