The Coupe du Monde de la Pâtisserie, a biennial pastry competition, is less than 16 weeks away. Throughout this year, the organization has been holding continental selections around the world to select the countries who will be competing in the grand finale this January in Lyon, France. The organization has stated that they will also award select countries a wildcard slot, thereby insuring them a spot.
The rules regarding the eligibility of each country recently changed. In the past, the country who won first place could not compete in the following year's competition. Additionally, select countries, including the United States, were automatically given a spot at the finale. Now, the first place winning country can compete in future competitions. Also, the top three finishers from the previous competition are automatically given a spot at the next Coupe du Monde de la Pâtisserie and – unlike every other country – they do not have to participate in their respective continental selection.
Although the Coupe du Monde de la Pâtisserie was held in 2021, Team U.S.A., along with several other countries, who were scheduled to participate, opted to sit the competition out due to the coronavirus pandemic. The winners of the 2021 Grand Finale were Italy (First Place), Japan (Second Place), and France (Third Place).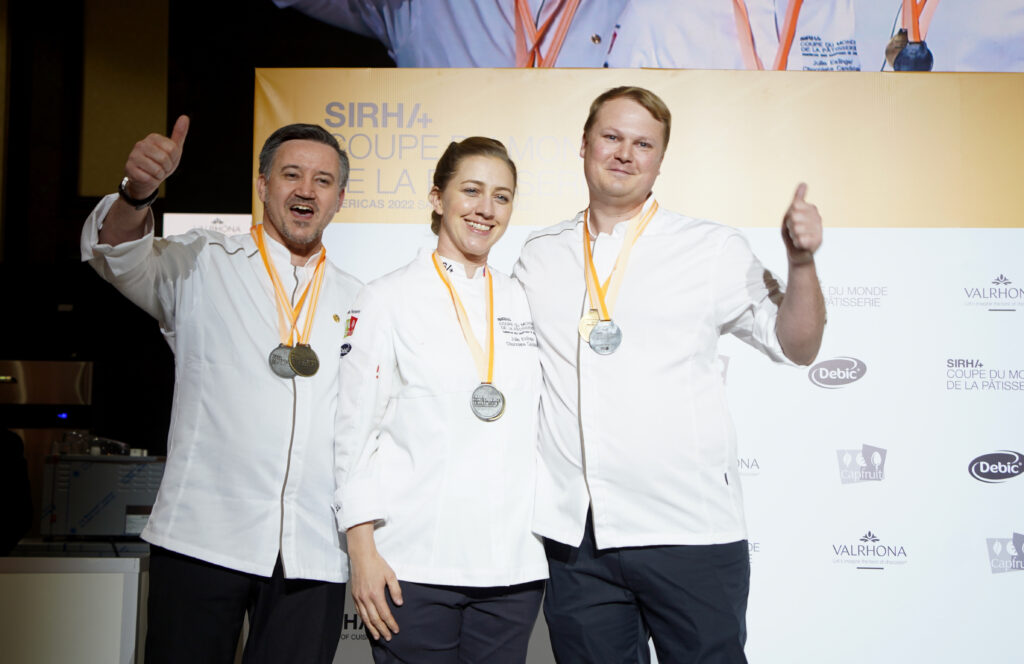 This past July, Team U.S.A., who competed at the Americas Continental Selection in Santiago, Chile, took second place. Competing against six other countries, Team U.S.A.'s silver medal-winning creations were based on the theme "Casino."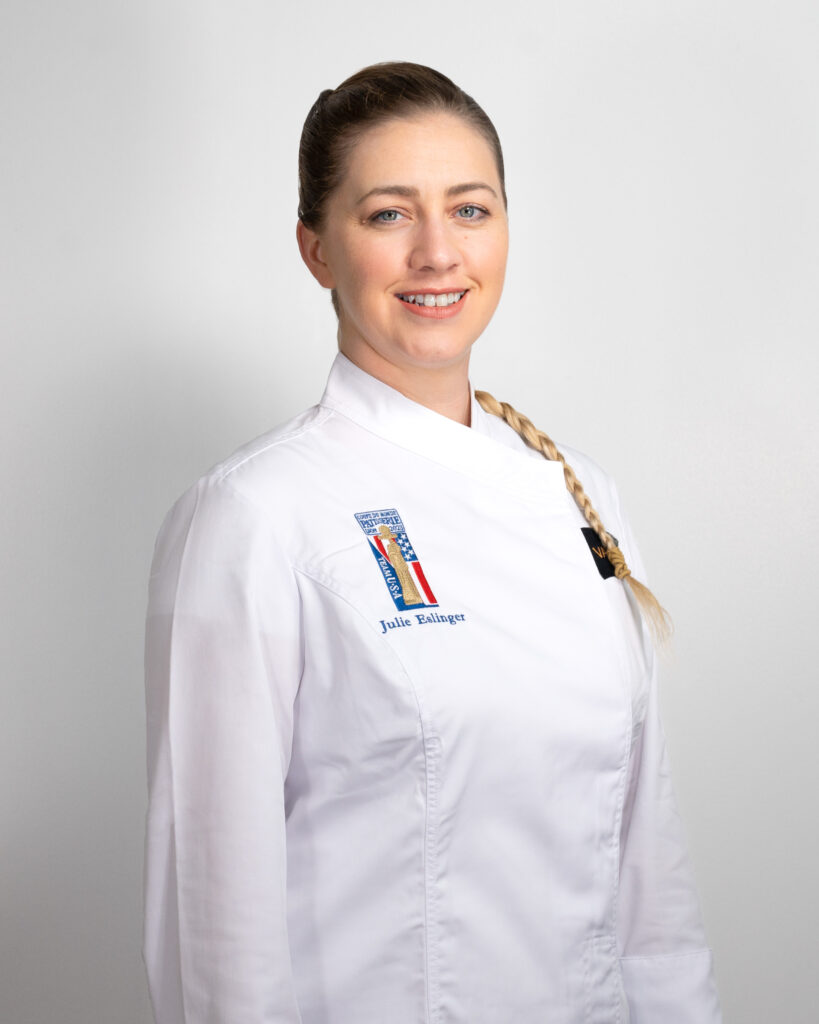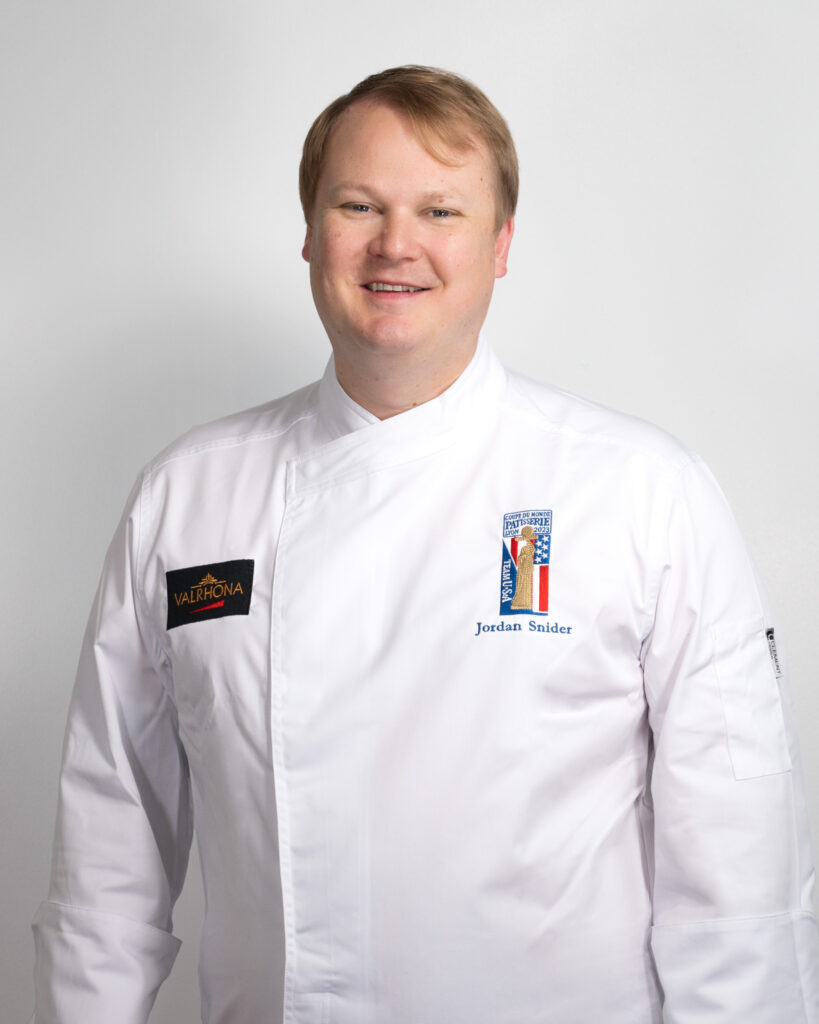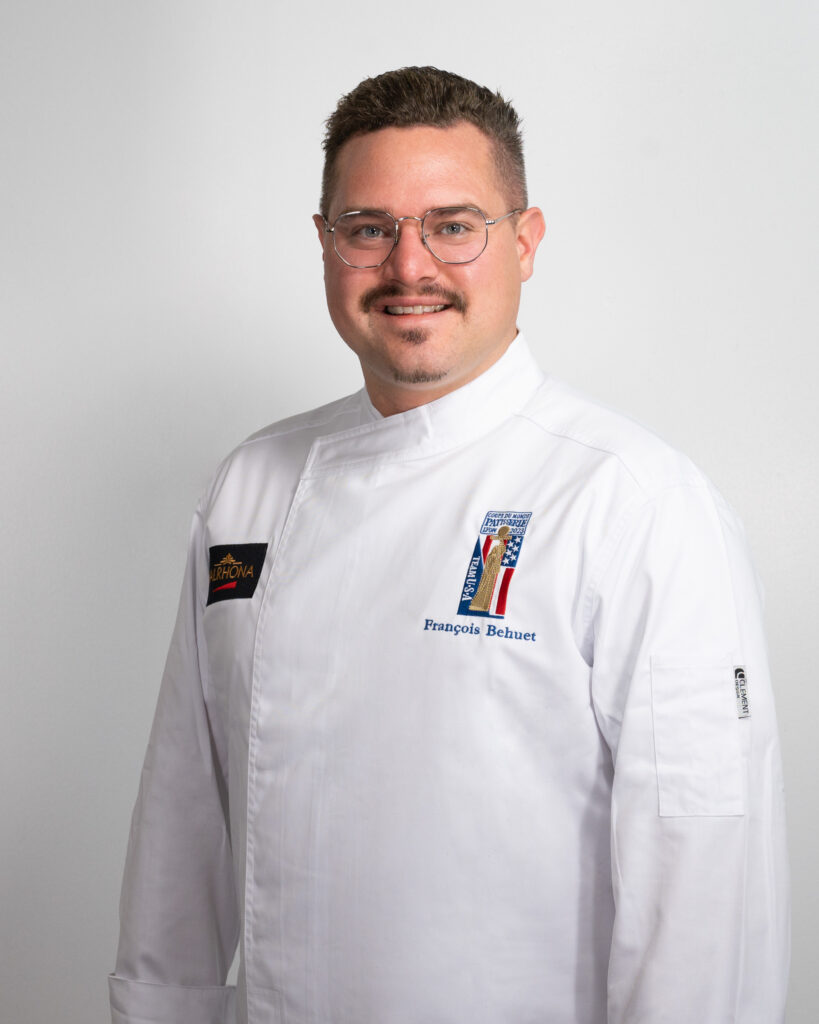 Representing the United States will be Chef Julie Eslinger, pastry chef at The Country Club at Castle Pines in Colorado; Chef Jordan Snider, executive pastry chef at the Kiawah Island Golf Resort in South Carolina; and Chef François Behuet, executive pastry chef at the Ritz-Carlton, Los Angeles. 
The team is coached by three former Team U.S.A. participants: Chef Gilles Renusson, President, Club Coupe du Monde U.S.A., and Chef Andy Chlebana, pastry chef/instructor at Joliet Junior College in Illinois. Chef Christophe Feyt, Executive Pastry of Hilton Hotels & Resorts in Dallas, Texas, is serving as a team consultant.
Team U.S.A. is sponsored by Valrhona (Founding Sponsor), Nielsen Massey, CapFruit, Paris Gourmet, Midwest Imports, AUI Fine Foods, St. Michel, Chef Rubber, Irinox, Bit Baking, de Buyer, Robot Coupe, Tomric, The Ekus Group, Clement Designs, and Steelite USA.
With this win, Team U.S.A. qualifies for a spot at the Coupe du Monde de la Pâtisserie on January 20-21, 2023 in Lyon, France. The other two countries who qualified at the Americas Selection were Chile, who won the gold medal and Argentina, who took the bronze medal. Recently Team Colombia and Team Canada were each awarded a wildcard slot.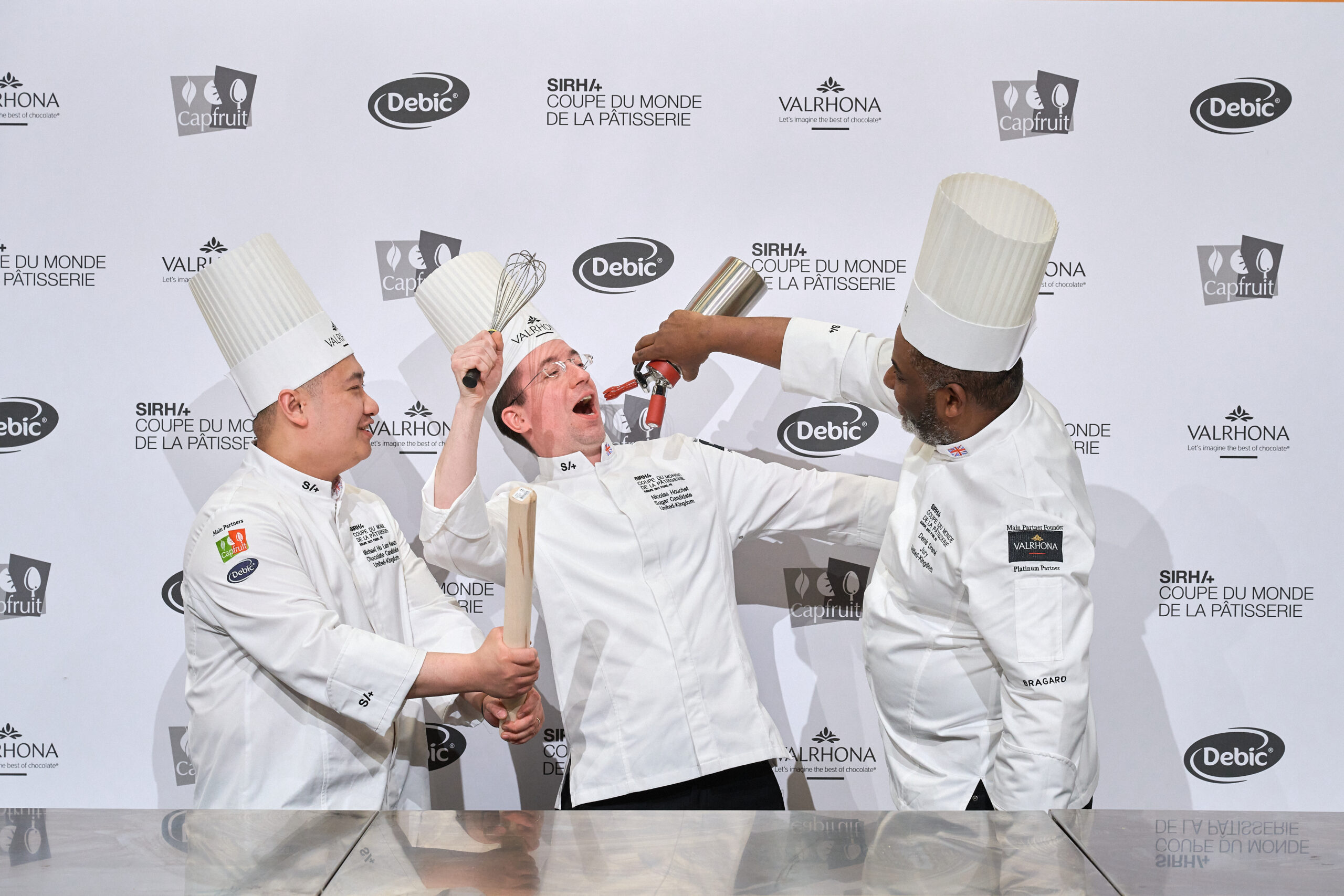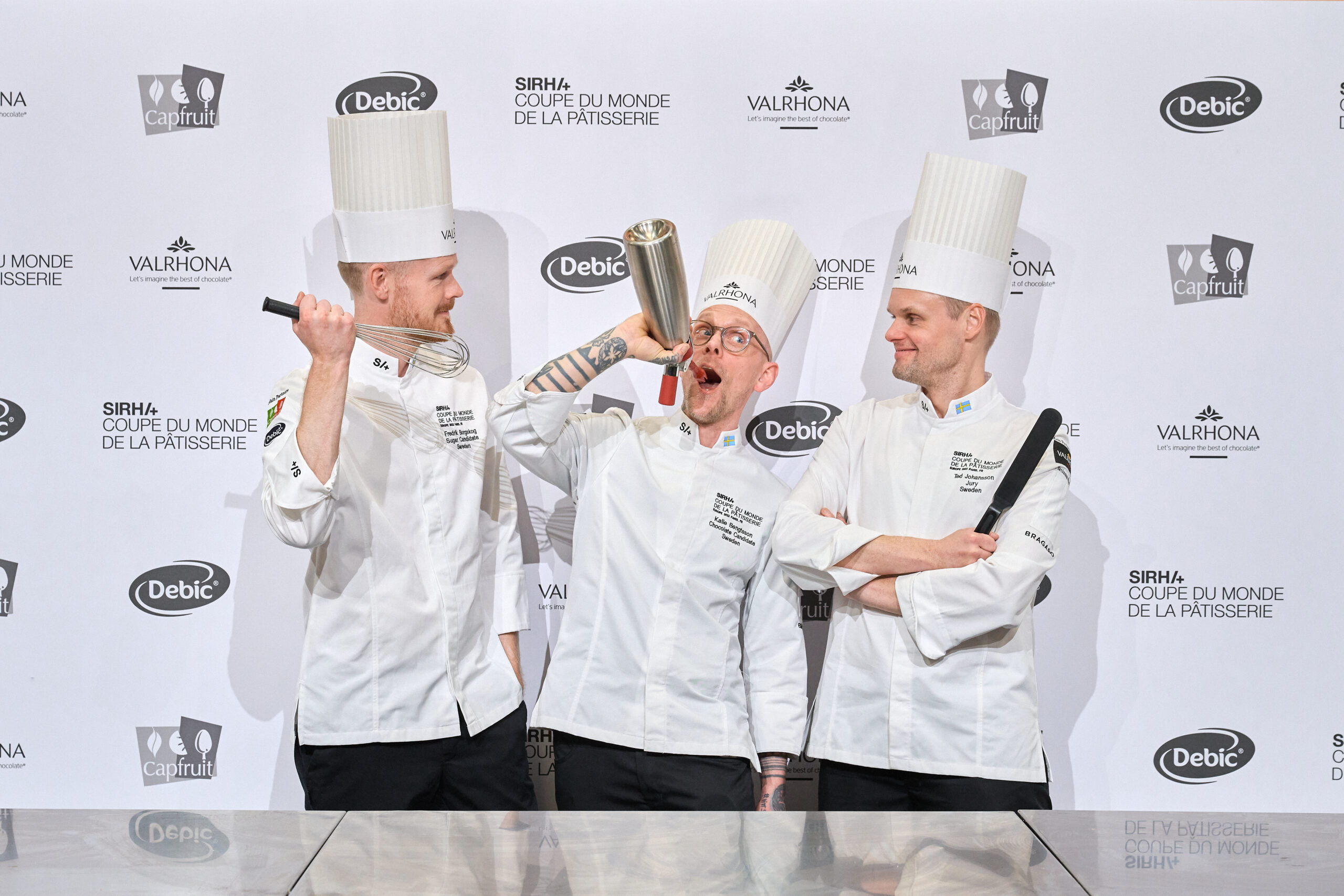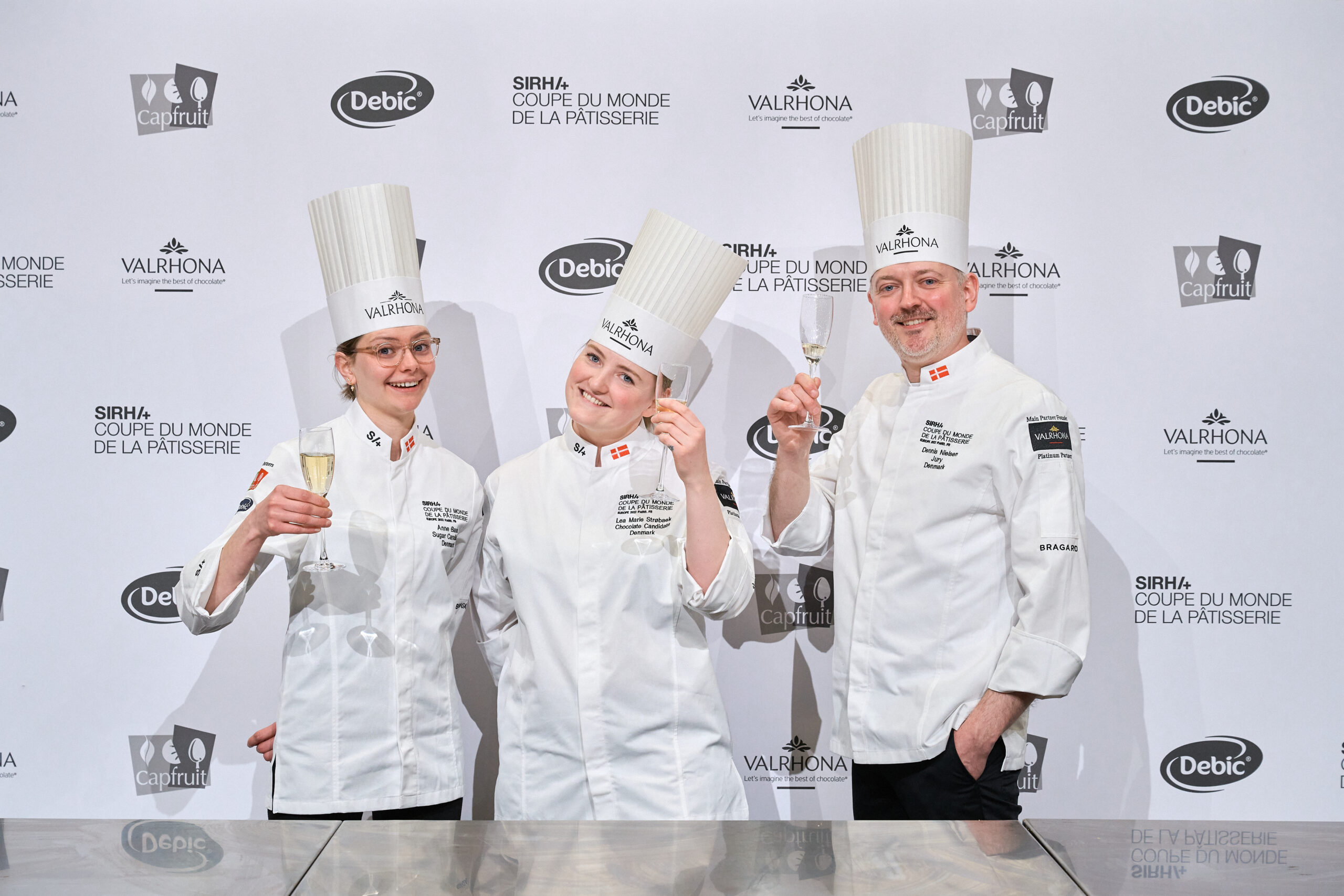 In January of this year, France held their 2023 selection to determine who will be their sugar, chocolate, and ice sculpture candidates. The European Continental Selection was also held this past January. As only three countries: Denmark, Sweden, and the United Kingdom participated the competition served to determine their placement. Team United Kingdom won first place, Team Sweden secured second place,, and Team Denmark placed third.
The Middle East Continental Selection was to take place last month, however it did not happen. The organization announced that Team Kuwait, a country that should have participated for the 2021 final, has qualified for the finals.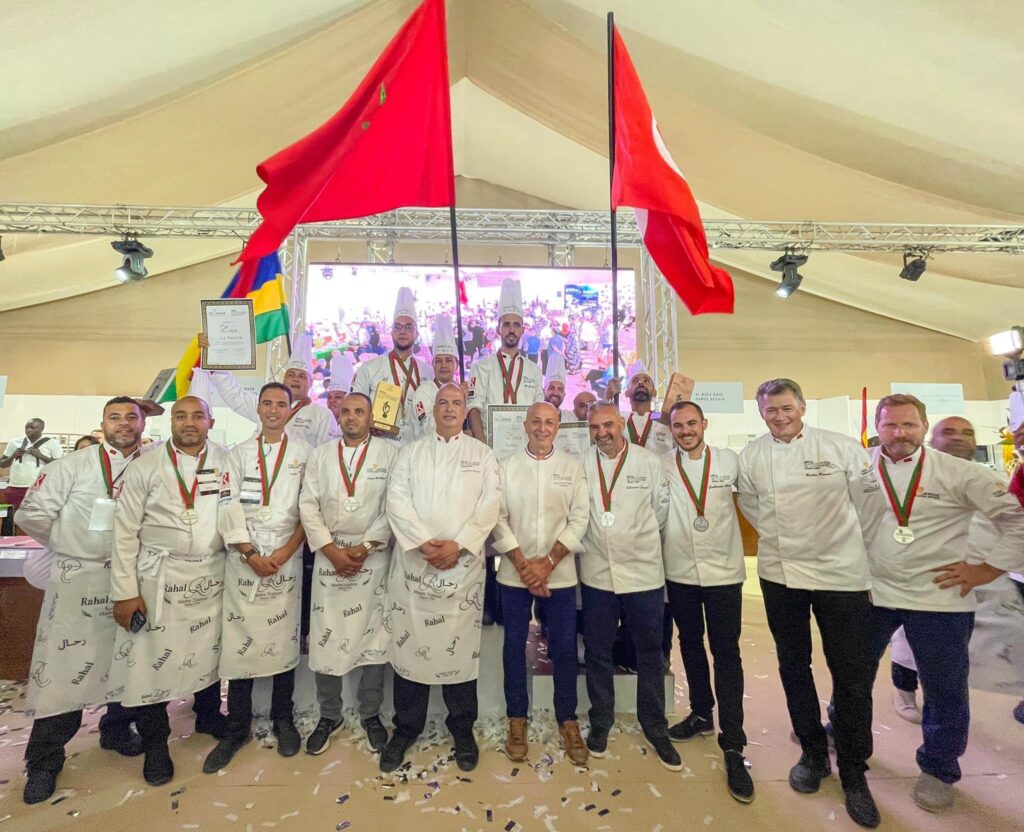 Last month, the Africa Continental Selection was held in Dakhla, Morocco with Team Mauritius, Team Morocco, and Team Tunisia qualified and Team Egypt and Team Ghana secured wild card placements.
On 26 October 2022, the Asian Continental Selection will take place in Singapore. "In a complicated and unprecedented international context due to the pandemic, the Asian Pastry Cup 2020 could not take place as initially planned," reads a statement on the organization's website. "The countries competing to the final 2021 were selected basing on their performances realized during the 2018 edition." As Japan has already secured a spot due to their second place showing in Lyon last year, Team China, Team Singapore, Team South Korea, and Team Taiwan will compete for one of the three remaining slots.
In order to qualify for the Coupe du Monde de la Pâtisserie, each contestant must be a resident of the country they are representing for at least five years and have a minimum of five years of professional experience working in a pastry shop, hotel, restaurant, or school.
During the January finale, each team of three will be required to produce the following:
Four tasting tests:
Chocolate dessert to share (3 desserts for 8 people, 1 mock dessert)
Frozen desserts with fruit purées (3 frozen desserts for 8 people, 1 mock dessert)
Frozen Lollipops (26 lollies, 10 mock desserts)
Restaurant dessert (10 restaurant desserts, no mock dessert)
Three art pieces:
Chocolate sculpture (165cm high + chocolate block)
Sugar sculpture (165cm high)
Ice Sculpture (50cm max on block of L50cmxH50cmxD25cm)
Composition of a buffet bringing together the above creations
The Coupe du Monde de la Pâtisserie, which is held in conjunction with the SIRH/+, the international food and hospitality trade show, will be at Eurexpo Lyon.
Photo Credit of Team U.S.A. Photos – Matt Madison-Clark